Could The Avengers bring Justice League back from the dead? A Chronicle star will bully Chloe Moretz's new Carrie. A new video highlights the legendary Rick Baker's alien creations in Men in Black 3. Plus a new Doctor Who mini-episode!
Spoilers from here on out!
Man of Steel
WETA reportedly showed a sizzle reel of footage, including two Man of Steel clips, at a recent party. Avatar and Iron Man visual effects supervisor Jonathan Rothbart apparently took to IMDB — and while it seems odd for a person to go around impersonating Jonathan Rothbart, we should probably still play it safe and take this with a grain of salt — and described the two clips, the first of which was just six seconds long:
The former was Clark Kent grabbing a truck with a crying man inside of it while flying through the middle of a tornado. It looked incredible. Henry Cavill can fly, and he can hold a truck in one arm. Zack Snyder brings his usual visual flair, but somehow is still unlike anything he has made before. It felt like a Superman comic. Real heroism.
He then described the second, much longer clip:
The clip consisted of Superman in full costume in a verbal argument with Zod in the center of Smallville with Christopher Meloni yells at them through a megaphone next to a tank. Meloni warns them he will fire if they do not surrender. While he says this Zod sizes Superman up. Shannon looks evil as he can be. Bone chilling even. And is DEFINITELY sporting enhanced muscle. Cavill's Superman is a wonderful sight to behold in motion. Cavill's pure size makes him the most believable Superman to date. Zod speaks in Kryptonian "Do you know your native tongue, Kal-el?" Superman looks stunned, and responds in English, "Who are you?" (there isn't enough Superman dialogue to judge Cavill's performance fairly, but I'd say he did well. Nothing spectacular from this clip.)

Meloni curses, then into a walkie talkie orders the tank to fire. Superman hears this and turns to the tank. Zod takes this opportunity to sucker punch Superman (in Zack Snyder slow-then-fast-mo) then when the tank fires Superman rushes in front of Zod, despite the punch and catches the exploding missile near his stomach. The flames ripple around him, hit his face, his cape, his eyes. The shrapnel hits him and bounces off. The same happens to Zod to a lesser extent. Meloni's shocked expression when they remain standing, silhouettes in a cloud of smoke, ends the clip.
G/O Media may get a commission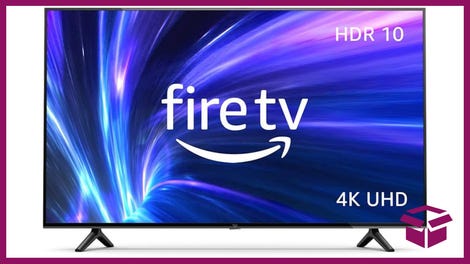 42% Off
Amazon Fire TV 50" 4K Smart TV
Rothbart's overall take was very positive, calling the footage "incredible", "visually stunning", and "phenomenal", though he did say it displayed "typical Zack Snyder" flourishes, such as multiple uses of slow motion. Again, grains of salt until we hear more official confirmation, but this certainly seems broadly in line with what we would expect. [Film School Rejects]
---
Iron Man 3
Rubicon and The Pacific actor James Badge Dale is reportedly in negotiations to play a villain named Savin. That might — though doesn't necessarily — refer to the comic book character Eric Savin, described as "a Lieutenant Colonel in charge of a secret Army project who investigates wrongdoing within the program, runs over a land mine, and is revived as a cyborg known as Coldblood." That would seem to tie in nicely with the rumored nanotechnology angle the rest of the film will take, which reportedly is based on Warren Ellis's Extremis arc. [Deadline via CinemaBlend]
---
Justice League
All the various attempts to make a big-screen Justice League movie have been hideous failures. A rather dubious-sounding version with Mad Max director George Miller and The Social Network's Armie Hammer as Batman almost got made in 2007 before the Writer's Strike derailed it - but since The Avengers is making obscene amounts of money, it's possible Warner Bros. is going to try again. The latest rumors/speculation suggest they are doing just that, and that Christopher Nolan might be involved in much the same way he helped develop Man of Steel. Assuming there's anything to this, it's presumably just the earliest possible discussions. Still, you can check out the link for more. [E! Online]
---
Prometheus
Here's the latest viral video. [MTV Movies Blog]

---
Men in Black 3
Here's a video spotlighting the one part of this franchise I think we can all agree is consistently high quality: makeup legend Rick Baker's alien designs. [Coming Soon]

And here's another viral video. [First Showing]

---
Carrie
Alex Russell, who played the reluctant hero(ish) character Matt in Chronicle, has reportedly been cast as a bully in the new adaptation of the Stephen King story from Boys Don't Cry director Kimberly Peirce and Dark Shadows actress Chloe Moretz. Off-Broadway stage actor Ansel Elgort has also reportedly been cast as one of Carrie's friends who takes her to prom. [Variety]
---
Extraterrestrial
Here's a trailer for Timecrimes director Nacho Vigalondo's latest, in which some manner of alien invasion goes down...probably. [Film School Rejects]

---
Antiviral
Here's a promo banner and some images from the first film by Brandon Cronenberg, the son of legendary auteur David Cronenberg. The film stars X-Men: First Class actor Caleb Landry Jones. A description of the plot is below. [First Showing]
Syd is an employee at a clinic that sells injections of live viruses harvested from sick celebrities to obsessed fans. Biological communion - for a price. Syd also supplies illegal samples of these viruses to piracy groups, smuggling them from the clinic in his own body. When he becomes infected with the disease that kills super sensation Hannah Geist, Syd becomes a target for rabid fans and collectors. He must unravel the mystery surrounding her death before he suffers the same fate.
---
Doctor Who
A mini-episode, presumably along the same general lines as previous entries like "Time Crash" and "Space" & "Time", will reportedly air May 24. In keeping with the upcoming London Games, the episode will reportedly be Olympics-themed, despite the fact that the Tenth Doctor episode "Fear Her" already offered ample reasons why maybe Doctor Who should just leave the Olympics well enough alone. [Life, Doctor Who, and Combom]
---
Fringe
Here's a video wrapping up season four and offering a big thank you to the show's fans.

---
Person of Interest
Star Michael Emerson says the hacker Root will be back in the season finale, and she is likely to be a major player next season as well:
"In her, Finch has an adversary more dangerous than he ever dreamed. She's going to come after him in a shocking way, a personal way. She's not going to seem nearly so charming anymore."
[TV Guide]
---
Once Upon a Time
Star Jennifer Morrison previews what's in store for her character Emma in season two:
"Season one, for Emma, it was about Henry, and season two is going to be about the idea of romantic love in her life — she's never allowed that before. And also exploring the relationship with her mother now that she knows who her mother is. They're promising me these romantic things in season two, but I don't know who or what or why or when!"
---
Grimm
It's looking likely that in the season finale Nick will finally come clean to Juliette about the supernatural aspects of his work. For a sneak peek of Nick revealing some bombshells to Juliette, check out the link. [EW]
---
Touch
Here's a sneak peek at this week's tenth episode overall, "Tesselations."

Here's the official description for the two hour finale airing May 31, entitled "Gyre Parts 1 & 2", in which A History of Violence and Prime Suspect actress Maria Bello is introduced in what should be a recurring role next season:
NEW CONNECTIONS TRIGGER A QUEST TO FIND MORE IN AN ALL-NEW TWO-HOUR SEASON FINALE OF "TOUCH" THURSDAY, MAY 31, ON FOX

Maria Bello Makes Her TOUCH Debut

As the Aster Corporation increases their interest in Jake, Martin joins forces with Abigail (guest star Catherine Dent) as the stakes of Jake's custody escalate. When Avram (guest star Bohdi Elfman) reiterates to Martin that Jake and Amelia, a presumed dead girl with similar characteristics as Jake, are connected, Martin sets out on a passionate mission to uncover the truth. Meanwhile, circumstances intensify when Lucy (guest star Maria Bello) enters the picture and seemingly unrelated events are tied together.
---
666 Park Avenue
Here's a ton of photos from the pilot of ABC's new supernatural series in which Lost's Terry O'Quinn is the owner of a bizarre apartment building. [SpoilerTV]
---
Falling Skies
Here are hints for season two of TNT's alien invasion drama, courtesy of TV Guide:
You won't have to wait long to see the former Professor Mason back, but what happened while he was away was not the friendly détente that the aliens had promised, nor was he the only one taken. It's safe to say that his return won't be easy. In possibly related news, the effects of the harness may be more damaging than the 2nd Mass could've ever imagined.
[TV Guide]
Here are titles, airdates, and some synopses for the first batch of season two episodes:
Episode 2.01 - Worlds Apart
Weaver remains in command of the 2nd Mass; Pope commands a renegade group; Tom's loyalties are questioned when he returns; Hal and Ben continue to drift apart.
17th June

Episode 2.02 - Shall We Gather at the River
Tom is haunted by his time with the aliens; Pope plants seeds of doubt; Ben's hatred for skitters grows.
17th June

Episode 2.03 - Compass
The 2nd Mass moves into an airport hanger; Anne grows concerned about the health of the group; the Berserkers create a plan to get rid of Tom; a mysterious visitor arrives.
24th June

Episode 2.04 - Young Bloods
Ben and Hal try to help a young boy while out on patrol; a discovery is made during a search; Matt is put in danger; Weaver is reunited with a family member.
1st July

Episode 2.05 - Love and Other Acts of Courage
A familiar face returns to the 2nd Mass; a skitter is captured and brought back to the camp as a prisoner; Maggie opens up about her past.
8th July

Episode 2.06 - Homecoming
15th July

Episode 2.07 - Molon Labe
22nd July
---
Eureka
Here's a promo for next Monday's episode, "Worst Case Scenario."

---
Haven
Duke Crocker actor Eric Balfour has tweeted that season three will start airing September 21. [@ERICBALFOUR]
---
The Vampire Diaries
Showrunner Julie Plec previews what's ahead for Klaus in season four:
"The loss of the doppelganger is gonna be a BFD for Klaus and will drive his actions for the season. Suddenly he's vulnerable for many reasons. There's a stake that can kill him, a witch that can desiccate him, and no way to build up the hybrid army he needs - psychologically, at least - to feel safe. Plus, Caroline's going to be peeved at him once she realizes he bamboozled her. In other words, he ain't gonna be so happy."
[TV Guide]
---
Beauty and the Beast (CW)
The CW's update of the 1980s show, starring Smallville's Kristin Kreuk, will reportedly take over the Thursday night time slot after Vampire Diaries that The Secret Circle just vacated, what with being canceled and all. [SpoilerTV]
---
Continuum
Conan the Barbarian actress and Star Trek bit player Rachel Nichols discusses her starring role in this new Canadian show:
It's fantastic and I'm very pleased with it. The show opens up in 2077 and I'm a cop in the future. We are about to put the seven most criminal terrorists in the world to death. While they've been in prison, unbeknownst to me, there's other people who weren't involved and they've essentially created... it's not like a time machine but sort of a device that creates a wormhole. They set it off right before they are executed, and we are all shot back 65 years. Because I go in to stop it, I get shot back with them.

Suddenly I wake up in 2012 and I've just fallen out of the sky. I'm quickly figuring out where I am or who I am, but I'm still fighting the same fight that I was fighting 65 years in the future, but it's in 2012. Obviously, a lot that goes along with that. It was really, really intense, but very cool.
She also discusses whether it will end up airing in the United States:
Graham King of GK Films produced it and what they want to do, which I'm completely on board with since I had my heart broken after several pilots didn't get picked up during pilot season over the past through years, they wanted to shoot all 10 and then sell it. It's already been sold in Canada and it will come on at the end of May. But they wanted to shoot and assemble all 10 episodes and then sell it like that. They are negotiating with American networks right now, but just they wanted to put it all together and make it the show they wanted to make it before succumbing to the pressures of executives and things. They just wanted to make the show they wanted to make and then worry about selling it, which was great for me.
---
Additional reporting by Ben Vrignon and Charlie Jane Anders.