Plus tons more details on Civil War—including who's in and who's out. Batman v Superman toys give us a fleeting new look at Aquaman. A familiar Star Wars face is going to Rebels. Plus a new apocalyptic BBC series, pictures from the Arrow and Flash midseason finales, and another Force Awakens TV spot. Spoilers Now!
Captain America: Civil War
Entertainment Weekly's coverage of the film continues. Firstly, the magazine sat down with Scarlett Johansson to discuss Black Widow's motivations in the film:
You know, I don't think she's ever aspired to become an Avenger. That's not really a choice that she made. It's kind of like the events in her life led her to that point and when we see her [in 'Civil War'], she's finally capable of making a choice for herself. Which is kind of a milestone in someone's life when they've not really participated in the decisions that were made for them. She kind of greater calling and this huge pull towards doing what's right for the greater good. And she chooses that, and it's a really heroic thing that she does, I think.

I think when you find her in 'Civil War,' she's looking to strategize her position, putting herself in a place where she is able to let the powers that be fight it out or whatever amongst themselves. She's always a little bit on the perimeter so she can have a better perspective of what's really going on.
The same article also has a brief description of a scene from the film:

She and Tony Stark have a quiet moment after being given an ultimatum to bring down the rogue Cap — or else the U.S. government will do it in permanent fashion.

Stark rubs at the center of his chest, where his ARC reactor was once embedded. "You know the problem with a fully functional heart…? It's stressful," he tells Natasha.

She's all business: "We are painfully understaffed."

"It'd be pretty awesome if we had a Hulk," he tells her.
And a new picture. [EW]
G/O Media may get a commission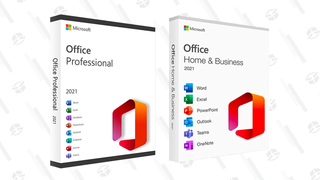 89% off
Microsoft Office Professional 2021 Lifetime License
Here's part of another scene that the magazine saw being filmed:
Stark, who hasn't yet had his beat-down, is on his cell phone with U.S. Secretary of State Thaddeus Ross (William Hurt) as Cap and Falcon step into the nerve center of the intelligence office. "No, Romania was not sanctioned by the accords … Col. Rhodes is supervising clean-up … Yes, there will be consequences …" Stark looks irritated, tired. "Obviously, you can quote me on that. I just said it."

He hangs up, and beholds his Avengers. "Consequences?" Cap says.

"Secretary Ross wanted you both prosecuted," Iron Man answers. "I had to give him something."

"I'm not getting that shield back, am I?" Cap says.

Black Widow walks ahead, joining Stark. "Technically it belongs to the government. Wings, too," she says.

"That's cold," Falcon says.

Stark spins on his heel as the two walk away with T'Challa. He flashes a tight, unpleasant smile. "Warmer than jail!" he says.
And the accompanying picture. [EW]
Finally, EW also has a post confirming who's definitely is and isn't in the film. First off, the obvious: yes, Spider-Man appears in the film, which is our first official confirmation of his presence. The Hulk will not appear (but the Quinjet he flew away in during Age of Ultron does), and neither does Thor. The post also has an interesting comment from Kevin Feige about Martin Freeman's role in the film as a government attaché:
He's under the cloak of secrecy. There are a lot of amazing actors in this movie. Some of them play larger roles than others. And in some cases there are some you will meet ever so briefly in this film and then will be expanded upon in future films. He falls into that latter category.
---
Deadpool
Here's a new piece of marketing art from Comic Con Experience in Brazil.
---
X-Men Apocalypse
And another look at Angel in a new banner shown at Comic Con Experience as well.
---
Star Wars: The Force Awakens
Lo, the fourteenth TV spot has been thrust upon us. There's no new footage in this one.
---
Batman v Superman

Comic Con Experience in Brazil's display of Mattel movie merchandise includes a figure of Aquaman, giving us our first full look at the costume since the original reveal. Aquaman retains his classic green trousers, but (and this might just be an error for the toy line, which tend to be untrustworthy when it comes to solid information on a movie) the character also appears to have his comic book blond hair, despite the original reveal using Momoa's natural dark hair color.
---
Luke Cage
Several images of filming on the series have hit the web, including a tantalizing shot including Luke, Claire Temple, and newly introduced superheroine Misty Knight.
---
Star Wars Rebels

Disney has confirmed that Frank Oz will reprise his role as Yoda in the series—appearing not as a ghostly voice as he did in the first season, but allegedly in the flesh (presumably in some sort of flashback scene, rather than a trip to Dagobah). The reveal also teased that another major character from the original films will make a major appearance in the series. [TV Insider]
Ezra recklessly charges in in a new clip from "Legacy".
---
Fear the Walking Dead

The show has promoted Colman Domingo's character Victor Strand to a regular cast member during the second season. [CBR]
---
Hard Sun

The BBC have announced a new series from Luther creator and Doctor Who write Neil Cross: a crime drama set in contemporary London during the "pre-apocalypse", five years before the destruction of the planet. Here's the writer discussing the series:
Imagine the world you see when you look out your window… except it's been given a death sentence. This isn't science fiction. This is the real world. There's no hero to come save us; no contingency plan. We've got five years. This is the world of Hard Sun… and the world of Elaine Renko and Robert Hicks. What's it like, trying to keep order, trying to enforce the law in a city that, day by day, slips closer to certain destruction? How do you get up in the morning? How do you get out of bed and leave your family and go out there, putting your own life at risk? And what about the predators? What about the murderers, the rapists, the thieves? What about the psychopaths, the religious nuts, the cult leaders, the serial killers? Who among them would fear a prison sentence, in a world like this? Who among them would fear legal consequences? What does a life sentence even mean, any more? What's the point of justice in the face of Armageddon? I've had Renko and Hicks and their world rattling round my head for a while now. I'm incredibly happy that, like me, they've found their home at the BBC. I can't wait for you to meet them.
---
Arrow
Here's some new promo pictures from the midseason finale, "Dark Waters"—you can find more at the link. [Coming Soon]
---
Doctor Who
The President of the Time Lords faces a terrible danger in a new clip from "Hell Bent".
---
The Flash
It's midseason-finale-season, and The Flash is joining in on the fun with pictures from "Running to Stand Still"—follow the link to see more. [Coming Soon]
---
Agent Carter

And finally, Peggy takes aim in a new poster for the second season. [IGN]
---
Additional reporting by Gordon Jackson and Charlie Jane Anders. Image: Jessica Jones.