Every major VR player has made the same promise. A VR headset that would be completely wireless. One that would let you go anywhere without tripping over cords or being tethered to a computer/phone/PS4. Google, which has spent more than a year quietly improving its VR platform, Daydream, is now the first company to cross the standalone finish line. The Daydream-powered Lenovo Mirage Solo is a beauty.
This the first Daydream device to have 6 degrees of freedom (DOF), which means you can squat, and jump, in addition to moving from side to side and backwards and forwards. The Daydream found on Android phones allows just 3 DOF. Yet as with other Daydream devices, the Mirage Solo uses inside out tracking, so you don't need sensors strewn about the room to track the headset's movement.
The Mirage Solo has dual microphones to pick up your voice, and provides audio via a standard 3.5mm jack. It has 64GB of storage built in, but can be expanded via the SD card slot if you need to pack on even more VR "experiences", and there's 4GB of memory on board too. It's powered by the same Qualcomm Snapdragon processor found in the Samsung Galaxy S8 and the upcoming Lenovo Miix 630 Windows tablet. But where Lenovo claims that tablet gets 20 hours of battery life, it claims the Mirage Solo VR headset gets just 7 hours on average. That's probably because it is powering a 2560 x 1440 display.

So what's it like? In a demo, I found it damn liberating. Not having to worry about cords as I wander around the room erases at least one burden—unfortunately I still have to worry about smacking into furniture and people. In fact, it might be even more of a concern now that I have no tether.
G/O Media may get a commission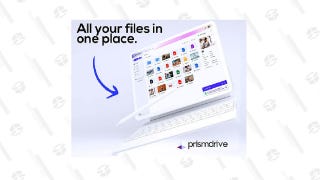 Save 97%
Prism Drive Secure Cloud Storage: Lifetime Subscription
The quality of the VR experience is on par with smartphone VR. So there's a little more blur than I'd like when I spin in circles, and the graphics aren't going to win any awards for photorealism. But if you do want photorealism, Lenovo, in conjunction with Google, also has the Lenovo Mirage Camera, which lets you shoot pretty cool VR videos with a camera about the size of a wallet.
The Mirage Camera uses dual 13MP cameras to capture stills or video 4K, 1440p, or 1080p at 30 fps. And it's all automatically shot in stereoscopic VR, no stitching or post processing necessary. Butt's not a 360 degrees camera. It has a 180 degree field of view, so you aren't capturing the entire world, just what's in front of the cameras.

I expected the result to be deeply jarring, but it was actually pretty pleasant. The dual lenses shoot at slightly different angles so there's a nice 3D effect you don't get with 360 videos. I could lean towards the birthday cake and, up to a point, actually feel like I was getting closer to the goods.
What I especially liked was how I never felt like I was missing stuff going on directly behind me. When watching the video and stills via VR you can see everything directly in front of you and then turn a see a little bit of the world on your left and right, as well as directly above and below you. The video, which uses Google new VR180 video type, feels just immersive enough for casual passive viewing.
And if you do decide to look all around there's no abrupt cut off point. Where the content should cut off. Instead it fades into a night sky. In the image below, you can see the divide and the nice little fade between the two worlds.
The Lenovo Mirage Camera does all its processing with a Qualcomm Snapdragon 626 processor. It's got 2GB of memory, 16GB of built-in storage, and dual microphones for capturing audio. It also connects to your phone via the Google VR180 app. That lets you review all the stuff you shot, and let's you use the phone as a viewfinder. Though you are capturing everything in front of the camera, so you probably won't need a viewfinder very often.
So how much will the next step in Google's attempt at VR cost you? Lenovo has not given official prices, but says the Mirage Solo headset could be under $400, while the Mirage Camera is expected to be under $300.
We should know more about pricing soon, as both the headset and the camera are expected to ship in the spring of 2018. I don't know if this set up will be the watershed moment VR needs, but new tools and approaches to creating VR content are vitally necessary right now. This technology, and especially the content, is still in its infancy. It's at the Great Train Robbery stage, not the Citizen Kane one. Maybe a 180-degree VR camera is just what the world of virtual reality needs. A standalone headset definitely is.
We're live on the ground in Las Vegas at CES 2018! Click here to read our complete coverage.