Compared to years past, CES 2013 was pretty light on phones. The focus was more on health/fitness gadgets and 4K UHD TVs. But among the few phones at the show, we some good ones. Here are the top five.
The hardware of the ZTE Grand S is really lovely. It's extremely thin and extremely light, yet it's got some serious specs. A 5-inch 1080p screen, quad-core Snapdragon S4 Pro processor, two gigs of RAM, a 13MP camera, 16GB of built-in storage and an SD card slot for more.
The software side was definitely disappointing. It runs Android 4.1 (Jelly Bean), but the UI is ugly and confusing and there was a lot of lag. It probably won't hit the U.S. until Q2, so hopefully they can clean up the software before then.
---
G/O Media may get a commission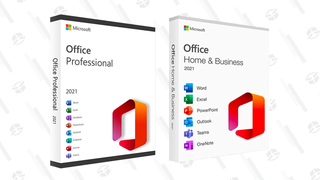 89% off
Microsoft Office Professional 2021 Lifetime License
Pretty much the same story as the ZTE, Huawei is trying to establish itself with the Ascend D2, and it actually looks really good. It has essentially the same specs at the Grand S above, but the Huawei packs in a 3,000mAh battery, which is music to our power-user ears.
The Ascend runs Android Jelly Bean, it has built-in augmented reality navigation, and split-screen multi-tasking. Plus: it's splash-proof. This was a lot snappier than Huawei's gigantic 6.1-inch phablet, which we were not such a fan of. No word on exact release dates or which carrier it'll be on.
Before you get your hopes up: The K900 is not destined for the U.S. market. If you want it, you'll have to move to China. That said, it's gorgeous piece of hardware. It has a 5.5-inch 1080p screen, which is going to be too big for some people, but it's very easy on the eyes. It's super thin, at just 6.9mm thick, and it weighs just 5.7 ounces.
It operates on Android, and it has a 13MP camera with a Sony Exmor image processor. It's also running Intel's Atom z2580 processor, with a (rumored) clock speed of 2GHz. If you ask real nice maybe Lenovo will make a state-side version.
The Xperia ZL packs a gorgeous 5-inch 1080p Bravia screen, and it, too, lists those familiar hardcore specs: 1.5GHz quad-core S4 Pro, 2GB RAM, and expandable storage. It has a 13MP camera with the newly designed Exmor RS chip, which is supposedly even better in low-light than its predecessor, and it can shoot HDR video—an impressive feat. It has as 2370mAh battery, a physical camera button, and an IR blaster so it can be used as a universal remote. Sony scaled back their skin for Android 4.1 and it looks really nice and performed extremely well.
It was a toss-up between this one and...
The Xperia Z, ultimately, is every bit as much of a flagship as the ZL. It has the same exact screen, guts, camera, and software. It does, however, add one very impressive trick: It's waterproof to three feet for 30 minutes. All. Phones. Should. Be. Waterproof.
This Xperia is thinner than the ZL, but a little wider and longer. There's also no IR blaster or physical camera button, and the battery is a hair smaller at 2330 mAh. It's just a gorgeous piece of hardware and it performed really well, so we decided to give it the nod over its brother, but it will come down to personal preference. The bottom line: Both of Sony's new phones are looking good.