We may not have known what comets were until the late sixteenth century, but humans have been recording their impressions of these orbiting ice balls for thousands of years. Some of the most beautiful art ever made reveals how long comets have been inspiring our imaginations.
The Halley's comet on Bayeux Tapestry, made in the 1070s (above)
(via Wikimedia Commons)
Some people gazing at a comet that appeared in 1264, from Nuova Cronica, a 14th century history of Florence created in a year-by-year linear format by Giovanni Villani
G/O Media may get a commission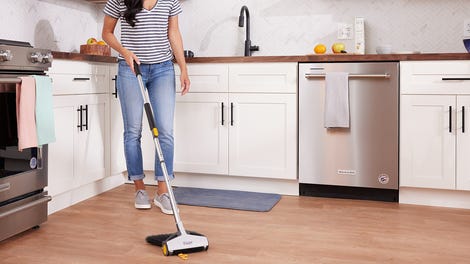 BOGO 50% Off
Flippr - BOGO 50% Off
(via Historical Fiction Research)
An illustration from The Luzerner Schilling, published in 1513, depicting a pass of Halley's Comet in 1456
(via Wikimedia Commons)
Fall of the Ensisheim Meteorite in 1492, from Luzerner Schilling, 1513
(via Meteoris)
Some illustrations of comets, from The Book of Miracles, created in Augsburg, Germany, around 1550
(via Wikimedia Commons)
Report on a comet in Constantinople, by Herman Gall, c. 1556
The 1561 celestial phenomenon over Nüremberg, Germany
(via Wikimedia Commons)
Tool designed for distance measurement for the observation of the comet of 1652, by Jean-Dominique [Cassini] from the observatory of Panzano, on a wall painting in Liguria, Italy
(via Wikimedia Commons)
An illustration of various comets, from Description de l'Univers, by Alain Manesson Mallet, 1685
(Photo by Hulton Archive/Getty Images)
An 1704 comet over Catalonia, on a drawing by Joseph Boll
(via Wikimedia Commons)
A meteor shower in the night sky over Winthorpe, UK, August 18, 1783
(via Wellcome Images)
A German engraving of a comet, c. 1830
(Photo by Hulton Archive/Getty Images)
The Great Comet of 1744, also known as Comet de Chéseaux, on an engraving from Le Magasin Pittoresque, a French magazine published between 1833 and 1938.
(via Wikimedia Commons)
A comet in the night sky above London, c. 1860
(via Wellcome Images)
Comet C/1858 L1 (Donati) on October 5, 1858, published in Bilderatlas der Sternenwelt ("Picture Atlas of the Star World"), 1888
(via Wikimedia Commons)
The Leonid Meteor Storm over North America on the night of November 12-13, 1833, in Bilderatlas der Sternenwelt, 1888
(via Wikimedia Commons)
A meteor or shooting star seen over Dublin, Ireland, c. 1900
(Photo by Hulton Archive/Getty Images)