Facebook Live has given us many things: an exploding watermelon, a failed presidential interview, the joy of Martha Stewart, bike murder. On Monday, it also gave us the gift of life, when Kali Kanongata'a of Carmichael, California used it to broadcast the birth of his child.

Only, according to Kanongata'a, he didn't realize the video—which now has over 210,000 views—was public. Oops!
"I thought it was just going to my family and friends!" he told People. After he realized it was public, he apparently thought about nixing the broadcast "for a second." Instead of shutting it down, however, he kept filming. "There's a lot of negative stuff on Facebook and so I thought this would be positive," the proud father told the magazine.
Kanongata'a added that he and his partner Sarah Dome were "laughing" at people who felt the video was, uh, a bit too much.
The troubling thing here, however, isn't necessarily Kanongata'a's reasons for posting the video. He told People that he's from the island of Tonga, and he "wasn't too worried about hiding anything because our culture has done this [public births] for thousands of years." The issue is that he thought it was just for his friends and family.
G/O Media may get a commission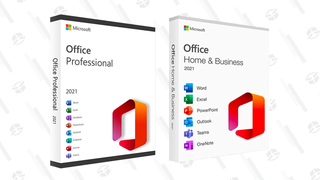 89% off
Microsoft Office Professional 2021 Lifetime License
Facebook has never been great at making its privacy settings easy to use—although the company has made improvements—and Facebook Live is apparently no exception. It's questionable whether or not everyone who uses Facebook Live knows their broadcast could be public, and as Gizmodo has previously pointed out, there's even a world map that provides a very easy way into these public broadcasts.
Though Facebook allows you to manually change the privacy settings of a live video, it initially abides by your default choices, which also apply to status updates and photos. For people who get confused by Facebook's opaque privacy settings, this means things could go very public, very quickly. (We've reached out to Facebook for comment, and we'll update if we hear back.)
Kanongata'a, at least, seems to view the broadcast as a form of memory collection, telling People that he hopes his son will watch it one day and "appreciate the story behind his life." Others, however, might not be so philosophical—which is something to think about if you ever stumble upon something utterly inexplicable on Facebook Live. Chances are you will.
Disclosure: Facebook has launched a program that pays publishers, including the New York Times and Buzzfeed, to produce videos for its Facebook Live tool. Gawker Media, Gizmodo's parent company, recently joined that program.
[People]