Step aside dancing fountains and community gardens, it's the age of the urban swing set. I'm not talking about playgrounds. These are swings designed for adults, enticing the tushes of office workers, college students, and tourists—city dwellers young and old who all want to take a turn kicking their legs up into the sky.

In fact, two winners of the 2015 Knight Cities Challenge—a series of civic improvement projects announced today—prominently feature swings as part of their proposals to improve 26 cities across the country. Illuminated musical swing sets are coming to four American cities—Charlotte, Macon, San Jose, and Philadelphia—while Charlotte will place versions of its signature porch swings in public spaces around the city. (Yes, Charlotte gets two swing projects, making it the swingers' capital of the world. Wait, no.)
While adult swings are often found at festivals like Coachella and Burning Man, these installations are temporary, more like low-impact carnival rides. Now swing sets are finding their ways into the centers of cities, part public art, part urban folly—and many have high-tech twists that add a secondary level of fun.
Last year, in an effort to activate a vacant plot of land near the Boston Convention Center, Höweler + Yoon Architecture built Swing Time, a set of 20 glowing circular seats suspended from a steel frame—like tire swings made from a Tron car. The swings were fitted with accelerometers and would glow more intensely purple when activated, encouraging interaction between swingers, and resulting in some pretty amazing photos.
G/O Media may get a commission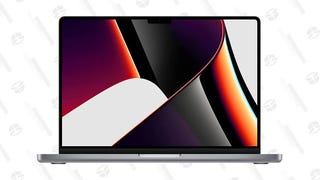 Save $300
2021 14" 1TB MacBook Pro
Like Swing Time, The Swings is a giant swing set concept from Montreal-based Daily Tous Les Jours which also uses light—in this case, the seats are fitted with LEDs. The Swings adds an awesome interactive element: Each swing has a dedicated musical tone, but certain additional notes are only heard when two swings are in sync, encouraging people to coordinate their movements and create harmonies. Strangers end up working together as they pump their feet.
21 Balançoires (as it's called in Canada) is installed annually in Montreal and has traveled to music festivals, but this is its urban American debut. The folks from Daily Tous Les Jours once told me that the reason they hadn't been able to install the swings in US downtowns was due to overly litigious stumbling blocks; it looks like they've found a way around them. Let's hope they're given prime real estate, making it as easy to squeeze in a swing during the morning commute as it is to goof around on them while heading home from the bars.
For cities that are having trouble finding an architecturally elegant diversion to install in a public plaza, the swing might be the thing. A swing set beckons with the universal allure of our best childhood memories, but they're also almost guaranteed to be filled with people—an empty swing is nearly impossible to resist.