In a matter of months, Scott Rogowsky has gone from a peripheral figure in the New York comedy scene to a household name as the host of HQ Trivia, the live app-based game show that's as popular as it is buggy. But what do we really know about the cloyingly upbeat spokesbeing known as "quiz daddy"?
Famously, a previous attempt by Daily Beast writer Taylor Lorenz resulted in a tirade from one of the company's founders, Rus Yusupov, who threatened to fire Rogowsky and refused to allow the host to publicly express opinions on things like his personal enjoyment of salad. Luckily, New York Magazine was able to arrange a Q & A with Rogowsky for their What I Can't Live Without series, wherein readers learn that famous people—they buy stuff too!
For the most part, Rogowsky's tastes skew mundane. A blender. An electric toothbrush. A pair of glasses. Trader Joe's Unsweetened, Unsulfured Dried Persimmons.
Somehow in the midst of these humdrum purchase, Rogowsky thought it germane to not only bring up his sex life, but make an admission about his genitalia. Under the subsection for Caution Wear Iron Grip Snugger Fit: 12-Pack of Condoms, he writes (emphasis ours):
I'm not, uh, exactly blessed in the crotch department, and when I first became sexually active and started using condoms, I found the standard issue to be a little … baggy. But then I discovered this "snugger fit" brand. Have you heard of these? They manage to hold on for even the bumpiest of rides. Total game changer, like going from JNCOs to skinny jeans.
G/O Media may get a commission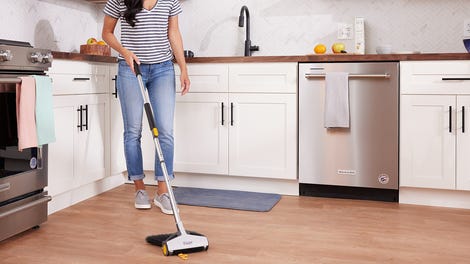 BOGO 50% Off
Flippr - BOGO 50% Off
Now having had to imagine the bumpiness of the trivia guy's romantic encounters, and the possibility that he may have lost one or more condoms inside an early sexual partner—sure, I guess that's helpful if anyone reading is in a similar predicament. Safe sex is good! And basically impossible to have while wearing an ill-fitting prophylactic. Thanks Scott.
Had that been the only crotch-related entry, quiz daddy's penis ramblings might not have been worth mentioning. Of the very last product Rogoswky recommends, however—Shinesty Not Before My Time Box Briefs—he writes:
This underwear is from a company called Shinesty out in Boulder, Colorado, and they make these ridiculous printed suits and boxers and swim trunks (the Hanukkah blazer I wore on HQ was a Shinesty). I like that the boxer briefs are sort of silly — I have them in Buffalo plaid and dinosaur print, and then there's one with a camel face where the crotch is. What I really like is the fit. I've been wearing boxer briefs for 20 years probably, and these fit soft and snug in the right places, and has a pouch for some room. It's strange to talk about boxers!
Sure is, Scott.