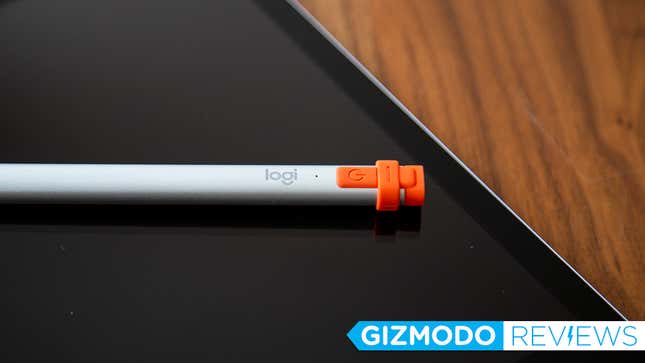 There was a small splash of enthusiasm when Logitech recently announced that the $70 Crayon, a more affordable "digital pencil" originally only for education customers, would be available to all iPad users. Calling it a "pencil" is problematic, though. It can't do all the same things as a $100 Apple Pencil. And depending on what you want to do with an iPad, that difference can feel like a big deal.
Vizio's Latest TVs Go All Quantum
Let's start with the obvious difference: the design.
Unlike the Apple Pencil, which is sleek and white and easily rolls off a table, the Logitech Crayon features an oblong aluminum casing with rubber details on either end. Unlike the Apple Pencil, which you charge by plugging into a Lightning port, the Logitech Crayon has a Lightning Port on its butt, so you just plug the cable in and don't have to worry about it sticking out the bottom of your iPad for an hour. Unlike the Apple Pencil, the Logitech Crayon has a power button, too.
These little design tweaks are nice in a lot of ways. The Logitech Crayon feels more durable and functional for everyday use. It also feels like it could stand up to the rough handling that, say, a fourth-grader might unleash upon it. The oval shape of it is also surprisingly appealing. It's got that feeling of security you get from a carpenter pencil, since the Crayon rests firmly on your finger and won't spin around if you don't want it to. I can definitely see the appeal for this—especially if it's a kid using the Crayon—but I'm personally more familiar with holding a regular round pen, which is what the Apple Pencil feels like.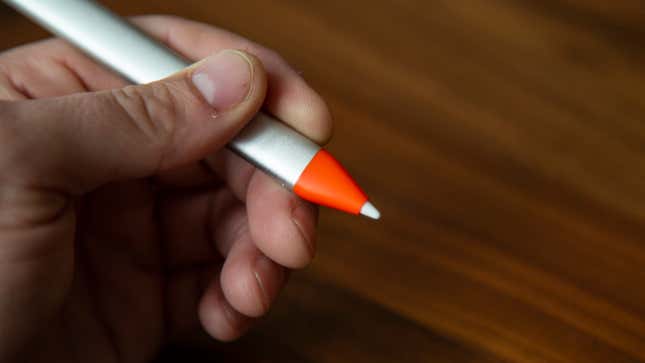 What really defines the Logitech Crayon in my mind, however, is the fact that it lacks pressure sensitivity. It doesn't matter how hard or softly you push the tip against an iPad screen, you're going to get the same line—not darker, not lighter. You can control the thickness of the line by angling the Crayon in different ways. Holding it at a 90-degree angle above the screen gives you a skinny line. Holding it at a steep angle gives you a thick line. This didn't affect note-taking for me at all, although it did start to feel awkward, when I tried to draw.
Drawing with the Crayon doesn't suck, but the experience does feel inferior when compared to drawing with the Apple Pencil. The touch sensitivity lets you do more natural shading and contouring. You don't have to be a professional artist to notice the difference, either. I like to sketch in a very, very casual sense, and the lack of touch sensitivity on the Logitech Crayon really bugged me! That means if you don't want to draw or make your iPad handwriting look more like real handwriting, you might not miss it
It connects automatically via Bluetooth which is pretty slick. You don't need to pair it or anything. You just turn it on. You can also use the same Crayon with several different iPads without pairing (though it's worth mentioning that the Crayon will only connect to the sixth generation iPad, the only non-iPad Pro that supports the Apple Pencil). That's different from the Pencil, where if you switch from one iPad to another with it you have to reconnect it. If you're a teacher with a classroom full of iPads and a bucket of Crayons, the convenience of not needing to pair must be tremendous. I only have one iPad, though, so this was never an issue.
The Logitech Crayon is a great stylus. But again, I wouldn't really call it a pencil, because that term implies that you can do shading and stuff the Crayon simply doesn't do. Heck, you can do shading with an actual crayon, so maybe Logitech really tricked us on the name. The device nevertheless does everything it's supposed to do, and it does it well. For $30 less than an Apple Pencil, I can see how plenty of people (read: non-artists) would find the price point appealing. (Read more: educators and students can still buy the Crayon for $50.) For me, I'm happy to pay a little bit more for more functionality.
README
Durable aluminum design feels nice and secure in your hand
Draws lines of different sizes on an iPad—cool!
Does not have touch sensitivity—not cool for artists
Cheaper than an Apple Pencil but maybe not cheap enough