For Evan Blum, it started as a hobby when he was young. His father, an architect specializing in reuse, exposed him to the world of architectural antiques—and it wasn't long before Evan's own collection had outgrown the space he lived in. Today, 41 years later, it's how he makes his living.
I walked into The Demolition Depot on 125th street in Harlem this week to find Evan eating a plate of spaghetti. The Depot is one of two storefronts Evan operates to display his collection; the other is called Irreplaceable Artifacts—a slightly smaller shop in Middletown, Connecticut.
Evan is a go-to man for designers, photographers, and architects alike. He's known around the world for having the best architectural pieces for use in new homes, or for rent as props, or even as set decorations on photo shoots and movie sets.
G/O Media may get a commission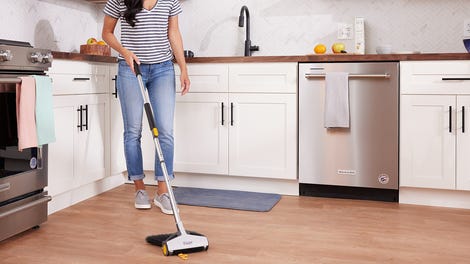 BOGO 50% Off
Flippr - BOGO 50% Off
I explored the storefront as Evan finished his lunch. The Depot takes up four floors of what would be a New York City apartment building—it also has an entire back lot that connects to 124th Street.
It's a wonderland of rare, antique, and classic architectural gems. Each room of each floor has a different set of vintage antiques. The only commonality between them? The cats that wander throughout. Just as Evan collects the different architectural pieces, The Demolition Depot has become home to six cats that Evan has rescued from different demolition sites.
Evan finished his lunch and took me on a tour of the building. I was curious about what someone so well-versed in the city's architectural history would like best, so I asked him to show me what his favorite pieces were. He took me to every floor while rattling off interesting facts about the business he built and the pieces he has accumulated. Walking not to far from the office, he told me how he has the largest collection of vintage plumbing fixtures in the world.
Take this one of a kind bizarre toilet, for example. Carved out of granite into the form of a crouching Arab, this toilet was picked up from the historic Cartier Mansion, built in 1909. We walked into the backyard, which serves as a storage area for oversized pieces.
Evan stopped at a rusty bench. This, he explained, was a replica he made of an original—a bench he found in East Berlin after the wall came down. The original he's kept for his own personal collection.
Further into the backyard, he pointed to a massive metal barrier. This was part of the original Williamsburg Bridge railing, which was scrapped years ago. He checked on some of his employees loading up a truck and then took me upstairs.
The second floor was dedicated to stained glass, as well as a side room filled with fireplaces. Evan pointed out one in particular that he had reclaimed from the grand Plaza Hotel, which opened its doors in 1907. At one time, he had fifty fireplaces from the original Plaza—the one you see above was one of the six designs that were used there. There are over 500 different fireplaces in this collection, which makes his one of the largest, and most eclectic in the world.
The next flight of stairs led us to a floor filled with all manner of doors. Evan explained that up until the past month, you could barely walk through the room he had so many. We browsed a little and then moved on to the next floor: Toilets.
The Depot's bathroom fixture collection is nothing short of encyclopedic. Evan immediately moved a toilet out of the way so I could take a photo of a pedestal sink he really admired—the rarest sink Crane has ever manufactured, an antique Elegia from the 1930s. It did seem to stand out from the rest: Oversized, baby pink, demanding attention and space. We walked through the rest of the space and then headed back down to the office.
Evan stopped along the way to show me a piece he described as "exceedingly rare:" The largest known cast iron ventilator shaft grille made and used in New York.
As we chatted about his business, Evan described the process of opening up his newest space: An old piano factory in Connecticut. For the last two years, he's devoted his time to filling the space with the rest of his collection.
The idea is to restore the aging factory and then fill it up, like he has at the Demolition Depot, which currently holds only a an eighth of his massive catalogue of artifacts. This space, though, he wants to open up to the public as a private collection—giving people a rare glimpse at the incredible menagerie of architectural history that he's amassed over the decades.