Syd Mead didn't just work on Blade Runner's dirty-neon future L.A., he also designed Tron's original lightcycles — check out this original concept art. So a new Mead book, full of concept art, is a cause for major celebration.
The Tron concept art above comes from a display at the Aero Theater in 2007, and Todbot on Flickr took a picture of it.
Mead's last book, 2001's Sentury, is out of print and copies of it are going for hundreds of dollars on Amazon and elsewhere. So it's great news that his new book, Sentury II, is finally available for pre-order, and it's coming out in October. According to the Amazon page:
The long awaited next book from legendary Syd Mead has finally arrived after nine years. Loyal fans and art enthusiasts will rejoice in being able to view what Syd Mead has been imagining for nearly the past decade. Having illustrated the future for us for the past 40 years, Syd Mead continues to amaze and surprise us with his stunning pieces no matter how much of the future we have seen from the start of his career to present day. Looking through his unrivaled artwork, we still find ourselves continuously waiting for his future to be in our present.

Images from countless conceptual projects as well as realized ones will be included in this fantastic visual voyage into the future with the one and only Visual Futurist, Syd Mead.
Here's another one of Mead's amazing concept art sketches for Tron, this time for a weird-looking computer system (via AHarvey2K on Flickr):
G/O Media may get a commission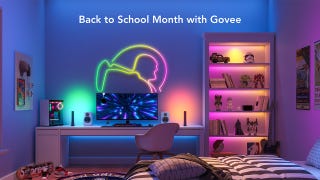 Back to School
Back to School Month with Govee Sale
[Amazon, thanks Torley!]