A few weeks ago, Marvel's ongoing Spider-Man event The Clone Conspiracy revealed the identity of the person behind Peter Parker's latest headache—and it was definitely crazy. But now we have got a taste of just how this familiar face made their way back into the Marvel universe... and it's kind of horrifying?

Yes, The Clone Conspiracy has revealed that its big villain the Jackal isn't actually the Jackal—or specifically, the man that's been behind that persona and taunting Spider-Man with various clone-based shenanigans over the years, Miles Warren. It is in fact Ben Reilly: the original Spider-Man clone, and star of the infamous Clone Saga.
G/O Media may get a commission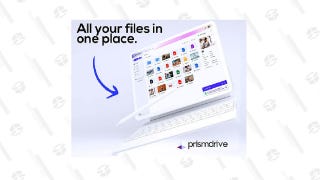 Save 97%
Prism Drive Secure Cloud Storage: Lifetime Subscription
Before this, the last time we saw "our" Ben Reilly (others have existed in various other realities, because comics), he disintegrated into a pile of clone dust in Peter's arms, seemingly gone for good. So how did he get from goop to clone-happy villain? Well, today's Amazing Spider-Man #22—by Dan Slott, Christos Gage, Giuseppe Camuncoli, Jason Keith, Cam Smith, and Joe Caramagna—gives us the answers.

Amazing Spider-Man #22 takes all the way back to 1996's Spider-Man #75, the night Ben perished and confirmed once and for all that he was the clone rather than Peter, and reveals that Peter and Ben weren't alone on that rooftop all those years ago...
Miles Warren was very conveniently hanging out to collect some of that sweet, sweet clone dust. Creepy, Miles!

Warren went on to do the thing he does best, which is clone the shit out of stuff, bringing Ben back to life—but this time, his creation was different. The new Ben didn't need fake memories implanted into his brain, he actually remembered his past life somehow, remembered his death, remembered that he was indeed a clone. But despite that miraculous evolution, Warren found there was still one flaw: Ben would eventually one day once again degrade at the cellular level. So, being the jerk he is, Warren notched up Ben's miraculous return as a failure... and killed him again.
Then when he still hadn't figured out how to stop the degradation, he killed him again.

And again. And again.
Ben Reilly, who could now remember all his past lives, died 27 times, each time a different way, each time his life—his life and the fake life of Peter Parker embedded within him all those years ago—flashing before his eyes. Jesus Christ, that's hellish. Is it any wonder he eventually snapped?

Because that's what Ben does, at long last succeeding to break out of Warren's test tube prison, nearly killing his captor in a moment of rage. But Ben doesn't snap in a violent way. He has a far more messed up plan for Warren, who he turns the table on:
But instead of killing each clone he iterated with to perfect his current "New-U" design, which required daily medication to avoid degradation, Ben kept his army of Warrens around. And in a cruel twist like Warren had done to him all those years ago, he doesn't reveal which Warren was the original man. Dang, Reilly. That's some messed up stuff.

Stuff that would you think would make Peter Parker, after hearing all of this from Ben, not entirely trust the reborn clone with his previously revealed plan to bring back Uncle Ben. It's pretty clear Reilly has gone through hell and come out a changed person—perhaps not changed for the better. Plus, there's that problem where Pete's been told that in every other alternate reality where he does teams up with the Jackal, shit goes bad. Like, apocalyptic viral zombie mania bad. How could he possibly work with Ben after all that?
God dammit, Peter Parker.