In this day and age, a list of what's coming soon to the popular streaming service is incredibly useful. But often times, there's just so much filler on there it's hard to find the geeky things we'll really want to watch. io9 is here to help as your humble stewards, The Nerd's Watch. We've whittled down the new additions lists to just the cool, nerdy, genre stuff coming to Netflix, Hulu, and Amazon in February so you can plan your month accordingly.
---
We've also gone ahead and added a few blurbs for those titles you may not be familiar with.
Netflix
Available February 1
Aeon Flux
Ella Enchanted
Kill Bill: Vol. 1
Kill Bill: Vol. 2
Lara Croft: Tomb Raider
Men In Black
Paint It Black
Scream 3
February 2
Altered Carbon (series premiere)
Cabin Fever
February 9
Fate/Apocrypha: Part 2
The Ritual - A film festival favorite about four friends who go on a hike to mourn their departed friend, and end up in a haunted forest.
G/O Media may get a commission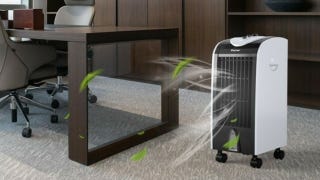 Save $10
Evaporative Portable Air Conditioner Cooler with Filter Knob
When We First Met - Pitch Perfect and Workaholics star Adam Devine stars in time travel relationship film.
February 15
Re:Mind (season 1) - A new Japanese series about the mystery around 11 students who mysteriously wake up in the same classroom.
February 16
DreamWorks Dragons: Race To The Edge (season 6)

Evan Almighty
February 19
Dismissed - Dylan Sprouse (not Riverdale star Cole Sprouse) stars in this horror film about a teacher who is stalked by a student he gives a B+.
FullMetal Alchemist
February 20
Bates Motel (season 5)
The Frankenstein Chronicles (seasons 1-2)
February 21
Forgotten - A Korean thriller about a brother who is kidnapped and comes back not as himself.
February 22
Atomic Puppet (season 1) - A new animated show about a superhero sock puppet that can only be activated by the hero's biggest fan.
February 23
Mute - Duncan Jones' long-awaited scifi film starring Paul Rudd and Alexander Skarsgård.
February 24
Jeepers Creepers 3
February 27

Derren Brown: The Push - If you don't know who Derren Brown is, go Google him, watch YouTube videos the rest of the day, and instantly be excited for his next special. (He's an amazing modern illusionist.)
For the full list on Netflix, including the items leaving at the beginning of February, visit the A.V. Club.
Hulu
February 1
Amelie

Asterix & Obelix: Mission Cleopatra
Daybreakers
The Haunting
Manhunter

Red Dawn (1984)

Redline - A 2009 scifi racing anime about a dangerous underground race.
Rollerball (1975)
Rollerball (2002)
Sin City

The Spirit
The Thaw - Climate change is scary enough on its own but, in The Thaw, the melting ice caps reveal an ancient, evil monster.
The Warriors

February 5
Archer: Dreamland (season 8)
February 8
The PJs (Seasons 1-3)
February 14
Star Trek (2009)
February 15
Next - A 2007 Nicolas Cage film about a man who can see into the immediate future.
February 21
Once Upon A Time
The Villainess - A 2017, South Korean thriller about a young, female assassin dealing with some deadly secrets from her past.
February 27
Alien Psychosis - A war vet returns home with a unique form of PTSD. One that is filled with visions of aliens and horrific things happening to his family.
Amazon Prime
February 1
Daybreakers
The Haunting
Manhunter
Red Dawn (1984)
Rollerball (2002)
Rollerball (1975)
The Thaw
The Warriors
February 7
The Expanse (season 2)
February 14
Star Trek (2009)
February 23
The Tick (season 1b)
Thunderbirds are Go! (season 4)
Which of these titles are you going to make time for next month?
[Nerdist]