US copyright laws are designed to protect the "fair use" of copyrighted content such as mash-ups and remixes—or they were, at least, until the advent of DMCA Takedown Notices. The Dutch government has taken notes on America's IP failures and is reportedly looking to explicitly protect such DMCA fodder, much to the chagrin of the European Union.
As has been debated at length, a major problem with the Digital Millennium Copyright Act—beyond its inherent draconian nature—is the fact that it both allows any copyright holder to demand the removal of any perceived infraction and puts the onus of proving the offending piece's fair use on the shoulders of its creator. Now the ACTA treaty, which is working its way through the European Commission, looks to offer the same sort of outdated protections to European content creators and governments alike. As an MPAA representative is quoted as telling a private ACTA meeting in 2010, "Bring in a censoring firewall to block piracy and you can use it to shut off sites that embarrass your government, like Wikileaks." See? It's a win-win situation.
"We all love YouTube," says Bernt Hugenholtz, Professor of law and Director of the Institute for Information Law (IViR) at the University of Amsterdam, told a conference at The Hague last Friday. "Many of the videos we find there are creative remixes of material protected under copyright. They're mostly for laughs or political commentary, or they're simply absurd. If we applied the law today strictly, we would not be allowed to do these things."
The Dutch legislature, on the other hand, is taking the opposite approach by looking at explicitly protecting the fair use of copyrighted material. Current fair use exceptions in the EU are strictly defined and not up for interpretation by the courts as they are in America. As Marietje Schaake of the European Parliament points out,
We must ensure that there is competition and a free market but we have to protect creativity as well. Right now the entertainment industry, for one, benefits from these outdated laws. These big parties will do all they can to prevent reform or redesign at all.
G/O Media may get a commission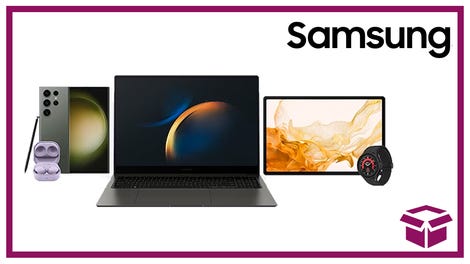 24 hour deals
Discover Samsung - Daily Deal
So what does the Dutch stance on relaxed copyright protections mean for Europe as a whole? For one, it illustrates the growing reticence of individual governments to go along with restrictive copyright legislation like the proposed ACTA treaty. So far, Germany, Poland, the Czech Republic, and Slovakia have stopped their ACTA ratification process outright and the Netherlands will apparently not wait for a the European Commission to reach a compromise on the treaty but will instead forge ahead with its own legislation. This would certainly ruffle feathers across the EU, which has tried hard to normalize its IP protections among its members. [Radio Netherlands Worldwide via Technology Review]
Image: Sashkin / Shutterstock