Every once in a while, we get the chance to peek into an alternate timeline and see how things could have played out if a single decision had gone a different way. And with the new Nokia 8, that's exactly what we're getting.
Back in the dark ages of dumb phones, Nokia was the undisputed king of mobile handsets. It seems everyone has a story about the how their colorful Nokia block survived a car crash or 20-story fall, but after the company partnered with Microsoft in 2011 to put Windows Phone 7—not Android—on Nokia smartphones, the company started down a path that would see it fade in significance as companies like Apple and Samsung conquered the world of mobile devices.
But when former Nokia execs banded together to create Finnish startup HMD Global last year and bought the rights to the Nokia name back from Microsoft, the storied brand got a second lease on life. Almost immediately the company released three mid-range and low-end devices, but those devices seemed a bit like test runs. Now we're getting a look at the company's first flagship. The Nokia 8 is a beautiful phone with the specs, and importantly, an Android OS that will let it compete with top devices like Samsung Galaxy S8. The only question is: Does it bring enough to the table to make people who don't get teary-eyed about outdated bricks actually give a shit?
G/O Media may get a commission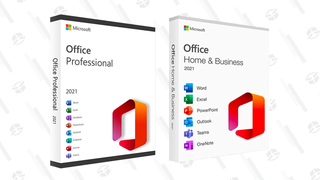 89% off
Microsoft Office Professional 2021 Lifetime License
In a nod to Nokia's minimalist design heritage, HMD is keeping things super clean for its new phone. The Nokia 8 features a simple, but boxy body with an aluminum frame, a pretty standard 5.3-inch QHD screen, a Snapdragon 835 processor, 4GB of RAM, and 64GB of storage. (Roughly the same specs as other Android flagships including the Galaxy S8 and OnePlus 5.) Below the screen there's a home button with a built-in fingerprint reader, just as you would expect. And because HMD isn't stupid, the Nokia 8 features both a USB-C port and a headphone jack. What you won't get are things like facial recognition or even water-resistance.

One feature with a bit flair is the dual 13-megapixel camera module on back, which features Zeiss optics and combines a typical color camera with a monochrome sensor so the phone can capture sharper photos and adjust its depth of field. On top of that Nokia says the 8 is the first phone that can shoot and record using both the front and rear cameras to create a unique dual-sight view that can even be streamed out live to the net on YouTube or Facebook.

Audio has also gotten a little extra attention thanks to OZO Audio, which borrows tech from Nokia's $40,000 360 camera so you can capture immersive spatial sound right on the phone.
Inside, HMD is sticking with the theme of simplicity by going with stock Android, something the company says it will do on all of its upcoming phones. This is a refreshing change from the bloated handsets we get from Samsung, LG and others, which should allow for more streamlined operation and faster updates. Nokia says the 8 will launch with Android 7.1, and that an update to Android 8 will be available shortly after that.
With a suggested price of 599 Euros (US numbers TBA but that translates to about $700), it looks like Nokia isn't shying away from other Android flagships either.
But the biggest takeaway from all this is to imagine what if Nokia hadn't lost the last six years making hardware for a platform that never really had a chance? Dual-camera livestreaming and 360 audio are neat, but features like this have been so much further along if HMD didn't have to spend time picking up the pieces and buying Nokia's own patents back from Microsoft.
Initial specs and features look good, but we won't know truly how competitive the Nokia 8 will be until we can get it in for a full review. Stay tuned.