ABC's Once Upon a Time is in a state of flux. Most of the cast left the show after the end of season six, leaving just a few stars and newcomers to try and steer the ship in the right direction. Sadly, it didn't take long for Captain Hook himself to point out a hole in the boat. We're in for a rough ride, OUAT fans.

During the San Diego Comic-Con panel, fans were treated to the first scene from the season even premiere. In it, we see young Henry (Jared Gilmore, in likely his last scene on the show) leave Storybrooke on August's motorcycle in order to find his destiny or whatever, riding through a magic bean portal.
Fast forward a few years, and older Henry (now played by Andrew J. West) is racing on his hog through the Enchanted Forest when he collides with the coach carrying our new Cinderella (Dania Ramirez). This is the meet-cute for what will eventually be the season-long romance. However, Colin O'Donoghue, who plays Captain Hook, killed the mood by asking his fellow panelists how the hell Henry was able to get gas for his motorcycle while he was the Enchanted Forest.
Henry has been on the road for years, long enough to completely change actors—so yeah, where the hell is he getting gasoline? Most of the realms we've visited in Once Upon a Time have been fantasy-based, with a few exceptions (like the black-and-white world of Dr. Frankenstein), meaning no one drives cars or motorcycles. Is he just making pit stops back in Storybrooke to fill the tank? And if so, is he bothering to call his two moms, or has he just become a colossal jerk?
Good lord, show. This is literally your big debut after the cliffhanger season finale, and already nothing makes sense. Sure, this might be a small goof, not a major problem—but any Once Upon a Time fan can tell you that, basically, the entire show is nothing but small goofs at this point. This reboot is the chance for a fresh start, but if they're already falling back on their old stupidity...that spells doom for the future of the series.
G/O Media may get a commission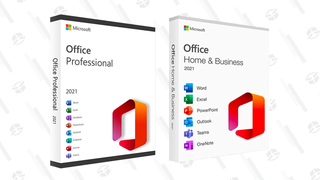 89% off
Microsoft Office Professional 2021 Lifetime License
We learned that they're adding Princess Tiana to the show, which will mark that character's debut. We'll be getting a new Alice, replacing Sophie Lowe from the one-season spinoff Once Upon a Time in Wonderland (that showrunner Edward Kitsis reminded fans "no one watched"), and replacements for Cinderella's mother and at least one step-sister.
And if you're wondering how the hell the show is going to justify losing just about every character from the series, they offered an explanation: While in the Enchanted Forest, Henry's going to get in trouble and ask for help, with Captain Hook, Regina, and Rumple showing up to lend a hand. That's right, literally no one else in Storybrooke cares about Henry's fate. Not even his own birth mother.
But come on, who cares. Nothing matters anymore. Once Upon a Time is, at its core, a show devoid of logic. Might as well tolerate the ride until it sinks.