Democrats are pushing forward with a bill that, unlike competing legislation, would actually require the use of paper ballots and comprehensive audits in all federal elections.
Today, Senators Bernie Sanders of Vermont and Kamala Harris of California added their names to a list of co-sponsors of the Protecting American Votes and Elections Act, joining nine others, including Oregon Sen. Ron Wyden, the bill's author.
The PAVE Act is the only legislation currently proposed that would require nationwide use of so-called "risk-limiting" audits to protect election results from tampering by hackers, from computer glitches and other voting system errors. Moreover, it is the only bill to mandate the use by all states of paper trail printers to verify machine-count outcomes.
In a statement on Wednesday, Sen. Wyden characterized his bill as a "critical, long overdue action" necessitated by U.S. intelligence-backed assessments that American elections face a robust threat of foreign cyber interference, namely from Russia.
"I welcome the support of my colleagues as we continue to see growing momentum in Congress and nationwide to address these challenges head on," Wyden said.
G/O Media may get a commission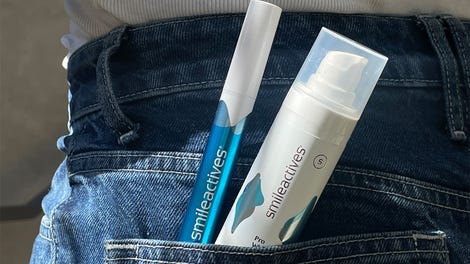 58% off
Whitening Powerhouse Pen & Gel Duo
Earlier this month, General Paul Nakasone, head of U.S. Cyber Command, said the Pentagon and National Security Agency are preparing to conduct operations against a wide range of foreign cyber adversaries; actors, he said, who are "attempting to undermine our nation's midterm elections."
"We must move aggressively to protect our election system from interference or sabotage," Sanders said in a statement. Joining him, Harris said the 2016 election "demonstrated clearly" the need to fortify the nation's election infrastructure. "Election security experts agree," she said, "that paper ballots and robust audits are critical to securing our elections and it's time for all states to embrace them."
PAVE is also cosponsored by Senators Kirsten Gillibrand, Elizabeth Warren, Edward Markey, Jeff Merkley, Patty Murray, Brian Schatz, Cory Booker, and Richard Blumenthal.
Currently, five states rely on electronic voting machines that produce no paper trail: Delaware, Georgia, Louisiana, New Jersey and South Carolina.
Post-election audits, as required under the PAVE Act, seek to mitigate potentially result-changing errors produced during hand counting, through poorly marked ballots, or problems with electronic systems; discrepancies accidental or the result of fraud.
PAVE requires what's commonly considered to be the most reliable form of post-election audit, known as a "risk-limiting audit." This type of audit does not rely on a sample size that's a fixed percentage, as other audits do, but takes into account the overall number of votes and the apparent closeness of the results. The audit continues until the outcome is proven mathematically accurate.
As an effective tool against election outcome errors or fraud, risk-limiting audits have been endorsed by the American Statistical Association since at least 2010.
The organization states:
While any auditing is good, fixed percentage audits frequently select more ballots than needed—and sometimes not enough—to provide strong evidence that the machine-count winner(s) truly received the most votes. In contrast, "risk-limiting" audits are designed to always have an acceptably small probability of failing to correct a wrong machine-count outcome. When a machine-count outcome is correct, a risk-limiting audit can often confirm the result after examining only a small fraction of the ballots cast.
Attempts by federal legislators to mandate post-election audits and the use of paper trail printers have come under fire by state officials, including Vermont Secretary of State Jim Condos, a Democrat who chairs the National Association of Secretaries of State. Last week, the White House cast the mandate as federal overreach that infringes on the constitutional right of states to run their own elections.
A competing bipartisan bill, known as the Election Security Act, has been significantly watered down in recent months following pressure from state officials. It no longer includes requirements for risk-limiting audits, and while prohibiting future election funds from being used to buy voting machines that don't produce paper ballots, it contains no provision requiring states to purchase paper train printers now.
While the Election Security Act would offer non-binding guidelines that suggest mandatory audits should take place, there is no enforcement. The bill effectively allows state officials to determine the sufficiency of their own audits. That is, the people responsible for overseeing the vote confirmation process will decide whether they've performed their jobs adequately.
Should the Election Security Act be passed in its current form, it may help federal lawmakers report to their constituents that Congress has taken great strides to pass a bill that will secure U.S. elections from mistakes and tampering—even though it hasn't and it won't.
Correction: A previous version of this article stated that the National Association of Secretaries of State opposes federally enforced, mandatory post-election audits. Officially, the organization has not offered its opinion on this issue. Its chairman, Vermont Secretary of State Jim Condos, has, however, aired concerns about the proposed mandates.