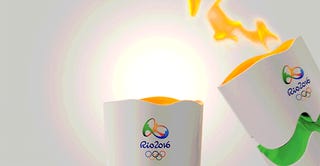 The biggest question on everyone's lips about the 2016 Olympic games in Rio de Janeiro is whether or not they'll be a huge disaster like Sochi. But at least we now know that the torch will be pretty neat, automatically expanding to reveal a series of colored sections as soon as it's lit.
The animated design almost looks like the handiwork of Tony Stark, but it was actually realized by São Paulo-based design studio Chelles & Hayashi. As the flame is passed from one of the 12,000 torchbearers to the next, the torch expands to reveal five colored clear resin sections. And along with the flame on top, they're designed to represent the earth, sea, mountains, sky, and sun, as well as the official colors of Brazil's flag.
Made from recycled aluminum and resin, the 2016 Olympic torch weighs in at around three pounds and measures 25-inches tall when closed, and just over 27-inches when expanded. Its triangular shape is meant to represent the three Olympic values of respect, excellence, and friendship, while the expanded sections that appear to be floating are supposed to symbolize the athletic efforts of all those competing.
The torch run leading up to the 2016 Olympic games in Rio officially gets under way in May of next year, and the flame is expected to travel some 10,000 miles by air, plus an additional 12,000 miles by road as it travels from Greece and throughout Brazil on its way to Rio.