You're looking at images of the world's two smallest frog species — Paedophryne dekot (the top two) and P. verrucosa (bottom two) — recently discovered by researchers in southeastern New Guinea.
Adults within the two species grow to a mere 8-9 millimeters in length, meaning you could place two of these little buggers end-to-end on top of a dime and see pretty much zero overhang. And it turns out that with the title of "world's smallest frog" also comes the award for world's smallest tetrapod; in other words, these are, in fact, Earth's tiniest non-fish vertebrates.
"Miniaturization occurs in many frog genera around the world," explains researcher Fred Kraus, who discovered the frogs, "but New Guinea seems particularly well represented, with species in seven genera exhibiting the phenomenon."
"Although most frog genera have only a few diminutive representatives mixed among larger relatives, Paedophryne is unique in that all species are minute."
G/O Media may get a commission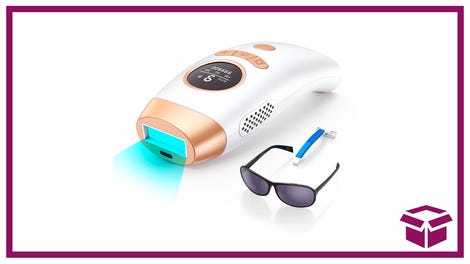 58% Off + Coupon
IPL Hair Removal Device
Kraus describes his discovery in the latest issue of the open access journal ZooKeys.
Top image by Fred Kraus