We loved the Promise SmartStor NS4600 when we reviewed it over the summer. Now the Promise SmartStor Zero NS2600 has streamlined the process of connecting multiple devices even further, and made it a lot more affordable to do so.
Like the NS4600, Promise's new NAS supports DLNA standards that make it easier to share content across DLNA devices. It also implements a software management tool, called ON, that Promise says will automatically map and open network share without your having to endure the rigmarole of setting up users and permissions.
The SmartStor Zero also fixes the one major gripe we had with the NS4600, which is that it doesn't ship with drives despite the $499 price tag. SmartStor Zero starts at one 1TB drive for $279 or two drives for $399. It will be available this quarter.
PROMISE Technology Raises the Bar for Consumer Storage with Introduction of Affordable No Muss, No Fuss SmartStor ZERO Storage at CES

DLNA-Certified SmartStor ZERO Gives Non-Techie Consumers ZERO Configuration, ZERO Frustration, ZERO Hassle in Breakthrough Network Storage Device for the Digital Home
MILPITAS, Calif. – January 5, 2010 – PROMISE Technology Inc., a leading supplier of versatile RAID storage solutions catering to customers from enterprise to consumer, is introducing worldwide its SmartStor™ ZERO NS2600 network storage device for the digital home today at the Computer Electronics Show (CES), South 4 Hall, booth # 36804 and in the DLNA Pavilion. SmartStor ZERO is one of the first network attached storage and digital media servers with support for Digital Living Network Alliance (DLNA) UPLOAD, allowing content – including content from mobile devices — to be uploaded to SmartStor ZERO without fuss or muss. PROMISE is also releasing DLNA Digital Media Controller (DMC) software for Windows Mobile, Android and iPhone to facilitate content upload, download, control point, digital media player and digital media server functionality in addition to offering Facebook Upload functionality, for pictures and seamless remote access for hassle-free setup and access to digital content from anywhere in the world.

The introduction of the SmartStor ZERO is an example of how PROMISE is redefining and raising the technology bar within the storage landscape," said Chi Chen Wu, CTO, PROMISE Technology. "Today's consumer does not want to be concerned with complicated setup procedures, media compatibility or dealing with the process of accessibility. The consumer wants a one, two, three approach to store, share and play music, movies and photos without the hassle of integration."

Easy to install and even easier to use, PROMISE is leading the charge to give consumers a foolproof and efficient and affordable way to take advantage of DLNA standards in order to share content with a variety of entertainment devices such as the Xbox 360, PS3, Samsung DLNA TV, Sony DLNA TV or Windows 7 PC. Utilizing a revolutionary software management tool called "ON" for both Windows and Macintosh operating systems, the SmartStor ZERO frees consumers from dealing with complicated setups or decisions that lead to frustration, confusion and product returns.

"Today consumers are put off by the configuration and management of traditional NAS devices," said Billy Harrison, product manager, CE products for NAS and DAS, PROMISE Technology. "Consumers want plug and store instant access. The process of creating users, managing permissions, managing shares and enabling/disabling services is a thing of the past. With SmartStor ZERO, we're solving the consumer's most basic problem by delivering to market a DLNA NAS-simple device anyone can use."

About SmartStor ZERO

SmartStor ZERO is a zero configuration 2-bay network attached storage and digital media server for the home and SOHO. SmartStor ZERO includes 1 or 2 hard drives and requires no lengthy or complicated setup process. Unpack, power-on, install the ON software and the rest is completely automatic. ON will map and open network share, allowing instant access for data backup and DLNA media sharing via digital media players. SmartStor ZERO functions as an iTunes Media Server, allowing music and video to be streamed using iTunes.

Making it a cinch to upload and download digital content to and from mobile devices, the SmartStor ZERO lets consumers take advantage of Album Art, thumbnails for image and video and other recently introduced Windows and Macintosh operating system features for the digital home. Additionally, the installation does not install any device drivers or virtual components into the operating system. SmartStor ZERO supports Windows® XP, Vista, Windows® 7, Mac OS X 10.5.2 and higher operating systems with one-touch configuration.

Accessing your digital content on the go has never been simpler. Setting up SmartStor ZERO for remote access from mobile devices and computers has never been easier. The embedded setup wizard will guide consumers through the setup process and auto-configure the router, allowing for seamless access to important data from anywhere on the planet.

SmartStor ZERO's Facebook integration makes managing and "uploading" pictures to Facebook a complete snap. Any picture stored on the SmartStor ZERO can be uploaded directly to Facebook within seconds. The Facebook Upload feature has been integrated into Promise's Web File Manager and is "easy" to locate, unlike existing products with similar features.

Using your home entertainment system has never been simpler

Today many homes and offices have wired coaxial, Ethernet or Wi-Fi networks. But by themselves, these networks don't facilitate the easy sharing of content between connected devices. The DLNA protocol enables consumers to locate, move and stream content between connected devices. The PROMISE SmartStor ZERO helps the consumer eliminate complicated setups when trying to connect multiple devices, enabling hassle-free connectivity and easy-to-use device management that will greatly enhance the consumer's entertainment experience. With SmartStor ZERO, consumers can revolutionize the way they find, send, store, get, play and print digital content. For example:

• Upload digital content from a mobile device to SmartStor ZERO;

• Download digital content from SmartStor ZERO to a mobile device;

• Display music Album Art in content lists using Windows 7 operating system;

• Display thumbnails for images and video using DLNA 1.5 digital media players and Windows 7 PCs;

• Utilize MU3 playlists and create DLNA playlists via NS4600 Media Center interface;

• Create playlists for playback in iTunes;

• View video streaming including protected content purchased from iTunes Store (Movies, TV shows and digital copies included with DVD & Blu-Ray) on Mac OS X.

With up to 4TB of storage, the SmartStor ZERO delivers an easy-to-use zero configuration, instantly accessible network attached storage and digital media server for data backup and media sharing in the digital home. Complemented by DLNA UPLOAD via Promise's upcoming Digital Media Controller software for mobile devices, consumers can easily transfer user-generated content directly to the SmartStor ZERO in a matter of seconds for instant viewing using DLNA TVs, PS3, Xbox 360 and Windows 7 PCs.

Pricing and Availability

Prices for the SmartStor ZERO NS2600 start at $279.00. Units will be available at major retail outlets in Q1, 2010.

Service
The offering is backed by PROMISE's two-year limited warranty.
G/O Media may get a commission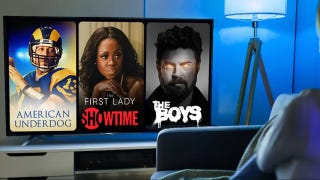 UNDER $1
99¢ Prime Video Channels