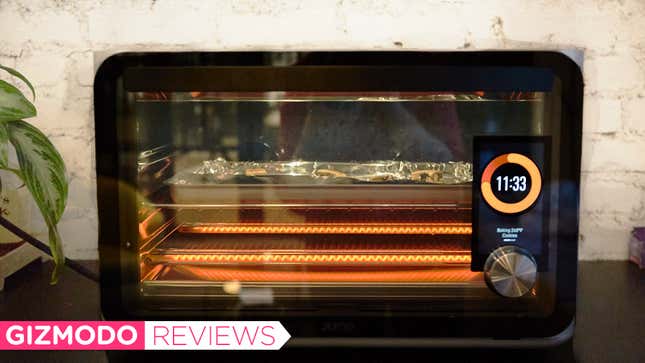 The June Oven is a super smart countertop convection oven. There's a camera built in that watches the food cook and can correctly identify what food you put in, helpfully supplying cooking modes; Wi-Fi so you can connect to the app to watch your food cook, adjust temperature, or even take set a reminder to take food out; and carbon fiber heating elements that intelligent heat depending on the food so food always comes out evenly cooked. It's all powered with an Nvidia chip making it the smartest oven you've ever used.
Twitter Is Shifting Right | Future Tech
The June Oven recognized the cookies as soon as I popped them in. It wasn't entirely sure that the break and bake cookies, purchased at the drug store, were actually cookies; it also suggested brussel sprouts. But even those suggestions were impressive enough. I hit the cookie button, pressed go, and 15 minutes later I had the most evenly baked chocolate chip cookies of my life. I also had a sweet timelapse of their baking process. And all it cost me was $1,500.

So unless you are made of money you do not need this oven. This is for people that have a Thermomix and copper pans and one of those fridges with a tablet built inside. This is a rich person's toaster oven that also happens to be the smartest thing in your home. The June Oven also isn't meant to replace your oven, since it's purely designed for countertops. Although, it can handle a large chicken or small turkey with ease.
On that note, it's too big to replace the tiny $100 toaster oven your mom gave you when you finally moved out of her house. But if you have a big house—and if you have $1,500 to blow on a really cool cooking accessory—the June Oven does easily fit on the countertop and looks eerily attractive. It's also the absolute perfect choice for people who don't currently have an oven and have zero desire to renovate their kitchen and make room for one.
Because of its size, carbon fiber heating elements, and CPU-controlled fans, the June Oven pre-heats quickly and cooks evenly (with only a little more noise than a traditional oven). Cookies really do come out perfectly. The built-in camera that lets you monitor what you cook from your phone also hooks up to the oven's internal CPU. This allows the June Oven to know what your cooking and how far along it is. At least ostensibly.
While it worked fine for batches of cookies, it worked less fine for cooking bacon. During testing, the oven recognized the bacon and provided a handy bacon pre-set. But then it quickly overcooked it, every time I tried. "It's crispy, but very burnt," my brave taste testers claimed after each batch. This is likely because the camera only captures top down images and had no way of knowing how the thickness of the bacon or how quickly it would cook. Fortunately the June Oven has more than auto modes and baked some damn good bread.
But it's still a $1,500 super toaster oven. If your office or your second yacht needs a cooking appliance, then go to town. The rest of us are going to be stuck waiting for June to release a cheaper version to replace our stoves—maybe with a nice induction counter top, too?
README
Its an amazing countertop oven with a computer inside to figure out what you're cooking and cook it perfectly.
But it's $1,500.
Made really nice cookies.
Burned the bacon.