Sounds like The Thing prequel is moving out of development purgatory, and into actual production. Filming will begin this March. But with Ronald D. Moore script thrown out, is this something we want?
According to Production Weekly's Twitter feed
"Universal's prequel to John Carpenter's classic thriller "The Thing," is due to begin filming March and continue till June in Toronto."
And immediately we're all filled with dread. The Thing is a classic, and we're not sure it needs yet another prequel or reboot. It also doesn't help that Ronald D. Moore, a writer and show runner we trust — to an extent — was taken off the project entirely, and replaced with A Nightmare on Elm Street's Eric Heisserer
Heisserer, who has voiced his undying respect for the original, called his script a "from scratch" rewrite. We'll just have to go into this blind until the new Nightmare comes out, as Heisserer doesn't have much of a track record just yet.
G/O Media may get a commission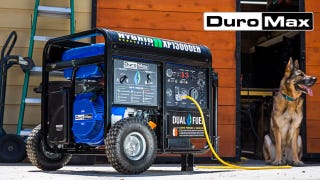 Black Friday Sale
DuroMax Generator Sale
Universal Pictures have picked Matthijs van Heijningen to direct the film, another name that does little to ease our worry, but we're going to be optimistic, it's a new year after all. Let's just hope that the entire project isn't a green-screened CG monster fest, and they have a little fun using puppets and old school practical effects. There's nothing like watching a group of actors tied up next to a monster, while The Thing flails around mere inches from their faces. You can't capture that kind of intensity with a tennis ball on the end of a stick, while the assistant director shouts "you're scared!"