Talk to any British expat in the US and ask them what they miss most from home, and it's likely to be one of three things: free healthcare, Cadbury's Dairy Milk, and British TV. Specifically, Brits like me miss iPlayer, the BBC's free service that allows you to stream BBC TV shows—if you're in the UK. If you're not, you can only access radio programs, which is great if you miss Radio 4 but not if you want to stay caught up on Doctor Who or The Great British Bake Off. Instead, expats have to resort to illegal streaming sites or VPNs to access many of their favorite shows.

Which is why, when I heard about BritBox, a British TV streaming service designed for Americans, I sat up straighter in my big American pants. Was it true? Would I finally be able to get iPlayer in the US?
Not quite. BritBox, a $6.99-a-month service from the BBC and ITV that launched today, isn't exactly iPlayer for Americans. It's more like Netflix, but only for British stuff and shows that are available "as soon as 24-hours after UK broadcast," according to the BBC's press release. Unfortunately, however, right now, it's focused on archives of older shows, like Miss Marple, Blackadder, and The Office.
But luckily, BritBox isn't the only destination for English television. In fact, there are plenty of great shows to be found on other streaming platforms, like Netflix and Hulu. So allow me, Gizmodo's resident tea-swilling, meat pie-loving Brit, to recommend some of the most brilliant British telly available now on popular streaming services. If that's quite alright.
---
The Great British Bake Off
I resisted The Great British Bake Off (known in America as The Great British Baking Show, which, ugh) for a long time because things that are popular and loved by well-adjusted people tend to alienate me. But last year, in search of something comforting during the darkest point of election season, I finally gave in, and I have never looked back. The pacing of the challenges is enough to keep you hooked but slow enough to be relaxing, the contestants are uniformly sweet and likable, and hosts Mel Giedroyc and Sue Perkins are thoroughly adorable. (Plus, judge Paul Hollywood looks like a cross between Alec Baldwin and Guy Fieri.) Only three of the seasons are available right now, but they're cracking good ones. (Netflix)
G/O Media may get a commission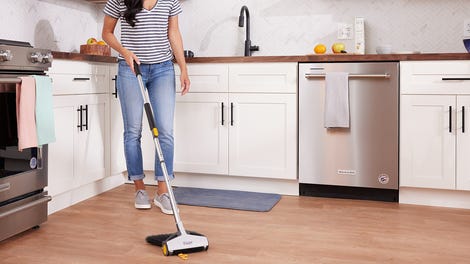 BOGO 50% Off
Flippr - BOGO 50% Off
---
Father Ted
Father Ted doesn't quite have the American penetration of The Office or Peep Show, but it's just as good. The show is about three priests, living on an isolated island off the coast of Ireland, and, like all the best British comedies, is largely about how awful and stupid their main characters are. Ted is obsessed with getting away from Craggy Island, preferably via fame and fortune; Father Dougal is too stupid to tell whether a cow is small, or merely far away; Father Jack is a disgusting drunk. It only feels a little dated, and unlike so many sitcoms, the quality remains consistent right to the end. (Hulu)
---
The Thick of It
A darker but funnier predecessor to HBO's Veep, The Thick of It is another of Armando Iannucci's brilliant contributions to our otherwise garbage world (along with I'm Alan Partridge and The Day Today). The show follows a fictional low-ranking government department and its venal, hapless staff, who spend most of the day trying not to fuck up and throwing biting insults at each other. It's worth watching just for the Machiavellian Malcolm Tucker, played by Peter Capaldi, but every episode in its short run is wonderful. Don't miss the outtakes when you're done, too. (Hulu)
---
The Office
You probably already know that the original version is good, but it is. It's very good. Watch it, or I'll put your stapler in a jelly. (Netflix)
---
Peep Show
Another obvious-but-entirely-necessary pick, Peep Show is required viewing for those with a strong enough stomach to handle joining Mark and Jez in the most awkward, claustrophobic situations. The penultimate season dips a bit in quality, but it's worth watching all nine. Once you've watched the whole run, watch the appalling pilot of the American version to understand why some things should not be transported across the Atlantic. (Hulu)
---
Green Wing
One of the most original and quirky comedies out there, Green Wing, which first aired in 2004, is entirely unique and extremely funny. It's set in a hospital but it's more about surreal situations and a top-shelf love story than medicine. (Netflix, Hulu)
---
Blackadder
Possibly the all-time best British sitcom, there are only 24 episodes of the historical sitcom Blackadder (though you shouldn't bother with the first season), but each is a classic. It aired in the '80s and features young versions of legends like Hugh Laurie, Miranda Richardson, and Stephen Fry. The last season, set in the First World War, is legendary in the UK for its devastating final scene. Start with Season 2, set in Elizabethan England, and try not to watch all of it in one night. (Hulu)
---
Fleabag
This recommendation comes straight from my British and actually-still-in-Britain mother, so it's very authoritative. A little like Peep Show but with a female lead, Fleabag is extremely funny but only kind of a comedy—it's also heartbreaking and bitingly honest. (Amazon Prime)
---
QI
One thing Britain does well that America barely does at all is the panel show, which boils down to getting several funny people together to sit around and make jokes. Possibly the best example of this genre is QI, which stands for Quite Interesting, where quizmaster Stephen Fry—who has sadly left the show—asks questions that are designed to elicit interesting conversation. Points are awarded for being interesting as well as correct. It's kind of pretentious, extremely British, and very good to fall asleep to. There are only three seasons out of a total of 14, unfortunately, but it's enough for Stephen to soothe you to sleep for a good while. (Hulu)