New 3D laptops and have begun arriving en masse. Are they ready to slay their 2D counterparts?
Is AI Moving Too Fast? | Future Tech
A cadre of new 3D laptops make it possible for you to enjoy stereoscopic content on the go. The vast majority of these offerings rely on Nvidia's 3D Vision kit-a set of powered shutter glasses, a USB-connected IR emitter, and the appropriate drivers-which, when paired with the right GPU (a GeForce 8 series or newer) and a 120Hz screen, provide an "active" 3D experience. In other words, as a rapid succession of alternating screens presents slightly different views to each eye, the shutter glasses ensure that the correct view is seen by the correct eye by shuttering the opposite lens accordingly.
Passive solutions for the PC also exist. These rely on polarized screens and glasses, which help resolve a double set of images shot from slightly different angles by filtering out one image for each eye and thus creating the illusion of depth.
Besides these major distinctions, there are several other points to consider before investing in a 3D experience for your PC. Our reviews of several new 3D laptops will help educate you on what's out there and what kind of features to look for to meet your 3D needs.
G/O Media may get a commission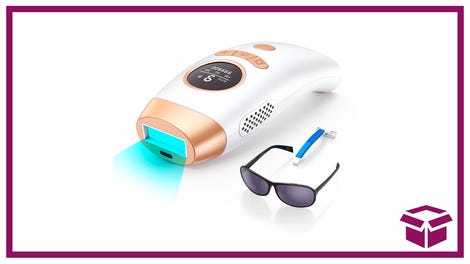 58% Off + Coupon
IPL Hair Removal Device
Origin EON15-3D

For folks who have no interest in 3D movies
We received Origin's very first 3D model—the unit it demoed at this year's E3 gaming expo. In that context, the choice of hardware makes a lot of sense. This 15.6-inch EON15-3D sports a GeForce GTX 285M-arguably the burliest mobile graphics card available. Certainly better than the GTX 260M in our zero-point rig and quite capable of hitting a playable frame rate on a 1680x1050 external display (up from the unit's native 1366x768) with lots of visual effects enabled-in non-3D conditions, that is.
If only the EON15-3D supported them. While the GTX 285M provided some of the strongest gaming numbers in this roundup, the card is not compatible with Blu-ray 3D playback (Origin also offers a Blu-ray 3D–compatible GTS 360M option). You can still play regular Blu-ray movies on the laptop's BD-ROM/DVD combo drive.
Is it worth a whopping $2,600? Not when there are less-expensive options that make fewer compromises.
For the full Origin EON15-3D review and benchmarks, head here.
Toshiba Satellite A665-3DV

Covers almost all the bases
Toshiba's Satellite A665-3DV presents an interesting juxtaposition to Origin's machine—for one thing, it costs $1,000 less. Like Origin's EON15-3D, the A665-3DV features a 15.6-inch, 1366x768, 120Hz glossy screen, and uses Nvidia's 3D Vision kit.
A significant difference between the two machines, however, is the A665-3DV's use of a GeForce GTS 350M for graphics chores. While this is considered an enthusiast GPU, its scores in Far Cry 2 and Call of Duty 4 were 33 percent and 42 percent lower, respectively, than those of the Origin's GTX 258M.
The A665-3DV is notable in a couple of respects. It's the only rig in this roundup that offers BD burning as well as reading through its optical drive. And its 12-cell battery actually makes it viable to use away from a power outlet. Were it not for the compromises inherent to playing 3D games on mobile-graphics power, we'd say the A665-3DV is a pretty good deal.
For the full Toshiba Satellite A665-3DV review and benchmarks, head here.
Asus G51Jx 3DE

Revisions to first attempt pay off
The G51Jx 3DE is Asus's second iteration of a 3D Vision–based laptop, following last year's G51J 3D. In that time, the company has taken the noteworthy step of building the necessary IR emitter for the shutter glasses into the laptop itself. This means you have one less thing hanging off of your machine or needing to be packed up for transport. It also mitigates any worries about the position of the external emitter, which, when turned at the wrong angle, can cause the glasses to shut off or act wonky. It's a big improvement to the overall experience and we commend Asus for the move.
Like the other laptops here, the G51Jx 3DE features a quad-core CPU-a 1.60GHz Intel Core i7-720QM, in this case. That makes it slightly slower than the 1.73GHz Origin and Toshiba rigs, but the G51Jx 3DE still posted respectable numbers in the productivity benchmarks.
There's room for improvement here, but the G51Jx 3DE streamlines the 3D Vision experience and offers the best combination of 3D gaming and movie playback of all the notebooks here.
For the full Asus G51Jx 3DE review and benchmarks, head here.
Lenovo IdeaPad Y560d

A passive alternative to 3D Vision
Lenovo breaks from the pack with its IdeaPad Y560d, eschewing Nvidia's 3D Vision kit in favor of a passive 3D solution. Thus, the IdeaPad Y560d's 15.6-inch, 1366x768 screen is polarized and capable of displaying two different perspectives of an image, which become a single 3D image when viewed through a pair of polarized glasses. The laptop comes with a fairly robust pair as well as a set of clip-on lenses to wear over prescription specs. The trouble is, there are serious trade-offs.
For one thing, you have to remain fairly fixed in that 3D-viewing sweet spot. If you move your head or the angle of the screen just so, the image loses focus. Another drawback is that neither the hardware nor software supports Blu-ray 3D playback. In fact, the IdeaPad Y560d doesn't even come with a BD-ROM drive.
This isn't the laptop to buy if you're looking for a full-fledged 3D experience, which to us means 3D Blu-ray movies and the ability to watch them on a large external screen, not to mention an experience that doesn't limit you to a narrow viewing angle. But the Y560d is priced right if you want a well-rounded 15.6-inch laptop that offers a (relatively) inexpensive way to tinker with the occasional 3D game.
For the full Lenovo IdeaPad Y560d review and benchmarks, head here.
Maximum PC brings you the latest in PC news, reviews, and how-tos.