This year is full of great science fiction and fantasy TV series. Actually, 2016 is too full. Seriously, check out how long this list of new, returning and potentially premiering shows due out over the next 12 months is. When are we going to get a chance to leave the house and watch all those great movies, or read all the year's best books? Honestly, we don't know. We just know it's a good problem to have.

BRAND NEW SHOWS AND NEW SEASONS:
The Shannara Chronicles (January 5, MTV)
MTV's adaptation of Terry Brooks' fantasy mega-series began earlier this week; while the series premiere was a bit slow, it quickly picks up in the next few episodes once all the attractive teenage heroes band together to save the post-apocalyptic fantasy realm of Shannara. Our initial review is here.
Teen Wolf (January 5, MTV)
One of the most byzantine supernatural soap operas in years, this show continues to add more and more stuff to its mythos. Stiles' dad, Sheriff Stilinski, is dying, and meanwhile everybody's looking for the Hellhound. But what have the Dread Doctors cooked up, and what do they want with our favorite banshee, Lydia?
G/O Media may get a commission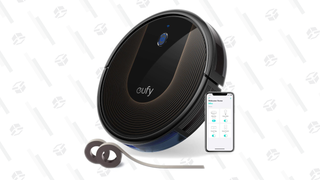 48% Off
Eufy BoostIQ RoboVac
Angel From Hell (January 7, CBS)
Jane Lynch plays a young woman's guardian angel—but this angel is foul-mouthed, sexually liberated and kind of a crazy stalker. This sounds like the set-up for the best show ever, but it's actually kind of a trainwreck because they forgot to give Jane Lynch anything interesting to act opposite. The rest of the show's characters, and its storylines, are utterly banal and sitcom-tastic, and not even Jane Lynch can lift this show up.
Shadowhunters (January 12, Freeform)
Clary Fray is a half-human, half-angel, who discovers that she's supposed to be fighting demons. This show is the second attempt at an adaptation of The Mortal Instruments series, which didn't find a home at the box office. This TV version—on the channel formerly known as ABC family—should be a better fit.
Second Chance (January 13, Fox)
A 75-year-old man who used to be sheriff until he faked some evidence is killed... and then he's brought back to life as a young, sexy, mostly shirtless man with the strength of five ordinary men. And he fights crime. This show was originally supposed to be a "Frankenstein" knock-off, but it looks like they wisely dropped that aspect, since it's super-tenuous. If this show can focus on its flawed protagonist avoiding his past mistakes, that could actually be pretty interesting.
Colony (January 14, USA)
Lost's Josh Holloway stars in this dystopian thriller where he and his family live in a Los Angeles controlled by fascist aliens, enforced by a mysterious group called the Raptors. And they're surrounded by a giant wall that cuts the city off from the rest of the world. Holloway and his family try to help the human resistance while searching for their son, who was lost during the original alien invasion.
Agent Carter (January 19, ABC)
TV's greatest superhero (yeah, I said it) returns! Agent Peggy Carter leaves NYC for late '40s Hollywood, an atomic threat, and the villainous HYDRA leader known as Madame Masque. Really, the show could be Peggy and Jarvis taking walks together, and we'd be just as excited.
DC's Legends of Tomorrow (January 21, The CW)
Time-traveler Rip Hunter arrives from the future to cobble together a team of heroes and villains—including the Atom, Firestorm, Hawgirl, Captain Cold and more—to stop the immortal Vandal Savage in DC's fourth TV series. Hey, it's not the Justice League, but it's probably as close as The CW's going to get.
The 100 (January 21, The CW)
Last year, The 100 managed to mature into a great show, so we have high hopes that season three of this post-apocalyptic drama continues to move the ball forward in new and interesting ways. There's an AI who has work to do, after all.
Black Sails (January 23, Starz)
This pirate drama returns for a third season of nautical violence, nautical sex, awesome beards, and characters who are named after their awesome beards. There haven't been any mermaids or sea monsters yet, but there have been some pretty awesome naval battles, and lots of betrayal and skullduggery.
The X-Files (January 24, Fox)
Is the truth still out there? Presumably so, since Agents Fox Mulder and Dana Scully are teaming back up to investigate monsters, aliens, the return of the Cigarette Smoking Man, and other mysterious goings-on. If you're hesitant to wade into the show's massive, overarching mythology about an alien invasion, don't worry—there are a few stand-alone episodes, too.
Lucifer (January 25, Fox)
Somehow, Fox managed to take the Sandman comic spin-off about the devil quitting his job as ruler of hell and moving to Los Angeles, and turn it into a murder procedural. Yes, Satan is solving murders with the LAPD in this show ostensibly based on Mike Carey's Vertigo comic—but Tom Ellis looks so damn fun as Lucifer, it might end up being too fun to miss.
The Magicians (January 25, Syfy)
Lev Grossman's critically acclaimed novel The Magicians can be simplified as "Harry Potter in an American college," but Quentin Coldwater's problems include sex, drugs, parties, and how boring studying is. Of course, there's still the matter that someone is eating his fellow students…
You, Me and the Apocalypse (January 28, NBC)
The UK got this show last year, and it's got a cast to die for: Mathew Baynton, Joel Fry, Pauline Quirke, Jenna Fischer, Kyle Soller, Rob Lowe, Gaia Scodellaro, Paterson Joseph, and Megan Mullally. It's a comedy-drama about the end of the world, where Rob Lowe plays a priest. If that doesn't get you on board, then nothing will.
The Venture Bros. (January 31, Adult Swim)
There's pretty much no details about what's going to happen in the long-awaited sixth season of The Venture Bros., but so what? Are you not going to watch it just because you don't know what insanity Hank, Dean, Brock, Doc and the Venture-verse's wide pantheon of characters is going to get into this year? Yeah, we didn't think so.
11.22.63 (February 15, Hulu)
A mild-mannered high school teacher (James Franco) discovers a portal to 1958 in a dinner in this miniseries based on the novel by Stephen King, but he's also given a task—prevent the assassination of John F. Kennedy on November 22, 1963, five years later.
Vikings (February 18, History)
Here's another historical drama inspired by Game of Thrones. It's time to raid the British Isles! Everybody always enjoys a good Viking raid. Meanwhile, the Vikings are still torn between their old Norse gods and that newfangled monotheism thing.
Damien (March 7, A&E)
Satan's Hollywood hot streak continues with this horror-drama series based on the hit 1976 movie The Omen. In the present day, the adult Damien has a successful career as a war photographer but no idea of his true parentage, until a mysterious older woman (played by the always excellent Barbara Hershey) who is intent on getting Damien to follow in his father's footsteps.
Bates Motel (March 7, A&E)
A&E renewed this show for two seasons, meaning that this year's fourth season is being made with the knowledge of a guaranteed season five, which gives them a lot of time to play. And since Norman's hallucinations caused him to kill Bradley, you can bet that Norma's got a lot to deal with.
Daredevil (March 18, Netflix)
Marvel's Man Without Fear returns to protect Hell's Kitchen, alongside the arrival of the deadly vigilante the Punisher and Matt Murdock's ex-girlfriend, the ninja assassin Elektra. But who's going to save Matt from them?
12 Monkeys (April, Syfy)
This TV adaptation of Terry Gilliam's excellent time travel film was one of 2015's most delightful surprises, so we can't wait for season 2. Season one ended with the cliffhanger-iest of cliffhangers—Railly was so gravely injured Cole had to send her to the future, Jones had to surrender the time machine to a post-apocalyptic mob, several main characters are dead, and the Army of the 12 Monkeys has 12 babies ready to (somehow) destroy the world. Can Cole time-travel his way out of this?
Game of Thrones (April, HBO)
Now that the show has truly caught up to the books, everyone is in the dark about what going to happen on the hit fantasy series. Here's all we know: Bran is back, and will likely using his powers to reveal the secrets of the past. The extended Greyjoy family has a new role to play. Dany is back to square one. And somehow, in some form, it appears Jon Snow still has some kind of role to play.
Orphan Black (April, BBC America)
What can we expect from the always excellent Orphan Black? Well, we know that the show will be exploring stories that go all the way back to the beginning of season one. We love Orphan Black best when Tatiana Maslany and co. get to shine, and it looks like that's where things are headed.
Scream (April 20, MTV)
The thing is, Scream doesn't have to reinvent the wheel to work. The original movie was about being self-aware and funny along with, you know, the murdering. Season two just has to deliver more of the same.
---
MID-SEASON RETURNS:
Supergirl (January 4, CBS)
Supergirl continues to have family drama—not with her more famous cousin, but her semi-evil, ex-con aunt.
Limitless (January 5, CBS)
Brian will riskily continue playing the FBI on Morra's behalf until Rebecca discovers the gut-wrenching truth.
Mythbusters (January 9, Discovery)
The final season of the long-running science show! I'm not a betting man, but I think they might just blow something up.
CSI: Cyber (January 10, CBS)
The internet continues to be exactly as scary as your grandparents worry it is.
iZombie (January 12, The CW)
Liv has broken up with Major (again), the mob boss and Max Rager company are still free, and the zombie cure is kaput. Things aren't looking good.
The Flash (January 19, The CW)
Barry Allen still has no idea how to defeat Zoom, and now it appears Zoom has secretly turned one of his allies against him, too.
Arrow (January 20, The CW)
Felicity is gravely wounded, and the show keeps flash-forward to Oliver standing over someone's grave. Don't even think about it, Arrow.
Supernatural (January 20, The CW)
Sam and Dean must regroup after learning the truth about Dean's visions.
Grimm (January 29, NBC)
Somehow, Nick's illegitimate half-Grimm, half-Hexenbiest son by his former archenemy is the least complicated thing in his life at the moment.
Sleepy Hollow (February 5, Fox)
If you gave up on Sleepy Hollow last season, it's definitely time to give it another try, as Ichabod refuses to accept Abbie's sacrifice.
The Walking Dead (February 14, AMC)
The zombie horde is in Alexandria, Rick and the others are covered in blood and guts, and the comics' worst villain, Negan, it about to make his appearance. Things are looking as good as ever!
Gotham (February 29, Fox)
Last time we saw him, Jim Gordon murdered an unarmed man in cold blood. So, uh… yeah.
Once Upon a Time (March 6, ABC)
Time will only tell if the trip to bring Hook back from the dead is more miserable for the characters or us.
Agents of SHIELD (March 8, ABC)
So, remember how Ward was kind of a pain in SHIELD's ass? It looks like he's going to get a whole lot worse.
---
TBD:
BrainDead (CBS)
This show in which alien brain-eating parasites attack members of Congress and their staffers is supposedly premiering this summer, just in the middle of election season. This show could explain everything!
Containment (The CW)
This plague drama is loosely based on an acclaimed Belgian show called Cordon. Basically, parts of Atlanta, GA are cordoned off because people inside are infected with an incredibly deadly virus. But when your loved ones are trapped in the "infected" area, how far will you go to save them? The show's cast includes the brilliant David Gyasi, and the pilot was directed by David Nutter, so this should at least be highly watchable.
Doctor Who (BBC America)
We have faith that this show will be back in 2016 and won't keep us hanging for an entire year. We need our Capaldi fix!
Emerald City (NBC)
NBC ordered this dark retelling of The Wizard of Oz—where Dorothy is a young cop transported to a war-torn Oz—in 2014, then canceled it, and have now changed their minds and scheduled it for this fall. This is probably not a good sign, but I have to admit I'm looking forward to Toto being a K-9 unit member.
Hunters (Syfy)
Syfy's had some pretty great luck lately with adapting books—let's hope it holds with this adaptation of Whitley Streiber's Alien Hunters book series. The good news? It's produced by Gale Ann Hurd (Terminator, Walking Dead) and developed by Natalie Chaidez (Sarah Connor Chronicles, 12 Monkeys).
Legion (FX)
The first live-action TV show based on the X-Men comics since Mutant X, this show follows a young man who's struggled with mental illness since he was a teenager—but he may actually be the savior of mutantkind. In the comics, the character of Legion is the son of Professor X, but there's no word on whether the TV show will keep that detail (or how close to movie continuity this show will be.) Rachel Keller (Fargo) just signed on to play the female lead, who's rumored to be a version of Rogue. Also in the pipeline: Hellfire, Fox's show about the Hellfire Club—but that seems to be less far along.
Luke Cage (Netflix)
We know Netflix's third Marvel series is in production, so here's hoping it'll premiere before the end of the year. Very little is known about the actual story of the show, other than everyone loves Mike Colter's memorable portrayal of the indestructible hero from his many appearances in Jessica Jones.
Outcast (Cinemax)
Robert Kirkman struck television gold with The Walking Dead. Now another one of his properties is coming to TV, except this one is about demonic possession instead of zombies. Kyle Barnes (Patrick Fugit) has struggled with demons his whole life, and then he's recruited by a crazy preacher (Philip Glenister from Life on Mars) to lead the war against evil.
Person of Interest (CBS)
The best TV show about artificial intelligence is set to ask some thorny questions in its fifth season—like, can they really restore the Machine from its compressed backup inside a suitcase? When they do bring the Machine back, should it be the same before, or should it have fewer limitations on its ethics? The war against the evil A.I. Samaritan is going to get uglier. Let's hope this show comes back soon!
Powers (PlayStation Network)
Yes, this show does still exist and got a second season. Season 2 will follow the plot of volume one of the comics: Who killed Retro Girl? But the show also returns with some added Wil Wheaton, so it may actually be worth a PlayStation account.
Preacher (AMC)
They said it couldn't be done! They said it shouldn't be done! Then Seth Rogen went and finally managed to turn Garth Ennis' hit Vertigo comic series about a disillusioned preacher with a mysterious power, his hardscrabble ex-girlfriend and their hard-drinking vampire buddy, as they search America for God, who has abandoned his job. (Suffice it to say they don't want to merely shake his hand.) Given how long fans have been waiting for this show to materialize—and how accurate Rogen's version looks like it's going to be—here's hoping they won't have to wait until 2017 to see it.
Westworld (HBO)
There's still no firm premiere date for HBO's infinitely anticipated TV series reboot of the strange 1973 movie about a hedonistic amusement park full of robots who tend to the attendees fantasies, but then run amok. It's supposed to be this year, but then it was also supposed to premiere last year, so let not hold our breath.
Contact the author at rob@io9.com.