Dr. Raymond Soneira of DisplayMate Technologies has made it his mission to suss out the best smartphone, tablet, HDTV, and multimedia displays from the worst with his Display Technology Shoot-Out series. Here, he tackles the differences between the displays of the top tablets out there.
Tablets are essentially large portable displays—handheld screens designed for conveniently viewing content and images anywhere you want while untethered. For tablets the display is the single most expensive and important hardware component because it determines the quality of the visual experience for every application on the tablet. In this very hot ultra-competitive category an outstanding display is the single best way for manufacturers to make their tablets stand out from the competition – particularly for Android based devices that have nearly identical OS. On the flip side, cutting corners, costs and quality for the display is a serious mistake because it results in sub-standard image and picture quality for everything that runs on the tablet—we have one example here.
In all of the Display Technology Shoot-Outs we take display quality very seriously and provide in-depth objective side-by-side comparisons of the displays based on detailed lab measurements and extensive viewing tests. The data and discussions in this review article are drawn from the individual articles for each tablet in our Display Technology Shoot-Out series starting with the iPad 2, the Motorola Xoom and Asus Transformer. We will be regularly adding the best new tablet contenders – next up will be the Acer Iconia and Samsung Galaxy Tab 10.
Results Highlights
In this Results section we provide short comparative Highlights for each tablet display based on comprehensive lab measurements and extensive side-by-side visual comparisons using test photos, test images and test patterns. We first discuss some Common Issues and shortcomings and then make some objective display predictions (and suggestions) for the next generation of tablets including an analysis of several popular rumors. The Comparison Table below summarizes the lab measurements in the following categories: Screen Reflections, Brightness and Contrast, Colors and Intensities, Viewing Angles, Display Backlight Power Consumption, and Running Time on Battery.
Common Issues
First, all of these tablets have large shinny mirror-like screens that are good enough to use for personal grooming. Think of it as one less thing you need to carry – but it's actually a very bad feature that requires higher screen brightness and more battery power to offset the reflected light, and it also causes eye strain. The larger tablet screen size makes it harder to position yourself and the screen to avoid bright reflections. Second, all of these tablets have a reduced Color Gamut that leads to images with reduced color saturation. It's an intentional tradeoff made to increase screen brightness, power efficiency and battery run time. Third, all of these tablets have a sharp decrease in Brightness and Contrast with Viewing Angle. This is a significant issue only when multiple viewers are watching a tablet but may also require a single viewer to carefully adjust the tablet orientation. Fourth, all of the current 1280x800 Android 3.1 Tablets have only 1280x752 available pixels because 48 pixels are reserved for the system bar with the navigation buttons. Finally, Android 3.1 continues with a substandard Gallery viewer for photos and images that provides 16-bit color processed up to 24-bits with poorly implemented dithering. It's about time that gets fixed…
G/O Media may get a commission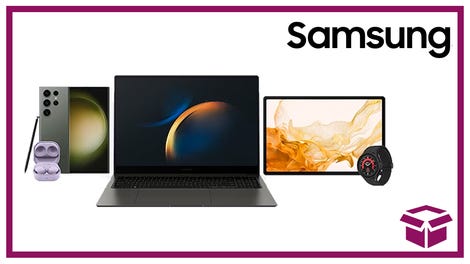 24 hour deals
Discover Samsung - Daily Deal
Apple iPad 2
The iPad 2 has an excellent display, virtually identical in performance to the impressive iPhone 4 Retina Display, with a somewhat higher pixel resolution but a much lower pixel density of 132 ppi due to its much larger screen size. The iPad 2 IPS LCD display is fairly well calibrated and delivers bright images with excellent contrast, reasonably accurate colors and very good Viewing Angle performance with small color shifts but a large decrease in Brightness, which is the case even for the best LCDs. A major shortcoming is a reduced Color Gamut, but the iPad 2 improves on-screen image color saturation by steepening its intensity scale – a simple trick the other displays fail to implement.
Asus Transformer
The Asus Transformer also has an IPS LCD like the iPad 2. It's not as bright or as well calibrated as the iPad 2 but it still delivers very good performance including very good contrast, reasonably accurate colors and very good Viewing Angle performance like the iPad 2. But the Transformer screen has a 66 percent higher ambient light reflectance than the iPad 2. It has an 18-bit color display, but produces 24-bit color by using dithering (except in the Android Gallery viewer where there is 16-bit color with dithering as discussed above).
Motorola Xoom
The display on the Motorola Xoom is a lower performance LCD than on the other tablets, compounded by poor factory calibration. Colors and color saturation were much worse than the other displays. The Xoom screen has 49 percent higher ambient light reflectance than the iPad 2 and the variation with Viewing Angle is awful. The Xoom also has a Dynamic Backlight that varies the screen brightness in a peculiar fashion – it slowly dims the screen based on the Average Picture Level down to about 60 percent and then just stops. It makes dim images dimmer – it's counterproductive and just strange display behavior… The other Tablet displays have standard Backlights, which don't vary the brightness with picture content.
And the Winner Is...
For the current set of tablets the iPad is the clear winner in every category, which is somewhat surprising considering it was the first tablet to launch and the one that later competitors knew they had to beat – but as of yet none have succeeded. Next is the Asus Transformer, which delivers very good performance across the board and comes in a solid second, all the more impressive because it is $100 cheaper than the iPad 2 and $200 cheaper than the Motorola Xoom. And finally, the Motorola Xoom comes in a distant third and last place – it's not a horrible display but definitely significantly below the display quality of the iPad 2 and Asus Transformer. This is all the more surprising because the Xoom is by far the most expensive Tablet, and Motorola previously included an outstanding display in the original Motorola Droid Smartphone – so they once knew how to deliver a great display. This time it seems they just settled for a cheap low-end poorly calibrated display. For details on all of the tablets see the Comparison Table below.

Click to embiggen chart. For further details details, measurements, in-depth explanations and analysis see reference the links above at DisplayMate.
This article has been republished with permission from DisplayMate.com.
About the Author
Dr. Raymond Soneira is President of DisplayMate Technologies Corporation of Amherst, New Hampshire, which produces video calibration, evaluation, and diagnostic products for consumers, technicians, and manufacturers. See www.displaymate.com. He is a research scientist with a career that spans physics, computer science, and television system design. Dr. Soneira obtained his Ph.D. in Theoretical Physics from Princeton University, spent 5 years as a Long-Term Member of the world famous Institute for Advanced Study in Princeton, another 5 years as a Principal Investigator in the Computer Systems Research Laboratory at AT&T Bell Laboratories, and has also designed, tested, and installed color television broadcast equipment for the CBS Television Network Engineering and Development Department. He has authored over 35 research articles in scientific journals in physics and computer science, including Scientific American. If you have any comments or questions about the article, you can contact him at dtso@displaymate.com.
About DisplayMate Technologies
DisplayMate Technologies specializes in advanced mathematical display technology optimizations and precision analytical scientific display diagnostics and calibrations to deliver outstanding image and picture quality and accuracy – while increasing the effective visual Contrast Ratio of the display and producing a higher calibrated brightness than is achievable with traditional calibration methods. This also decreases display power requirements and increases the battery run time in mobile displays. This article is a lite version of our intensive scientific analysis of smartphone and mobile displays – before the benefits of our advanced mathematical DisplayMate Display Optimization Technology, which can correct or improve many of the deficiencies – including higher calibrated brightness, power efficiency, effective screen contrast, picture quality and color and gray scale accuracy under both bright and dim ambient light, and much more. Our advanced scientific optimizations can make lower cost panels look as good or better than more expensive higher performance displays. For more information on our technology see the Summary description of our Adaptive Variable Metric Display Optimizer AVDO. If you are a display or product manufacturer and want our expertise and technology to turn your display into a spectacular one to surpass your competition then Contact DisplayMate Technologies to learn more.