Plus even more rumors about a major death in Civil War. A familiar Force Awakens rumor re-emerges for Episode VIII. Arrow's producer reveals that there could be big movie plans for Deathstroke. Plus, Game of Thrones casting, and the opening scenes from X-Files' upcoming season finale. Spoilers now!
Captain America: Civil War
Geek.com are once again reporting on the repeated rumors that someone, anyone, will die in the film—this time, re-affirming recent rumors that Steve Rogers' days are numbered.
There are allegedly two alternate cuts of the film: one in which Crossbones assassinates Steve Rogers, and an alternate option where the Avengers avenge off into the sunset. In the more likely event that Steve dies, Sebastian Stan has allegedly been fitted for a Captain America costume (as in the comics, Bucky replaced Steve as Captain America following his death at the climax of the Civil War event), and will lead the charge during the first Infinity War movie.
But, twist! Steve Rogers would apparently somehow be resurrected with the Infinity Gauntlet during the second part of the movie, and re-assume the Captain America mantle for the climax of the second film. As ever with rumors like this, a hefty dose of skepticism is necessary.
G/O Media may get a commission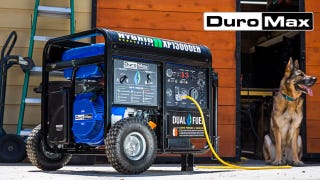 Black Friday Sale
DuroMax Generator Sale
---
Star Wars Episode VIII
Remember all those rumors that Ewan McGregor's Obi-Wan Kenobi was going to be in The Force Awakens (only for it to be revealed it was a minor voiceover role)? Well, they're back! Kristian Harloff of Schmoes Know and Collider took to twitter to claim he has heard that the actor will reprise his role as a Force spirit in the next movie in the trilogy:
It should go without saying that this is extremely sketchy.
---
Intelligent Life
Aside from being courted for an adaptation of A Wrinkle in Time, Ava DuVernay is also apparently close to being officially offered to direct this Colin Trevorrow-scripted film about a U.N. diplomat involved in making first contact with an alien race. Adding to the likelihood that this project could actually happen, Lupita Nyong'o has been approached to star in the main female role in the film—a woman the diplomat falls in love with, who turns out to be a member of the alien race. [THR]
---
Deathstroke/Arrow
Arrow producer Marc Guggenheim recently took to his tumblr to answer fan questions. When asked about a possible return for Slade Wilson, he said that the character of Deathstroke was now off limits, due to involvement with another live-action DC project. Whether that's a film or a TV show, Guggenheim didn't mention.
---
Assassin's Creed
Michael Fassbender praises the physicality of the production:
There's very little green screen in this, which is highly unusual in these films. We have stunt guys jumping across buildings in Valletta, we've got Damian Walters doing a 120-foot leap of faith, without any rope, into a bag. It's pretty incredible to see.
[Empire]
---
Deadpool
Ryan Reynolds clarifies how the film fits into the overall X-Men movie continuity, with its recent reboot:
I really don't think this has anything to do with Days of Future Past or its timeline. If it were Deadpool, he could tell Days of Future Past to take its timeline and go fuck itself. We make fun of the timelines in the movie. But no, Deadpool is not affected by that at all. Deadpool I think is just his own thing, his own universe. Anytime that the X-Men sort of interact with Deadpool in his universe they do so at their own risk and peril.
Meanwhile, the actor says that he's hopeful the X-Force team will play a part in future Deadpool movies:

In the future I think, if we're doing a bunch more Deadpool movies, we're going to really explore the X-Men a lot, and maybe X-Force. X-Force is really my priority. I really want to get that in.
---
Independence Day Resurgence
Aliens loom over Earth in the first poster for the film. [Flickering Myth]
---
The Walking Dead

A Russian promo for the return of the show seems to reveal that a major incident will leave Carl missing an eye.
In the comics, Carl loses a portion of his face as well as his right eye when Douglas Monroe (the comics equivalent of Diana), is killed by zombies and goes down randomly firing into a crowd of walkers that Carl, Rick, and other survivors are trying to pass through. Like his father's lost hand, this is a disability Carl has to survive with for the rest of the series. The promo image for the show doesn't seem to show as gruesome a wound as Carl receives in the comic, but it does appear the show is at least tackling the moment.
---
Game of Thrones
Watchers on the Wall has a few minor casting updates. Mark Tankersley will play a House Bolton general, Annette Tierney will appear in two episodes in an undisclosed role, and Chuku Modu will play Ahko, who is presumably a Dothraki.
---
The X-Files

During the Superbowl, Fox attempted to counterprogramme against CBS by releasing the opening scene of "My Struggle II", the season finale of the current run, online... and then promptly deleted it. Not to worry though—if you'd like to see Scully recap her history with the X-Files cases, and creepily transform into an alien (symbolically, as she mentions going through DNA tests to confirm there is anomalous alien DNA in her system), Spoiler TV has the whole clip.
---
Frequency
Riley Smith has been cast in the male lead for the CW's adaptation of the Toby Emmerich film. Smith will play Frank Sullivan, a detective who can communicate with his daughter 20 years in the future, a role originally played by Dennis Quaid. [Deadline]
---
The Magicians
Good news! The show has been commissioned for a second season. [TV Line]
---
iZombie
Rahul Koli teases Ravi's ongoing attempt to cure zombification on the show:
The cure's an ongoing thing and searching for the perfected version of it is kind of the Holy Grail of the show. It's what he's been looking for since the pilot, really. He's been trying to cure it since day one, the minute he knew that Liv was infected. Obviously, the cure can't be too perfect, because we'd have no show. But I've read what's happening in that department and the way the writers have managed to keep that situation ongoing, and at the same time pay off the audience without making them feel like it's a wild goose chase. They've managed to navigate it really well. That's actually coming up really soon. You'll see some really cool strides with that.
[TV Guide]
---
Agent Carter
Here's a brief press release for the seventh episode of season two, "Monsters":
"Monsters" – As Peggy plots a rescue mission, Whitney hunts for even more dark power; and Jarvis learns he should not make promises he cannot keep, on "Marvel's Agent Carter."
---
Voltron: Legendary Defender
Nerdist has debuted the title and teaser poster for the Netflix series.
---
The Flash
Finally, here's a new poster of Killer Frost ahead of her debut in this week's episode.
---
Additional reporting by Gordon Jackson and Charlie Jane Anders. Image: The Walking Dead.