The bigger Comic-Con gets, the more the marketing madness spreads across San Diego. And this year, the advertising was everywhere. Some good, some pretty terrible. So we picked through the swag and the interactive experiences, to find the very best and the very worst of Comic-Con advertising.
Badvertising:
Graphic Anti-SeaWorld Comic Ad
Peta uses a comic book style advertisement to recreate the tragic deaths of SeaWorld trainers. This was on display at the San Diego airport. We are 100% in agreement that killer whales shouldn't be held in captivity, but recreating the horrific deaths of SeaWorld trainers Dawn Brancheau and Keltie Byrne is in poor taste. Making light of these deaths reads as disingenuous, it's a disservice to the cause. The person in the whale's mouth is allegedly the SeaWorld CEO. To learn more about removing whales from captivity, check out VCN or Life Force Foundation.
Outlander Vs. Sharknado: When Street Teams Collide
Street teams are nothing new to San Diego Comic-Con. In fact, they're sometimes a fun way to raise the spirits on the boiling, over crowded streets in the Gaslamp District. But sometimes, they're obnoxious noise-makers, who have to be stopped. The Outlander street team (who are a bunch of very lovely men in kilts) and the Sharknado street team (which is made up of a bunch of funny youngsters wearing shark heads and blowing shark spotting whistles) are both great. But when they meet in the streets, it's too much. This is the worst part of Comic-Con in one clip.
G/O Media may get a commission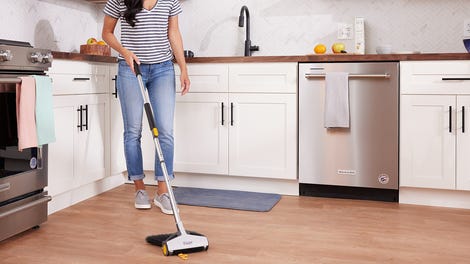 BOGO 50% Off
Flippr - BOGO 50% Off
Legend Baggage Claim Ads
The Comic-Con sprawl spreads to the San Diego airport baggage claim, so Sean Bean's face is up against all your checked luggage. STOP THIS.
Hulk Repents
This is not canon.
Equalizer?
This is an ad for The Equalizer. ¯\_(ツ)_/¯ I'm not sure what to get from this other than it's in black and white and Denzel Washington is in it? Super confusing.
---
Radvertising:
Orphan Black Yourself
BBC America cloned Comic-Con attendees. The results were kind of hilarious and adorable, but left us once again asking, "How does Tatiana Maslany do it?"
Left image from Gilly Hearts You. Right image from Perri Nemirhoff.
Permanent Game of Thrones Tattoos
HBO brought in a bunch of top-notch tattoo artists and offered fans a way to be a walking advertisement for the show, for LIFE. Thank goodness, I didn't know about this until it was too late. You could pick from a variety of different tattoos, all pretty great. But there were rules on where the tattoos could be placed (which makes sense).
Under The Dome Pedicab
Every year a new pedicab joins the peddling masses. We've seen an Iron Throne pedicab, an Archer pedicab, Once Upon A Time's Evil Queen carriages and The Jolly Rodger, but this year the best pedicab award goes to the Under The Dome people. Because this was cute.
Oculus Rift
Oculus Rift made a huge, huge splash at Comic-Con. The Legendary Booth used it to allow convention goers to pilot a jaeger (it was awesome), Fox recreated Cerebro (you can see our mind trip at that booth in the video above), Sleepy Hollow utilized Oculus Rift to recreate the spooky world from the series, and Game of Thrones also had their own "explore the world of Westeros" experience. As long as each head piece and ear piece was thoroughly cleaned, then this is an amazing experience that everyone should. Personally, we liked the Pacific Rim drift connect the best.
Ascension Cafe
Instead of making it the Defiance cafe, this year Syfy went all out for their new, little-known series Ascension. And this massive display of a rocket taking off into the sky really got people talking. Inside the cafe was made up to look like the retro rocket that took off in the 60s, so lots of excellent space nostalgia, and sandwiches. No one knew what this show was before the convention, but by the end people were buzzing about it.
Gotham Zip Line And Gotham Police Car Uber Rides
Behind Hall H the TV series Gotham set up a zip line over a fake Gotham skyline. It was free for fans and everyone loved it. On top of the zip line Gotham had weird looking Gotham police cars running folks (for free) from the Bayfront Hotel to the Convention Center. And if you wanted to go outside of the convention area, the paddy wagons were available on Uber.
Constantine
The most prominent campaign (that really worked) was for Constantine. WB TV built a massive Constantine statue and a tent, then hired a gaggle of Constantine lookalikes to hand out "John Constantine" cards (with a number which you can call, to hear a recording). Constantine was always there, always watching.
Big Hero 6's Baymax
Sometimes something very simple works really well. This was the case for Baymax from Disney's Big Hero 6. The robot (and this sticker) is adorable. Baymax was spotted quite a bit during the con. Cute.
Image from findingmickey instagram account.
Every Simpsons Ever Station
The Simpsons went all out this SDCC. Behind Hall H was the Simpson's station that had a gigantic Homer dome. You could go inside his head and see his tiny brain. There was also a couch to pose with, stations to get snacks, play games (win a toy pink donut!) and most importantly a sun screen dispenser. Because The Simpsons care. The series also paired with the Gaslamp Mac makeup store and gave free Marge makeovers to the crowd, and sold a Marge inspired makeup line. The Simpsons were everywhere. However they maybe should have got that display up before Friday — because there are almost more half-built-Homer-head pictures on the internet than full noggins.
Boxtrolls Bug Truck
Laika's Boxtrolls set up a bug truck offering out free crickets and fried tarantulas. I tried them, they were delicious. Also this user experience ties in directly to their film as the little boxtrolls subsist on a diet of bugs.
Yahoo Community
Yahoo had a tiny street team that had a very simple operation, and it worked. Fans could take pictures in a Greendale student card. They also gave away free Subway sandwiches at the local Subway. Because even though Greendale has left NBC, they still haven't left their sponsors. But best of all were the Community bathrooms which highlighted Greendale mascot, Human Being.
Adult Swim Ice Cream Truck
You give out free ice cream, you get our love.
Outlander
Outlander certainly made their mark this year. I complained of the glut of street teams earlier, but this one I didn't mind as much, BECAUSE, wait wait — because, kilts. Also they were handing out free tartan bandanas, which was very useful in wiping sweat off your entire body.
Hunger Games Experience
In celebration of Hunger Games Mockingjay Part 1, a tiny Capitol was reconstructed with Peeta's bakery and Haymitch's elixers. All the food and drinks were free. And after fans had time to pose in President Snow's throne and look at the folks dressed in Capitol clothes, you could then go upstairs to a private trailer screening room and get an early look at the movie (with even more free snacks).
Pixels Free Arcade
A free Arcade of old timey video games for badge holders. Not bad.
Bates Motel Glasses
At the Bates Motel and Playboy party you could see into the makeshift motel rooms via special glasses. It was all very They Live.
Michael Myers Electric Slide
I don't know what they're selling, but I'm buying.
Assassin's Creed's "Close Shaves"
Assassin's Creed and Schick partnered up to give away free "close shaves" under the guillotine. Get it? You get it.
True Blood Drive
True Blood and HBO sponsor a blood drive every year and it's just great. The rewards for donating are usually super adorable (squeezey True Blood drop) and this year was no different. Participants received bite mark temporary tattoos, True Blood band aids and "good to the last drop" t-shirt.
Image via HBO.
The Leftovers
EDIT this was originally on "badvertising" but is now both. How do you advertise for nihilism at Comic-Con? Like this. The posters are of "departed" people, so people who aren't even in the series? Very confusing, very strange. However the booth on the right is a place you can make fake bodies of those who were "spirited away" so you can have something to bury/mourn. And that's clever. Snaps for you Leftovers.
Right image from Mike Ryan.
Pacific Magazine Cover
Is aces.
And that's what we spotted, please let us know in the comments if there was any badvertising/radvertising that you loved!