Wolverine 3 will explore the relationship between Wolverine and Professor X. Incredibles 2 will explore ideas Brad Bird couldn't use in the first movie. Legends of Tomorrow casts a character with huge links to Hawkman and Hawkgirl's history. Plus, Game of Thrones heads to the Riverlands in new set pictures. Spoilers Get!
Tron 3
Speaking to Comic Book, Garrett Hedlund says that a follow up to Tron Legacy could still happen despite recent reports that Disney had killed the movie... although it might take a while:
I haven't been told it's totally dead. Ever since we did Legacy, we knew that to have another story follow it up, it had to be concrete and exciting. Disney needed to have the right story to go forward. I think it was going to introduce some things that were as exciting as Legacy was and then some, though. Who knows, maybe it'll be like Legacy was to the first Tron, it'll be 30 years, and I'll have my young Flynn CGI face, who knows? But they could do it anytime from now, and I would of course jump back in. Something like that could be quite fun, though!
---
Wolverine 3
Hugh Jackman reveals a few more story details about the third movie, and Professor X's prominent role in it:
I'll be really honest with you, the actual script in its full form we're up to about Page 60. Obviously there's a treatment, so it's not fully done yet, we're not fully there. Patrick [Stewart] does figure in it that's for sure. I think it's a really important relationship but I want to see signs of that quasi-father/son sort of relationship that has not been seen before, and sides of particularly Professor X that have not been seen before. So we have some really, really cool ideas.
G/O Media may get a commission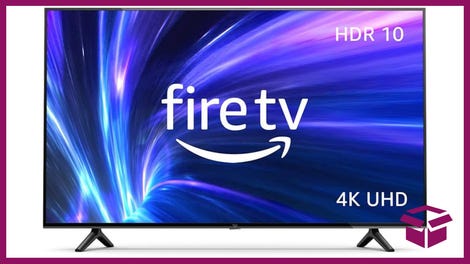 42% Off
Amazon Fire TV 50" 4K Smart TV
[Collider]
---
The Conjuring 2
Lauren Esposito has been cast as the co-star in the sequel, although no more details were revealed about her role. [Deadline]
---
The Incredibles 2

Brad Bird says the sequel will use some discarded ideas from the original movie:
I had a bunch of ideas that I wanted to put in 'The Incredibles' but they just didn't fit. Certain ideas fit, but other things make you go, 'This is great, but I'd have to give up two other things that matter more to me to get this other thing in.' So there were a pile of ideas left over from 'The Incredibles,' but it's not a big thing. There were little scenes and things that I was interested in. I wanted to come up with sort of an over-arching idea that connected to the first film that went somewhere different. That's the one that took a little more time.
---
Batman v Superman
Jason Momoa once again denies his involvement in Dawn of Justice, but offers a tidbit about the design of his costume:
Well, there might be some bit of orange and green. A bit of respect to prior work, but I think he is meaner now and upset – look at what has been done to our oceans. That's his world that has been polluted.
---
Peanuts The Movie
A new featurette discusses the enduring legacy of Charles Schulz.
---
DC's Legends Of Tomorrow
Peter Francis James has been cast in the role of Dr. Aldus Boardman on the show—and although the character is not from the comics, he does have a major connection to the history of Hawkman and Hawkgirl. According to Comic Book, Boardman is a University Professor who is an expert on the history of Hawkman and Hawkgirl's past lives as an Egyptian prince and his lover, as well as their connection to the immortal villain Vandal Savage. The heroes will find Boardman an important ally in their quest to find and destroy Savage once and for all.
---
Sleepy Hollow
Fox have issued a brief press release for "Blood and Fear", the third episode of the third season:
Fear is rampant in Sleepy Hollow when Pandora releases an ancient artifact from her box that can transform an ordinary human into a terrifying figure from the past.
---
Doctor Who

Here are some teasing clues for "The Witch's Familiar":
"Some of us can afford the upgrade"

"Get out!"

How do you kill a Dalek?

"Every miner needs a canary"

Which other Doctor appears?

Prepare for a Dalek language lesson

Vampire monkeys

More at the link... [Life, Doctor Who, And Combom]
The Daleks strive to protect Davros and find the escaped Doctor in a new clip.
---
Game Of Thrones

An instagram user has posted several pictures of a castle being built in for the show in Corbet, Northern Ireland. It's speculated to be Riverrun, the seat of House Tully in the Riverlands, set to be an important location in the next season. [Watchers on the Wall]
---
The Originals
Michael Narducci teases the arrival of season 3:
---
Once Upon A Time
Emma meets Brave's Merida in a new clip from "The Dark Swan"
---
Gotham

Finally, a gallery of images from next Monday's episode, "Knock Knock", has been released—you can find more at the link. [Spoiler TV]
---
Additional reporting by Gordon Jackson and Charlie Jane Anders. Top image: Wolverine 3.