Deadpool and Cable are scions of the '90s comic aesthetic—ridiculously muscular action heroes covered head to toe in enough pouches to carry the firepower of a small country. So when they team up, it should be Pouch City, Population: 2. Sadly, this is not the case in our first look at Deadpool & Cable: Split Second.
Deadly Mississippi Tornado Kills More Than 2 Dozen | Extreme Earth
Announced via Polygon, Deadpool & Cable is a spiritual successor to the smash hit Cable & Deadpool series of the mid-2000s, written by Fabian Nicieza and drawn by Reilly Brown—right down to the fact that Nicieza and Brown are back for Split Second. Cable & Deadpool by the way? Not afraid to book a one-way-trip to Pouch City.
Split Second will be a six-issue miniseries, part of Marvel's Infinite Comics, their digital-first initiative. The series, the first team-up series between the pair since Nicieza and Brown's Cable & Deadpool came to a close in 2008, will see the time-travelling son of Scott Summers and the merc with a mouth actually at odds at first—a vision from the future sees Cable protecting a target that Deadpool has been hired to assassinate—before the duo decide to team-up once more for time-travelling shenanigans. Not excited enough? Here's Nicieza's list of the must-have elements for a Cable/Deadpool team-up that appear in Split Second:
Mercenary action

Bromance

A fun new villain

Plasma bullets

Bloody katanas

Humor

Time travel confusion

Severed body parts

Screaming Hydra agents

Internal conflict

Time travel confusion

External conflict

Time travel confusion

Plasma bullets and Screaming Hydra agents, you say? SOLD.
But let's be real here for a second. Look at this cover:
G/O Media may get a commission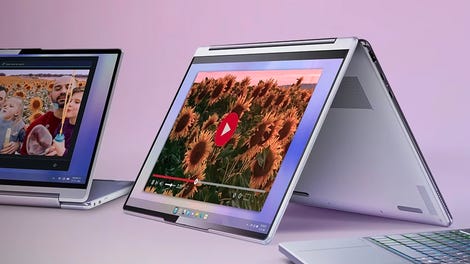 up to 70% off
Lenovo Spring Clearance
Sure, he's largely covered up by Deadpool, but a meagre three visible pouches on Cable? That's nowhere near enough. Get drawing those extra pouches on, Mr. Brown. Deadpool & Cable: Split Second is out digitally in October, with a physical release a little while after in December.
[Via Polygon]