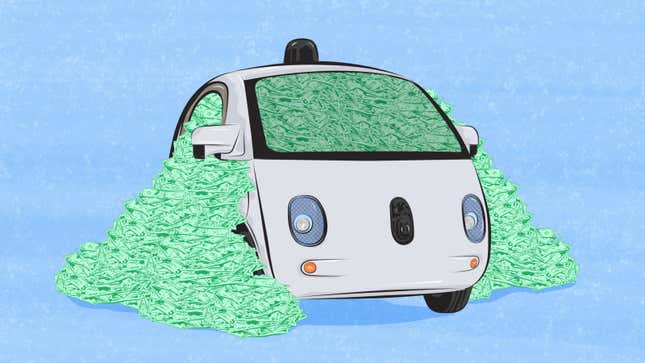 The US government is offering seven cities a remarkable challenge: reinvent urban transportation for the 21st century, with a particular focus on autonomous vehicles. To pull it off, those cities will work with some of the world's most powerful tech companies, and are eligible to get $40 million from the US Department of Transportation.
Taylor Lorenz Talks "Extremely Online"
At a talk at SXSW today, US Secretary of Transportation Anthony Foxx will announce the seven finalists for the Smart City Challenge, the USDOT's fast-track initiative to get the country thinking about high-tech solutions to urban transit.

The seven cities selected as finalists are:
Austin, Texas
Columbus, Ohio
Denver, Colorado
Kansas City, Missouri
Pittsburgh, Pennsylvania
Portland, Oregon
San Francisco, California

Over the next few months, these cities will receive $100,000 each and work closely with the USDOT and a group of partners to streamline their proposals. One of these cities will then get up to $40 million to fund their strategy. The winning city will be announced in June of this year.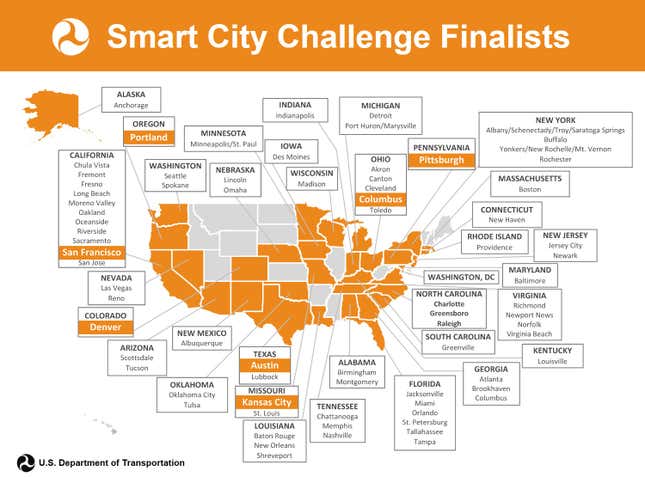 The Smart City Challenge was originally issued as a response to the USDOT's 2015 Beyond Traffic report, which warned how unprepared cities were for trends like rapid urbanization, densifying neighborhoods, and an aging population. In January, it was announced that $4 billion is being set aside in next year's transportation budget for Obama's big autonomous vehicle push. So if cities aren't looking forward already, they might find themselves spending millions on infrastructure they don't need.
"For a long time these cities have felt very powerless seeing congestion and travel times going up and haven't had the resources to aggressively tackle those things," Secretary Foxx told Gizmodo. "We're saying, if you've got a creative idea to answer those challenges, let's see how we can help."

In addition to the $40 million, the winning cities will receive tools and assistance from several partners, including data storage by Amazon Web Services, driver-assistance tech from Mobileye, a 3D modeling platform from Autodesk, and a V2V communication system from NXP.
The winner will also get up to $10 million more from Microsoft co-founder Paul Allen's company Vulcan, which is focused on vehicle emissions reduction and helping cities to stop climate change.
Mobileye's Shield+, a collision-detection system, is already installed on public buses in countries around the world. The company's technology is also helping to pinpoint dangerous hotspots for a city's most vulnerable users, said senior vice-president and general manager of Mobileye's aftermarket division Elad Serfaty. "So when you allow autonomous vehicles, you can guide them through cities in a safer way."
NXP is focused on building a network that allows vehicles to communicate among themselves and the surrounding infrastructure. NXP developed the technology driving the Vehicle-to-Vehicle (V2V) communication system that will be required on American cars. In addition to the obvious safety benefits, NXP's technology allows features like truck platooning that will help move goods more efficiently. "We're really focused on how we move into that autonomous decade," said company CEO and president Rick Clemmer.

"One of the challenges that has existed in transportation planning is that data is siloed by experience," said Autodesk's senior vice president Amar Hanspal. Autodesk's InfraWorks 360 visualization software allows data modeling of big infrastructure projects, like bridges and high-speed rail, during the design process. This way engineers and planners can overlay the infrastructure with data like predicted traffic flow and trends in car ownership, and help cities improve project designs.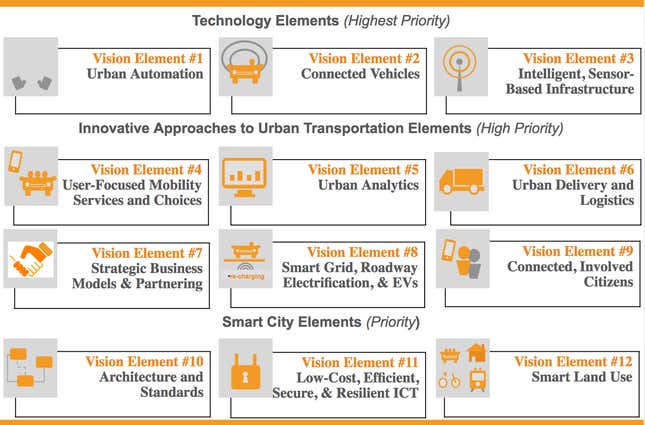 "We still need bridges, we still need highways, we still need rail systems. but that's not the point—we need to look forward," said Mark Dowd, Deputy Deputy Assistant Secretary of Transportation, who served as technical advisor for the challenge. "This is the right moment in time to be talking about this."

Spencer Reeder, senior program officer for climate and energy at Vulcan, likened the project's potential benefits to those of the X Prize, which jumpstarted commercial spaceflight in the US. "This is a similar convergence of these changing behaviors, with cities that are redefining themselves." Much like private companies are helping NASA in its next chapter of space exploration, these partners will help USDOT define the next generation of urban mobility.
"I want our country to lead the world in transportation again," Foxx said. "Unfortunately we got into this practice of thinking small, and we can't afford to do it anymore if we're going to lead the world in economic growth and quality of life and pass along a country that is better than the one we inherited."

[USDOT]

---