Oftentimes – too often, it seems – we clear trees to make way for buildings. These structures turn that expectation on its head; every entry in this collection has been built to accommodate a tree or trees, in surprising and creative ways.
The HemLoft Treehouse, designed and constructed by Joel Allen in Whistler, Canada, 2008-2011
G/O Media may get a commission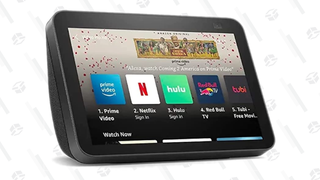 (via Joel Allen)
The treehouse of Doug and Linda Studebaker in Burlingame, California, built by the owners.
(via Airbnb)
CV by Paz Arquitectura, Guetamala City, Guetamala, 2009-2011
(via Paz Arquitectura)
The Mirrorcube, a 13x13x13 (4x4x4 m) ft mirrored glass box, designed by Tham & Videgard Architekter, opened in 2010
(via Dezeen)
A glass-walled four-story building in the mountains of Kazakhstan, 9 mi (14 km) near Almaty, designed by Aibek Almasov, 2012. It uses geothermal and solar energy, and recycles grey water.
(via Designboom)
Kitchen in Lima, Prolongacion Arenales, Peru, desgined by Ghezzi Novak
(via ArchDaily)
Yellow Treehouse Restaurant, by Pacific Environments in Auckland, New Zealand, 2008-2009. It stands on a 130 ft (40 m) high Redwood tree and big enough for 30 people.
(via ArchDaily)