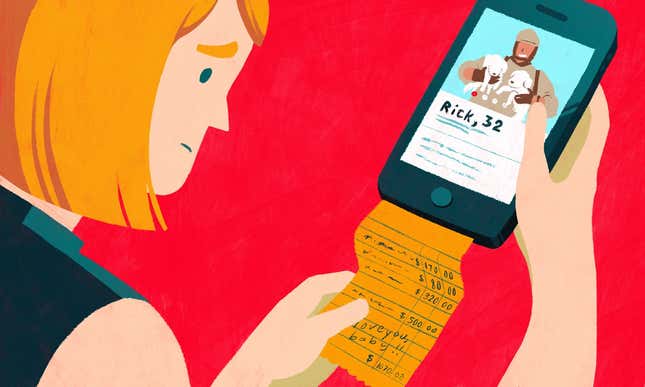 If someone asks you to send them money on a dating app like Tinder, don't do it. This might sound like common sense, but in a world where more people are meeting potential partners online, it can become all too easy for otherwise intelligent people to get scammed. And these Tinder horror stories are a testament to that.
Vizio's Latest TVs Go All Quantum
I submitted a Freedom of Information Act request with the Federal Trade Commission (FTC) for consumer complaints about Tinder. And many of the stories are absolutely heartbreaking. The most common complaint? People getting scammed out of hundreds of dollars after believing that they were interacting with someone who had a romantic interest. Often the complaints are from women who thought they'd met a nice man in the military who happened to be stationed overseas.
Roughly 27 percent of 18 to 24-year-olds say they use online dating apps and websites, up from just 10 percent in 2013. But it's not just young people who have moved their dating online. About 12 percent of 55 to 64-year-olds use these sites and apps as well. And the proliferation of this technology can sometimes cause people to let their guard down after getting to know someone through the filter of a smartphone screen.
Many of the complaints filed with the FTC describe how the conversation quickly moved to text or email. People would sometimes build up a solid online relationship before things went south. A handful of the complaints involve outright blackmail—often after a woman has sent risque photos to a man she believes is trustworthy. The blackmailer will go on to demand a few hundred dollars after threatening to post the photos online. One complaint even says that a blackmailer threatened to send the photos to her kids through Facebook.
One interesting thing to note is that at least two of the scammers used email addresses coming from domains that have no homepage. One is consultant.com and the other is diplomats.com. If you ever see emails from these domains it's safe to say that it's probably not someone with romantic intent. Email addresses from consultant.com and diplomats.com have been linked to a number of different scams.
I've published a handful of the dozens of complaints we obtained below. Some minor spelling and formatting errors have been corrected for readability. The FTC made redactions to protect the privacy of those who made complaints, and I've made a few more redactions to further anonymize the information geographically.
If you've had a similar experience with Tinder or any other dating site, we'd like to hear your story in the comments. Or you can send me an email at novak@gizmodo.com.
"At that point I realized it was a scam"
I matched with a man on Tinder. We quickly moved to text messaging and he removed his profile from Tinder. He said he was with the US Army, [redacted]. He said he communicates via iTunes and requested I send him a gift card, which I did. Dumb, I know. Later he requested a "care package". I received a email address from him to send the request to [redacted] at "Diplomats.com." I emailed the LTC and told him I wanted to send a care package to [redacted]. I listed the items to be sent on their "official stationary". Payment was requested to be made via Western Union or Money Gram sent through India. The items I wanted to send totaled about $350. At that point I realized it was a scam and the offenders were probably using this military man's profile.
"I don't know if you can help, but I'm scared."
I was contacted by a man supposedly from an online dating website called Tinder. He said his name was [redacted] and he had seen my profile and wanted to know if we could talk off the website, so I gave him my cell number. He started texting me and told me he was a Captain in the US Army and was on deployment in Afghanistan. He said he had 18+ years and was getting ready to retire. After approximately two weeks, he said admin approved his leave, but in order to leave his deployment early, he would need $400 to get home. He said all the things I wanted to hear.

[Name redacted] was going to come home and take care of myself and my boys for the rest of our lives. I totally fell for all this. So he texted me an address for a [redacted] in [city redacted] Texas, said it was the info that admin had given him. So I went to Cash Advance in [city redacted] and wired him the cash by Money Gram. Then he texted me at work saying there's a problem, he needs another $600 for BTA. I didn't even understand what that meant. [Name redacted] explained it was Basic Travel Allowance. I responded by saying I didn't have it. He texted me on and off all night and the next morning. I was told his boss could help with $300 if we could come up with the rest. He sucked me right back in so I went to Cash Advance on [dates redacted] to send another $300 by Money Gram. He even talked me into a $50 iTunes card for the trip home. Now he says his boss can't help him and he has someone else texting me posing as a Commander [redacted]. They are harassing me about the $300 he needs to get home. Supposedly he is on the border of Pakistan. They are both assuring me that I will be paid back immediately as soon as he arrives here in [city redacted], FL.

I am embarrassed and not proud of the fact that I texted him a pic of me without my shirt, it was supposed to be personal and private, between us. He is now blackmailing me and even admitted it. Telling me that if he doesn't get another $300, he will post my pic on Facebook as well as the internet. He even went as far as to look up my son, who's a Senior in high school and his friends, saying he is going to post all of this today, [date redacted]. The number he is using is, [redacted]. And the person who is posing as his boss is, [redacted]. I don't know if you can help, but I'm scared. I just think its wrong to victimize and rob people, just because they're lonely and vulnerable. Thank you for your time.
"I have lost faith in humanity"
Online dating sites are a calling card for scammers. I met a guy online and started a conversation everything seemed going well and we exchanged pics (which I regret). His story is, he works for the US Army and is currently on a four month deployment overseas, wanted to get to know me so we talked for a week and everything seemed normal until some red flags started popping up. He wanted to know where I banked and how much I made. Didn't ask to send money but did ask me to send a new phone to him as his was not working right. His name is [redacted] on Tinder online site. He uses KIK username is [redacted]. I think it is a disgrace to the military that this is happening and I have lost faith in humanity. Please stop these people!!!!!!!!!
"He started sweet talking me"
[Name redacted] contacted me and said he was with the Army over in Jordan, based in Ft. Knox, Kentucky... He started sweet talking me then asked for iTunes card.... his email is [redacted] his number is [redacted].
"I was suspicious of this guy from the very beginning but I so desperately wanted this man to be real"
My boyfriend of almost seven years left me and like most women I was feeling sad, lonely, and wanting to feel loved again by someone. A friend suggested I try a dating app called "Tinder". I have never used a dating site/app before but thought well what do I have to lose so I made an account. Pretty quick I matched with a gentleman from [city redacted], an Army EOD going by the name of [redacted]. He advised me to contact him via email because he is actually currently deployed in Syria. We have been emailing and text messaging each other since before Thanksgiving. Our relationship took off and I was suspicious of this guy from the very beginning but I so desperately wanted this man to be real, to be true. He started expressing his love for me quickly then we were trying to get him a leave to come home to visit and then when I received the email of wanting money via Western Union I knew then for sure that this whole thing truly was a scam. I am still talking with this guy now in case you want me to ask certain questions so you can get more info on him/her so you can put this imposter/thief behind bars. This needs to stop happening to people, it is so wrong! Sadly some get so caught up in the lies that when they do find out the truth they cant handle the heartbreak and take their own life. When will this stop? You say people do not report it but I am. I have given you my information so I will be looking forward to hearing from you and assisting you in busting this individual.
"Asked to send $3700 through a wire transfer"
Consumer started a romance online on Tinder and upon contact was asked to send $3700 through a wire transfer for travel expenses. Consumer complied and the person has not responded to her only to ask for more money.
"His emails were overwhelming with respect and kindness."
I match with a soldier on Tinder in January. A week or two based and he reached out to me again and said he had been assigned a mission. We have been talking and are still barely talking so if you want to act on this NOW IS THE TIME. I'm still able to track him on Tinder bad it shows he is about 350 miles away and he is still IM me even though he realizes I'm somewhat convinced he is a fraud or his identity was stolen. I'm using this as a way to keep him on the hook so hopefully someone can catch these people. This is insane how this has been going on and the only way I found out is by looking for it myself on the internet. We started with he was a widow and his daughter was being watched by a nanny. He started to like me and me him. He decided he wanted to opt out after 18 years and asked if I could help.

He sent me an email to request an early leave that led into a processing with codes. Then a percentage of his life insurance $2,700, $7,500, $18,000 to $24,000 to fly him home. Then came the email that he had a pending charge against him and they wanted an additional $48,000. Well as you can guess by that time I had no line of credit to get plus that is when I decided enough. They came back with a reduced fine $27,000. Early on [redacted] not the [redacted] no doubt, that I communicated with through email mentioned he had an inheritance from his father in Dubai and when he got home we would go there and he would pay me back. Plus he also said he had the money in his account but soldier's accounts were locked downed when they were overseas.

His emails were overwhelming with respect and kindness. Some but not too much grammar errors really because I thought of that. Some of the time I thought I was IM-ing two different people it was weird. I even cut and pasted them to [redacted] once and said did you send this? The main email was [redacted]@consultant.com and then toward the end it changed to PayPal team. All this raised concerns but it was after I had deposited several amounts of cash to a bank in [redacted]. But I stopped. They even sent me an email stated he would be sentenced to death and I asked [name redacted] if he wanted me to seek legal representation for him. I called a well-known lawyer off the internet and his office was not even aware of all the fraud. They said it sounds like fraud. I really think the USA would be doing a better job at getting this out there and I am trying to keep this one engaged so we can catch this one. Not to get my money back but I honestly believe if I were to have gone to Dubai on his behalf I may not be typing this today.

I am not stupid. Women are getting hooked because they are asked behind a military man. That is the issue, this is a big deal and it is going to reflect negatively. Can I tell you one actually reached out to one of my older friends on my Facebook site. It would not be a hard task to take one of these guys down trust me I made four deposits in 4 months to the same account. I did a Walmart to Walmart six times to the same ladies name on the account. All had PA as the state and it says this person today is 340 miles away when he logs into Tinder. I fell in love with his face on the photo and then the sweet words he wrote. Sure I wanted to meet him and date him I thought about marrying this man when he got home. But he is not who is doing this. Sad but not sad enough to get in front of it and show them who the boss [redacted] like my father.