What can you get for $1800 in rent? In Brooklyn, you can get a fully furnished apartment, a bedroom that's all yours, plus access to two bathrooms, a living room, and a well-appointed, brand-new kitchen. Oh yeah, and here's the twist: You'll share it with four other people—who you don't get to choose.
While that type of living situation seems outrageous to some, over 300 people applied to occupy these 19 units offered as part of the new co-living development named Common. 17 tenants—called "members"—moved into the four-story Crown Heights building yesterday.
Common must be doing something right. Or, more accurately, New York City is doing something really wrong. New housing—even a new idea for housing—isn't coming to the city fast enough.
"The city is primed for another golden age, not just of designer skyscrapers and expanding museums, but of rental buildings where ordinary New Yorkers can live without pawning a kidney," writes Justin Davidson in a New York Magazine story outlining Mayor Bill de Blasio's affordable housing goals—and questioning why they're not bolder. 80,000 new apartments will be built over the next 10 years, and another 120,000 units will be "protected," rent-wise, for the middle and lower class. But architects and developers, argues Davidson, are not stepping up, mostly because this kind of housing isn't seen as a good investment.
Common is in some ways better than the mayor's plan because it divvies up New York's existing housing stock—you don't have to raise the money to tear down an old building and build a tower, for example. But the fact that it's even being considered as a viable housing solution shows that New York is seriously out of options.
G/O Media may get a commission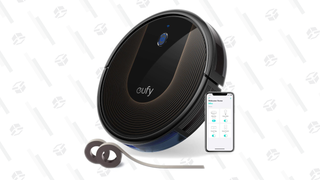 48% Off
Eufy BoostIQ RoboVac
Shared Spaces, Smaller Spaces
What is it that makes people cringe to much when it comes to co-living? It's not actually that radical—people have been living informally in such situations for decades, of course, partitioning off drafty warehouses and carving up old brownstones. It's perhaps even less weird in the era of Craigslist and Airbnb: It's not that unusual to meet potential roommates on the internet, or to rent a room from a stranger on a website. It's the sharing economy, but for everyday living.
Last year I wrote about some similar housing developments in Seattle, which were actually far more ambitious, space-wise: Some of these units—called apodments, really!—clocked in at only 90 square feet with shared kitchens. Residents seemed genuinely thrilled with the arrangement: They didn't want big apartments or a lot of furniture. They were happier that they could finally afford a space in the neighborhood they wanted that fit their low-impact lifestyles.
Many cities—including New York—don't even allow units twice that size to be built. The smallest and most affordable apartments in the city are a set of prefabricated units designed as part of a competition four years ago (when Michael Bloomberg was mayor), which are just now going up. These minimize-out at 260 square feet. Yes, teeny apartments have been walled off within bigger units over the years, where they're now grandfathered in as official residences. But for new construction, microunits any smaller than that are deemed a health and safety concern. Of course, no one wants slumlords to pack dozens of people unto crowded units. But it's possible—and some say pleasurable—to live in less than 200 square feet. Ask everyone in Japan.
In San Francisco, where the housing crisis is probably the worst of all, people are putting ads for bunk bed rooms because it makes more sense to sleep summer camp-style than move out of the city. Here, too, San Francisco doesn't really offer alternatives. Some new microunits around 275 square feet are currently available, but most of these experiments are partnerships with schools, which will contract out at least parts of the building for housing. (Students, apparently, can live where the rest of us can't.)
Keeping Housing Affordable
Today, there's the news that Stuytown, one of the most successful affordable housing projects in New York City's history, will be sold to a developer that promises to keep at least half of the housing affordable enough for the middle class. This will deposit 5,000 units into Mayor de Blasio's affordable housing fund. And the rest will skyrocket into New York City's stratosphere-piercing real estate market alongside the pricey supertalls.
Common is a startup, not a real estate developer, which I think is an important difference. The founders' business model is not necessarily to convince an investor to go all in for "affordable housing"—they find investors to purchase these buildings as a smart long-term financial move with the option to change it back to regular housing later if they wanted. Common might use its $7.5 million cushion to try something new where developers continue to fail.
It's important to note, too, that Common's rents aren't particularly cheaper than a one-bedroom in the neighborhood, although these rooms do come with some nice amenities you might not get in your typical apartment (free wifi, cleaning service, garden). So these don't even really qualify as "affordable" housing. But they do offer a bit of innovation that's completely welcome in a very stagnant industry.
Unless New York finds a way to magically squeeze more housing out of a slow-moving development industry with arcane square-footage requirements, concepts like co-living might be many renters' best option.
Follow the author at @awalkerinLA
Top image via Common