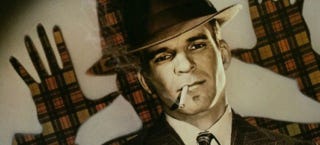 In 1982, irrepressibly goofy comedian Steve Martin starred in Dead Men Don't Wear Plaid, a film noir with a whole cast of cinematic heavy hitters. Humphrey Bogart! Cary Grant! Bette Davis! Veronica Lake! All these stars helped popularize the dark genre, but this black-and-white was a affectionately silly spoof, with a twist; each of those big-name cameos was edited in from clips of their old performances.
As a stylistic device, it's genius—a hilariously seamless way of paying tribute to these early flicks. Of course, it helps that it was all incredibly well done, thanks to crack editing by Bud Molin (who also worked with Martin on The Jerk), and period wardrobes by the incomparable Edith Head, an eight-time Oscar winner who basically invented the profession of costume designer (this was actually her last picture).
It's fun seeing how the plot points wind around to accommodate—and completely change the context of—the existing dialogue and locations. Here, however, they're bookended by Martin playing private investigator Rigby Reardon, following up on the death of the father of Juliet, a beautiful, bullet-sucking dame.
The dialogue has that hard-boiled cadence and a hell of a lot of innuendo, and the whole thing is far more loving tribute than scathing parody. It's also a damn good time. Dead Men Don't Wear Plaid is currently streaming on HBOgo.As for the title: I still don't know what it means, and neither does Reardon. [HBOgo]