True hubris is a person trying to use a Microsoft Surface Pro like a laptop. It takes Mr. Darcy levels of pride to believe you can trust so fully in a kickstand and flimsy keyboard. The Surface Pro is many things, including everything from Microsoft's attempt to woo creative professionals to a beautifully engineered device that wants to be a fusion of tablet and laptop. Yet it has never been the true take-anywhere device Microsoft has tried to sell it as. That kickstand and keyboard define it for many consumers. And now, on the Surface's fifth iteration, the kickstand seems to have finally accomplished what it set out to do: Bring the Surface as close to a laptop as it can ever hope to be—even though that isn't as close as Microsoft might like.

Mind you that new kickstand also happens to be mounted to the back of the best Surface Pro yet. Microsoft dropped the number naming scheme with this fifth iteration, settling on simply "Surface Pro" and the name makes sense. This refined device, with its sturdy kickstand and quiet guts, is what the Surface Pro always should have been. It's been tweaked to the 2-in-1's benchmark for perfection. The changes are all small compared to the Surface Pro 4. If you weren't a gadget blogger or gadget obsessed you'd be hard pressed to see them at a glance, but they make a difference.
The hard angles that have come to define the Surface line's design have been softened in this new Pro. It's especially noticeable on the sides of the devices, which on the Surface Pro 4 and earlier felt thick and too hard. Now there's a gentle, almost imperceptible curve. Clutched in my hands on the subway it feels thinner even though it isn't.

G/O Media may get a commission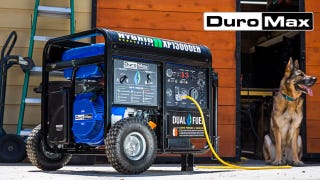 Black Friday Sale
DuroMax Generator Sale
The vents on the device are also more subtle than past iterations. They allow it to cool virtually fan free in the i7 version reviewed (the i5 and m3 models operate entirely sans fans). With a 7th-generation processor, it's fast enough that I can edit a giant RAW photo file in one window, and watch a video in another and see zero slow down.
The Surface also has fantastic battery life. I wrote the majority of this post in an airport bar, pausing during my four-hour layover to periodically read the news or play Civilizations VI, and I barely made a dent in the battery. I did run into one problem though—and it's a fundamental one due to the nature of the Surface Pro and its fellow Windows 2-in-1s. Not all software plays nicely with its quick switch between laptop and tablet mode.
Civilizations VI should, ostensibly, be perfect on a Pro. The big 12.3-inch display lets you see plenty of the continents you're civilizing, and the Surface Pen ($60) can, when everything works perfectly, be a great tool for picking and choosing armies, towns, and everything else you do in the game. It seems like a game built for touch, like its siblings on the iPhone, but in practice that isn't the case. Menus were non-responsive, and sometimes I couldn't even get past the title page. I ran into the same problem in Gwent, a Hearthstone-like card game that should, again, be great on a touch display.

As touch-friendly as these games should be, they aren't in practice. Their designers focused on creating great experience with a mouse and keyboard, forgetting that many Windows users might interact with a Pen and finger. These companies aren't the only ones who ignore touch, and it continues to be a problem in Windows 10, which makes the promise of a touch device like the Surface Pro less enticing. Unless the software you're planning to use has been specifically tweaked for touch, such as the multitude of illustration apps available, you'll find the tablet side of the Surface Pro extremely lacking. The Surface Pro is a hybrid, trying to meld the best of two worlds and demanding steep compromises in that effort.
The biggest compromise, though, is the kickstand and keyboard. Yes, both are exceptional for a 2-in-1 device—the best I think you can get—but they mean the device will never feel as stable as a laptop, like the new Surface Laptop that ships later this summer. Though in this iteration it comes perilously close. The keyboard is identical to the fabric-covered keyboard Microsoft released for the Surface Pro 4 last year. It's a very good tablet keyboard. Better than my iPad one that's started to fall apart, or the super stiff ones from companies like HP and Huawei that are more half-a-laptop. Still, no matter how good it is, it leaves the device very unbalanced when open, thus requiring a strong hinge to stabilize it.

The hinge in the new Surface Pro's kickstand is very strong. On a desk it's perfect. In a lap it takes up significantly more space than a similarly sized laptop would, but it's still so stable I don't really mind. In a bed, on a couch, lounging in general, it's a whole other story. That hinge might make this the must stable Surface Pro ever, but it's still a top heavy behemoth. There's no perching the device on your chest and tilting the display forward so you can read sans glasses, in fact even laying it on your chest, in laptop mode, send a tremor of fear through you. Because, inevitably, you'll sneeze or cough or shout at the dog and then the whole thing will tilt forward and you'll get slapped with two pounds of tablet in the face.
Some things can't be cured with incredible design. They're simply flaws fundamental to the nature of the device. The 2-in-1 laptop cannot escape the flaws inherent to a super light tablet that straps onto an even lighter keyboard, but the new Surface Pro comes closer than any other device ever has. If you're absolutely in dire need of a laptop that converts into a drawing tablet then this is your choice.
README
The hinge on the kickstand is next level good.
The Pen now comes separately, so plan to spend $60.
Fewer fans means this thing is way quieter than the Pro 4.
Battery life is surprisingly good.