The Humane Society has just announced the winners of its chimpanzee art contest. Each painting has an incredible story behind it.
27,000 people voted in the contest online, and prize money goes to the sanctuaries where each of these chimps has found a home after incredibly rough lives in research, performance, and zoos.
Above, you can see the winning entry by Brent, a chimp who lives in Louisiana. According to the Humane Society:
Brent is 37 years old and has lived at Chimp Haven since 2006. He is protective of Grandma, Chimp Haven's oldest resident. He loves to laugh and play. Brent paints only with his tongue. His unique approach and style, while a little unorthodox, results in beautiful pieces of art.
I love the fact that he makes this art with his tongue. It's very obvious that he's trying to create a specific striped pattern, too — this isn't just random licking.
G/O Media may get a commission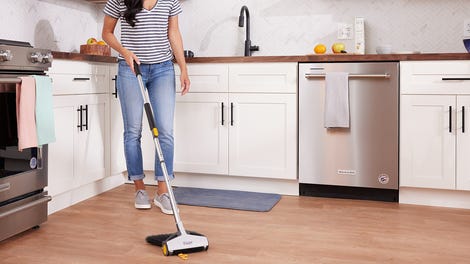 BOGO 50% Off
Flippr - BOGO 50% Off
Second place goes to Cheetah. And here's where he comes from:
Cheetah, estimated to be born in the 1970's, lived alone in a laboratory for 19 years and endured over 400 over biopsies. He was rescued by Save the Chimps in 2002 and has since discovered his passion for painting.
Third prize went to Ripley. Here's his story:
Like many chimpanzees used as actors, Ripley was eventually dumped in a roadside zoo. There, he witnessed the shooting death of his brother and two other chimp companions after human error resulted in the chimpanzees' escape. Ripley found sanctuary at Center for Great Apes and impresses his caretakers with his resilience and forgiveness.
Chimps may not make art that looks like most human art (though it bears a lot of resemblance to abstract expressionism), but they seem to create it for similar reasons. It gives them pleasure, and allows them to express their emotions and creativity.
You can read about the other winners at the Humane Society website.