Last September, Microsoft pulled the curtain off Windows 9 10, its new digit-skipping operating system with versions for phones, tablets, computers, everything. We've seen bits and pieces of the new desktop through Microsoft's preview program, but nothing on the mobile side. Until now.
If you've ever seen Windows Phone 8.1, this will all look pretty familiar:
With a few neat extras like a moveable keyboard!
G/O Media may get a commission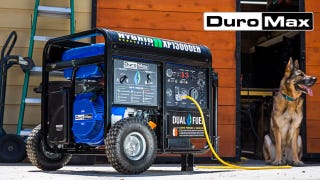 Black Friday Sale
DuroMax Generator Sale
But the real story is the apps. Microsoft's upcoming universal applications will let apps that run on the PC run directly on the phone as well, with just some interface tweaks for the smaller screen.
Microsoft Word, Powerpoint, and Excel, for instance, all run on Windows 10 on phones, and all have that traditional Office command "ribbon" but retooled to work on a smaller screen. They also have a "recent" list that borrows from anything you've been working on on a PC or in the cloud, so you can work on all your stuff from any device.
Even better, the trio of apps will come free on phones with Windows 10 for phones and tablets.
There's more than just the Office trio, of course. Microsoft's new Outlook app will run across PCs and mobile devices too, as well as Microsoft's calendar app, both of which look pretty damned spiffy, and automatically sync changes and data across all your Windows 10 devices.
And of course there's more. The new cross-platform Photos app will sync your pics across desktop and mobile. The new Maps app will help you look things up on your computer and have those directions move seamlessly to the phone (like they do with Google Maps and Google Now on Android Phones). Through Maps, Cortana will also help you remember where you parked your car. The new Music app will support putting your music in a cloud locker on OneDrive, a lot like Google's oft-forgotten and kind of janky Google Music functionality.
If you're seeing a "but look at the apps!" pattern here, that's because that totally is what the mobile version of Windows 10 is all about. After Windows Phone 8.1, Microsoft fixed most of the glaring problems with its mobile operating system—except for the apps. And with Universal App support, Microsoft has a chance at solving it. Sure, from the start it's going to be a bunch of Microsoft apps showing off how cool it can be; the hope is just that other developers who are making any kind of program for Windows 10 on desktop will follow along since it will (theoretically) be so easy to do so. If they don't, Microsoft's bumpy ride on mobile will just keep getting bumpier.
The mobile version of Windows 10 is designed for devices under 8-inches in size, and will be rolling out as a preview version as a part of Microsoft's "Insider" program in few months. The upgrade to Windows 10 will be free for any phone running Windows Phone 8.1.