Nexus nerds, we may have just hit the jackpot. Android Police just got its hands on what appears to be a leaked service manual for the as-yet-unreleased Nexus 5. If this is real, we now know everything about the Nexus 5. Every. Thing. OK, except price.
The document—which came to Android Police's attention via anonymous tipster—is some 281 pages long, but fortunately Android Police has already dug out the really juicy bits:
4.95" 1080p display
32GB internal storage
2GB RAM
Snapdragon 800 at 2.3GHz
8MP OIS rear camera, 1.3MP front camera
2300mAh battery
Sensors: Accelerometer, Gyroscope, Compass, Proximity/Ambient Light, Pressure
Micro SIM slot
Notification light
Wireless charging (duh)
NFC (duh)
Now of course, as with any leak it's important to take this with a grain of salt. It could all be fake. But god damn look at that thing! There is so much data here. It's seems virtually impossible that this is bogus. If it's a fake it's an ABSURDLY detailed one.
Of course there are still other possibilities, like LG keeping false manuals on-hand for leaking, or Google/LG purposefully leaking a fake manual as some sort of cruel prank. But so far we've got no good reason to suspect this isn't accurate despite its status as a "draft."
There was one little discrepancy Android Police found, which is that the Bluetooth is listed as 3.0, when it'd be absurd for it to be anything other than Bluetooth Low Energy (i.e. 4.0). So that's either a bummer or a mistake.
G/O Media may get a commission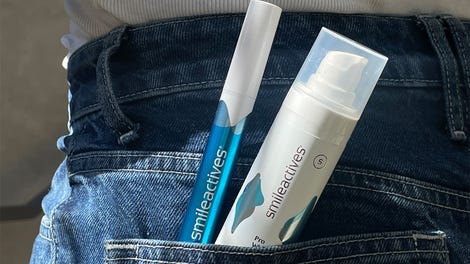 58% off
Whitening Powerhouse Pen & Gel Duo
Only time will tell, but in the meantime this is prooobably a pretty good guess at what we'll be seeing soon. [Android Police]
You can read the whole honkin' manual (if you're into that sort of thing) below.