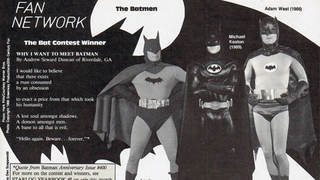 The team over Comics Alliance dug through old copies of Starlog Magazine recently (as you do) and came across the best piece of Batman poetry since... well, ever. The Dark Knight has inspired many creatives over the years, but perhaps never so strangely brilliant as this.
Header image via Comics Alliance.
Back in 1988, Starlog ran a contest asking readers to explain - in 50 words or less - why they would like to meet Batman, with a chance of being an extra in Tim Burton's Batman as the prize. The prize went to Andrew Duncan for this stellar bit of Batman-themed poetry. Here's the poem in full, if you can't make it out in the header image:
I would like to believe

that there exists

a man consumed

by an obsession

to exact a price from that which took

his humanity

A lost soul amongst shadows.

A demon amongst men.

A bane to all that is evil.

"Hello again. Beware... forever."
I can't get over that last line. I kind of want to go running into the streets shouting 'BEWARE FOREVER' at the top of my lungs.
The kicker though? Andrew Duncan - now going by Drew Duncan - kicked off a career in movies and creative consultancy thanks to his trip to the Batman set. Not a bad career to be started by Batman poetry!
---
You're reading Toybox, io9's blog for all things pop culture. From merchandise to awesome fan creations, TV recaps and critical commentary on the hot topics of the day, you can find it all here!