The food might taste great, but fancy restaurants generally use tricks to prepare meals perfectly with surprisingly little effort. Perhaps the most storied of these devices is the sous vide, a glorified immersion heater that keeps water at a precise temperature in order to evenly cook foods, usually meats in vacuum-sealed bags. Sous vides for home use have been available to consumers for a few years now, but the Anova Precision Cooker Nano feels like the logical endpoint in the evolution of these devices. A sous vide is no longer an expensive or alien-looking device for cooking nerds. It's just another affordable tool you'd expect to see in a home cook's kitchen.

Caleb McLaughlin Wants to Play Static Shock
The Nano has been present in my own evolution from hack to home cook—even though I didn't possess the device until this month. When I first heard about the $100 cooker way back in June 2017, I was immediately intrigued by the low price and slick design. I was enamored with food science, but was also a crappy cook who had never tried precision cooking, the practice of using modern, scientific techniques to prepare food optimally. I didn't have the courage to try the methods before, but unlike previous sous vides I'd seen, the Nano seemed more approachable.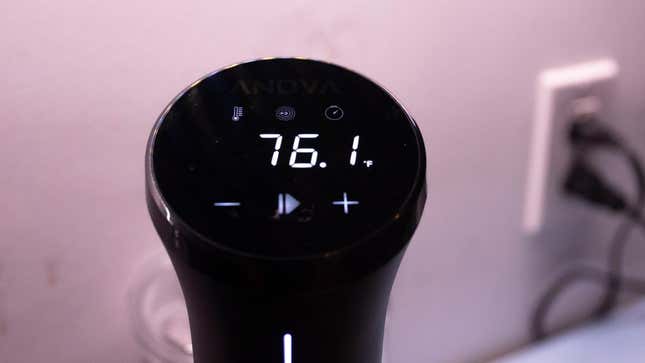 Despite the announcement, it turned out that the Nano wasn't quite as ready as Anova hoped, and it ended up taking more than a year before I had the device. After I got sick of waiting for the company to send me a review unit, my editors suggested I try out their older models, the Anova Bluetooth+WiFi and the Anova One, in order to get the hang of cooking sous vide before trying out the Nano. I also acquired a copy of the Modernist Cuisine at Home cookbook, an Instant Pot, a bunch of chemicals, and devoted an entire week to only eating food I prepared with these new techniques.
Since then, I've incorporated modernist flare into my everyday cooking, with xanthan gum-thickened fruit turnover filling, Instant Pot-braised short ribs, homemade sodium citrate-infused cheese slices, and of course, hamburgers sous-vide. I'm no longer a shitty cook—but I could now give a more critical look at the Nano, whenever it would arrive.
I finally got my hands on the Nano a few weeks ago. The verdict? It works as well as the last one does. I didn't notice a difference between the food prepared by the Nano and the last model in my cooking trials. But it heats the water a little faster, it looks sleeker, it's quieter, lighter, and has a list price cheaper than the old one—though I'll note that you can now get the older one on sale from Amazon for just $80 right now.

I put the Nano through plenty of barely-scientific tests to reach this conclusion. I wanted to see how it improved on the qualms I had with the last model. First off, the water in the cooking pot would evaporate, so I had to refill the pot every few hours for longer-timed recipes. And second, the water circulated rather vigorously in one direction, potentially shifting the food around or pressing part of it up against the coil if it's not secured properly. I couldn't confirm whether this would heat the food unevenly, but I thought I noticed a difference.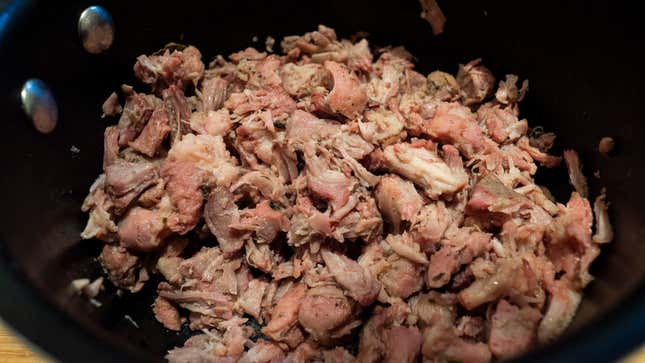 I hoped to tackle the evaporation problem first, so I bought a four-pound pork shoulder, cubed it up, divided it as best as I could between the old and new sous vides, popped a few cubes of frozen brine in, and cooked it at 141 degrees Fahrenheit for 36 hours. Evaporation increases with surface area, so both a wider pot and a device that makes the surface splash around more could increase evaporation. After taking the differences between the diameters of the pots I used into account, the less-vigorous motion of the Nano seemed to evaporate a teeny bit less water.
After cooking time was up, I shredded the pork with a few forks, and then finished it in a glaze of the drippings from the bag I cooked in, Sweet Baby Rays, honey mustard, and Worcestershire sauce. It was good as hell, regardless of which machine it came from.

Next up, I tried this alligator dish suggested last year by Claire Lower at Lifehacker. It was good, but I had no idea what I was doing. I hadn't really eaten alligator before, so I wasn't sure what the proper texture was—and the pieces from either sous vide had pretty different textures throughout, ranging from tender to rubbery based on the thickness. (It all tasted very good.)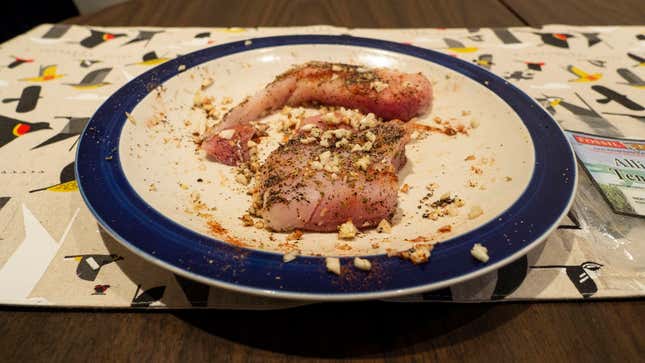 Finally, I compared the two using perhaps the most popular sous vide recipe: steak cooked to a medium-rare, 129-degree center, then seared in a hot skillet for 30 seconds per side. The steaks were great, obviously, but there was no noticeable difference between how either sous vide prepared the meat. Both steaks appeared evenly cooked throughout.

Did the Nano have any benefits? It's a quieter, lighter, and it looks better. It's a little less powerful, 750 watts versus the Bluetooth model's 800 watts and the Bluetooth+WiFi Model's 900 Watts, but I ran a quick experiment and the Nano heated four quarts of 87 degree water to 131 degrees in 9 minutes, versus the Bluetooth+WiFi's 9:45—the power difference might be more noticeable in a larger container. The Nano's height isn't adjustable, either, but that didn't get in my way.

The Nano's aesthetic and usability improvements over the original Anova One and newer Bluetooth+WiFi models are obvious, especially when placed beside one another. Whereas the Nano looks more polished and has intuitive controls you can figure straight out of the box, the oldest's screen is more reminiscent of an aging gym treadmill. It looks like a laboratory tool, and took up a huge amount of space in my cabinet, compared to the noticeably smaller and lighter Nano, which looks more like a sturdy consumer gadget. The end result isn't much different—but my desire to own and use the device is. I'll note that I haven't used other brands' offerings yet, and ChefStep's more powerful, slightly smaller and twice-as-expensive Joule device has plenty of fans.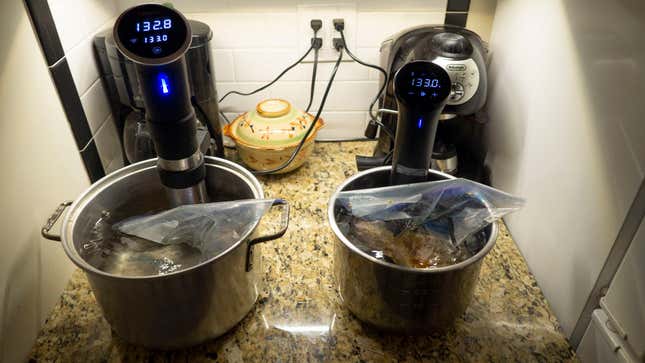 I'll also note that the newest sous vide is Bluetooth enabled and has an app for control. This could be useful if you always have it out on your table, and want to turn it on from a different room, but otherwise I haven't found much use for the app. It offers recipes for inspiration, but so does the rest of the internet. The app does have a pretty nifty temperature and timing quick guide for all sorts of meats, though.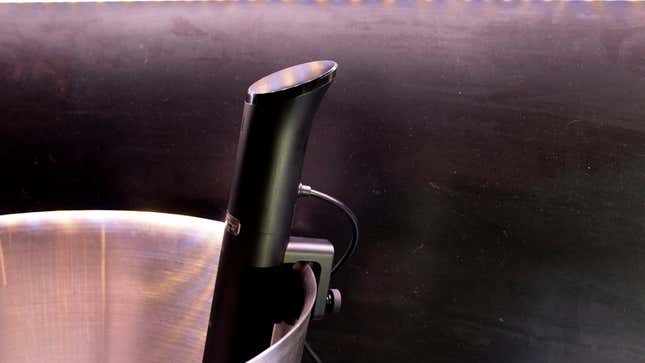 The Nano is the end of a natural progression towards the idealized form of these fancy-but-affordable kitchen gadgets. It's an evolution similar to how new devices like cell phones or music players eventually look pretty similar as companies figure out what people want. I wouldn't say the Nano cooks the food any better than the older models, but the most recent improvements make it feel like a better device.

Anova has delivered on its premise, that it can be easy and affordable for a home cook to use professional, precision cooking techniques, much like the Instant Pot has. If you don't own a sous vide, you like sleek-looking tech, and you're interested in cooking meat precisely, the Nano is a great, affordable option. If you see the older model on sale and want to save 20 bucks, you probably won't regret it. But I'm just excited that what was once a loud, mechanical science project the size of a Yeti thermos has turned into a sleek piece of kitchen equipment I don't mind leaving out on the counter.