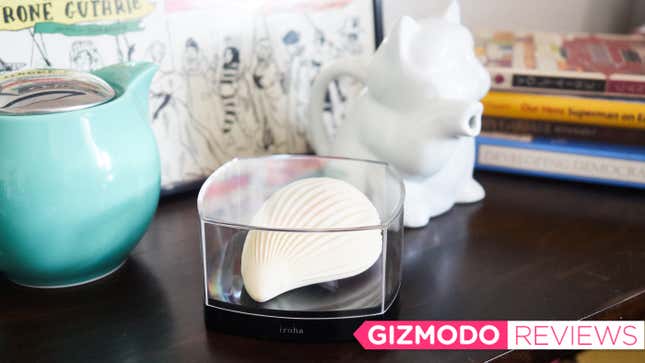 Staring at this squishy little vibrator, that looks more like something you'd find on the beach than in a sex store, two thoughts went through my mind. The first was that I now understood what the seashells in Demolition Man were for. The second thought was perhaps more relevant to Tenga's $120 Iroha Kushi: It is the perfect example of the rising trend of sex toys as art. It's the sex toy industry venturing past pure utility into art for art's sake, and it feels great humming against your clit.

Sean Gunn on Working With His Brother
The Iroha Kushi is ribbed and beige, taking its inspiration from a conch shell. It comes with a sleek square wireless charging dock, and the kind of clear plastic cover that basically demands it be put on display by the edgy sex-positive set. Sort of like that vibe you wear around your neck so you look cool and also know you can rub one out in an Amtrak bathroom.
The Iroha Kushi lasts an hour on a charge, but it also takes two hours to charge fully, so you're all but required to put it back on its pedestal charger between uses or find yourself running out of batteries at a very inconvenient time. It's also difficult to see whether it's charging or not because the charge light is smaller and more baffling than the Playstation 4's power and eject buttons.
As a vibrator, its features are pretty unremarkable and perfectly comparable to any bullet vibrator you can pick up on Amazon. There's no tiny vacuum. Just a few different vibration speeds and patterns. If clitoral stimulation is your jam it will get you off once you find the speed and vibration pattern that best suits your particular needs. While the ridges do nothing for grip the shape is great and fits easily into the palm. Also, because it's waterproof it's a cinch to wash and put back in rotation.

And it's super squishy—an unusual feature for a vibe. The Iroha Kushi is made of body-safe silicone and begs to be squeezed and formed in the hand. It's essentially a vibrating stress ball for your snatch, and there ain't nothing wrong with that.
As pleasant as it is to squeeze, what really distinguishes the Iroha Kushi from the pack is that it's beautiful to look at. It's discreet and pretty enough to leave on your nightstand when your parents come to visit. If you were not well-versed in sex toys, you might have no idea what you were even looking at, exactly. The only thing stopping me from having it out on display at all times is the harrowing thought of someone mistaking it for a particularly stylish wireless mouse. That and the fact that, you know, I don't want houseguests fondling my vibrators.

But don't get it twisted, the Kushi is not the queen of vibes. There will always be the mammoth and unmistakable Hitachi Magic Wands hidden in bureau drawers beneath the period underwear. After all, they get the job done. But Tenga Kushi is a different breed. It's vibrator as sculpture. It is meant to be displayed proudly in the home. Your grandmother had her Precious Moments figurines, now you've got your Japanese squishie-inspired sex toys to put on the mantle. The more things change, the more they stay the same.
I have vibrators I can leave out and that I like more. The MIMIC Massager by Clandestine Devices ($125) is another work of art, but with a shape and vibration features that make it infinitely more appealing. I cannot say that Iroha Kushi is going to supplant the MIMIC any time soon. But the look of the Kushi, and the squeeze of it, keep me from shoving it into the recesses of my closet full of rejected sex toys. I mean, I don't exactly have a lot of sex toys that I just like to sit around squeezing. This is one of them. Like any strange piece of modern art, the Iroha Kushi grows on you. I'm not saying I'd put it in a museum and sell postcards of the thing, but when it comes to something I use to tend to my vagina's orgasmic needs that's a hell of a lot more than some other vibrators have to offer.

README
It might last an hour on a charge, but takes two whole hours to charge and that is very lame.
Squishie likes a stress ball.
Shell shape design makes it easy to hold for most users.
5 vibration strengths, 2 rhythm pattern settings means most people into clitoral stimulation can find a setting that will work
Can join you in the tub without electrocuting you.
---
Rebecca Jane Stokes is writer who lives in Brooklyn, NY. She's the senior sex writer for YourTango and her work has appeared on Jezebel, XOJane, The Hairpin, The Toast, Bustle, MTV News, The Barnes and Noble Books Blog, and elsewhere. Follow her on twitter @beccastokes