Hell, it might be important today.

I'm a little out of touch with the kids these days. But I definitely know that there are young people who are completely unaware of the existence of VHS tapes. For those of us who grew up with them, there's a strong feeling of nostalgia for the ritual of popping them in and out of the VCR.
Most people of a certain age will fondly recall the click, clunk, thwop sound of the tape hitting the plastic door, finding its home in the cassette basket, and gears whirring to life as the FBI warning appeared behind a veil of static. These were great machines.
If you need to explain to a kid what you're talking about when you wax poetic about the process, this video neatly puts it all in one place with extended, repeated detail.
But of course, a lot of that pleasure is probably wrapped up in the transference of excitement you felt that you were going to watch a movie. At the time, that meant spending a lot of money to buy it or driving to a rental store. Showing a child this video really won't convey what you remember. In the future, it's more likely a kid would just stare at you blankly and then turn back to their holographic display that only they can see because it's implanted in their brain.
The video also doesn't cover the headaches of getting a tape eaten, terrible tracking issues, or unforgivable pan and scan. But that's the nature of nostalgia, only hanging on to the good parts.
G/O Media may get a commission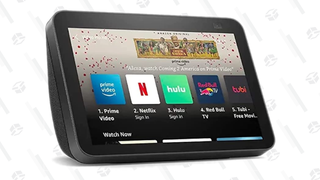 Regardless, it's a fine little piece of soothing ASMR for all the tapeheads who were there.