As much as we all complain about trolls, have you ever really taken the time to get to know one? Or, better yet, to get to know Patton Oswalt's hilarious rendition of real-life, under-the-bridge type internet trolldom? You should! You can:
The rest of this week's top web comedy videos, including TMI, Fifty Shades of Grey, and one last round of hating being female, can be found over at Splitsider.
Other highlights from the week in comedy:
- NBC, FOX, ABC, and CBS announced their fall schedules.
- Mike Sacks is working on a sequel to And Here's the Kicker, the first Splitsider Book Club Book.
G/O Media may get a commission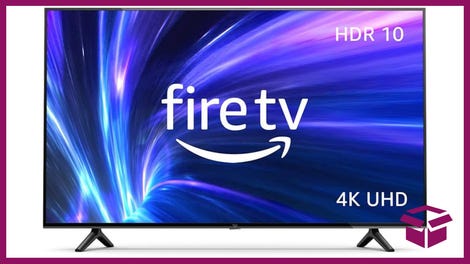 42% Off
Amazon Fire TV 50" 4K Smart TV
- Community was moved to Fridays, with or with out Dan Harmon.
- We talked to Zach Woods about using improv in television and movies.
- We spoke to Drew Carey about Johnny Carson's impact on stand-up.
- We talked with Jake Fogelnest about his interesting taste in movies and television.
- We talked to Jonah Ray about new stand-up and the Nerdist podcast.
- We spoke to Hannibal Buress about his hour special and the The Eric Andre Show.
- We thought of what could've been with 10 promising pilots that didn't get picked up this year.
- We presented the entire "Weird Al" music video canon.
- We got inside the history of black comedy by watching Why We Laugh.
- We fell victim to the charms of the beach party genre.
- We looked at the complicated satire of Christwire.
- We found That Was the Week That Was in the archives.
- We followed Fran Gillespie on Twitter.
- We remembered the brief SNL career of Siobhan Fallon.
- We tried to guess whom Johnny Carson asked to the "the couch".
- We went back to the early days of Tenacious D.
- We debated who was a better secret keeper Don Draper or Robin Scherbatsky.
- We watched the PoolJumpers web-series.
Splitsider is a website about comedy and the people who create it. It covers movies, TV shows, web videos, books and any other format that exists to make you laugh.