This week, Syfy debuts its new zombie show Z Nation, set three years into the apocalypse, and brings back Haven with a new Audrey personality and a new set of Troubles. Plus, Teen Wolf gets ready to end its season—but who will survive? Get all the details below!
Tonight
Teen Wolf (10 PM, MTV)
In the 75-minute season finale, Scott and Stiles return to La Iglesia to save the Pack from Kate.
Under the Dome (10 PM, CBS)
Things are getting chilly in Chester's Mill. Just don't stick your tongue against the frozen Dome:
When temperatures begin to plunge, Sam and Rebecca spring into action to try to save the residents of Chester's Mill. Meanwhile, Barbie risks his own life in order to save Julia after a terrible accident.
Tuesday
Face Off (9 PM, Syfy)
Can the contestants design something to haunt our nightmares?
The artists must create an iconic horror villain using only a movie poster as inspiration.
Wizard Wars (10 PM, Syfy)
This week's episode is a lot of hot air:
Two New Jersey street magicians take on the star of a British magic show and a world-renowned illusionist using a leaf blower as their prop.
G/O Media may get a commission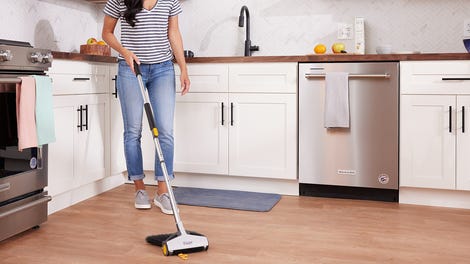 BOGO 50% Off
Flippr - BOGO 50% Off
Wednesday
Extant (10 PM, CBS)
So what does the killer fetus from space have to say to its mother?
When Molly finally comes face-to-face with her offspring, she realizes she may be the only one who can stop the coming danger. Meanwhile, Julie uncovers grave secrets about Odin.
Thursday
Teen Titans Go! (6 PM, Cartoon Network)
We go back to the beginning of the Teen Titans—and Robin tries to relive those early days:
Brother Blood zaps Cyborg, Raven, Starfire and Beast Boy with a device that erases their memories of being a Teen Titan, which gives Robin exactly what he wants: a chance to retrain the team his way.
Steven Universe (6:30 PM, Cartoon Network)
No, Steven should not have a pet gem monster:
Steven accidentally releases a monster from a gem bubble, and attempts to tame its wild, violent instincts.
The Quest (8 PM, ABC)
In the two-hour season finale, a champion will be crowned:
The Paladins have arrived at the end of their journey and the moment of truth is at hand, but first, these remaining contestants must face a new enemy, in the final two episodes of the season of "The Quest," airing THURSDAY, SEPTEMBER 11 (8:00-10:00 p.m., ET/PT) on the ABC Television Network. The stakes reach a new height in "Escape from Rana Village" when the Paladins are taken prisoner. They must act quickly in order to save themselves and the Queen (Susanne Gschwendtner). Ultimately, only one is safe from the Fates leading to their most emotional banishment yet. The final episode begins with only three Paladins left and Verlox's (Douglas Tait) growing power. The final challenge puts the Paladins to a demanding test. After the grueling competition, the quest is complete and "One True Hero" has emerged. The celebration is short-lived and our "Hero's" work is not finished—Verlox must be vanquished.
Haven (10 PM, Syfy)
In the fifth season premiere, the co-author of the Troubles is still in control of Audrey's body:
Audrey, Nathan and Duke's victory over William feels hollow as they deal with the aftermath of Duke on death's door. Mara is in control of Audrey's body, and a strange trouble supernaturally silencing citizens around town.
Friday
The Knick (10 PM, Cinemax)
The Knick continues to be one of the bloodiest shows on TV:
Barrow (Jeremy Bobb) looks to pay down a debt by treating one of Collier's (Danny Hoch) wounded men at the Knick, and tries to convince Captain Robertson (Grainger Hines) to invest in a new Edison invention. Still marginalized by Thackery, Edwards attempts to improve on a hernia surgery. Everett (Eric Johnson) and Eleanor fear for their baby's health; Cleary and Sister Harriet visit Chinatown.
Z Nation (10 PM, Syfy)
This week, Syfy brings us a new zombie show, and if we're to believe the teasers, it has a very different tone from The Walking Dead:
In Z Nation, three years have passed since the zombie virus has gutted the country, and a team of everyday heroes must transport the only known survivor of the plague from New York to California, where the last functioning viral lab waits for his blood. Although the antibodies he carries are the world's last, best hope for a vaccine, he hides a dark secret that threatens them all. With humankind's survival at stake, the ragtag band embarks on a journey of survival across three thousand miles of rusted-out post-apocalyptic America.
Saturday
Doctor Who (9 PM, BBC America)
Let's hope this week's episode is as creepy as the rhyming trailer suggests:
When ghosts of past and future crowd into their lives, the Doctor and Clara are thrown into an adventure that takes them to the very end of the universe.
Outlander (9 PM, Starz)
How can Claire convince anyone she's not a spy when she can't even explain where she's from?
Claire is thrown for a loop when her surprise meeting with a British general is interrupted by the dangerous Capt. Jack Randall, who suspects she is harboring secrets.
Intruders (10 PM, BBC America)
Gary reveals a strange link between his former client and Amy. But just as Jack and Gary start to put the pieces together, their only reliable source is brutally murdered. Meanwhile, Madison arrives in Seattle and threatens an old acquaintance. Richard attempts to conceal his secret continues while handling rising pressure from Rose.
Sunday
Witches of East End (9 PM, Lifetime)
Someone is marked for death in this week's episode:
Tarkoff takes revenge against Frederick; Freya confronts Killian; Ingrid gives Dash an ultimatum; Wendy and Tommy's relationship proves dangerous; Joanna takes action to protect her family.
The Lottery (10 PM, Lifetime)
There's little info on this week's episode aside from the title: "Truth Be Told."
Manhattan (10 PM, WGN)
Both Charlie and Frank face serious questions as to the future of their projects.
Masters of Sex (10 PM, Showtime)
It's all about the sexual harassment at Cal-o-Metric:
Johnson tries to find a cure for Masters' sexual difficulties; Masters learns of a rival study and tries to brand his work; Flo informs Langham that he must have sex with her in order to keep his job; Barbara and Lester connect over their shared sexual dysfunctions; Libby asks Johnson to give her an alibi while she canvases a tenement for a rent strike with CORE.
The Strain (10 PM, FX)
Eph investigates Kelly's disappearance and struggles with what he finds. Dutch pursues a plan to retaliate against Palmer, and Fitzwilliam makes a surprising choice.