Doctor Who ends its sixth season with a bang this weekend — but can the Doctor possibly survive? Meanwhile, Steven Spielberg's Terra Nova plunges the Shannon family into a prehistoric jungle of death.
Also new this week: Bedlam, a BBC show about a haunted housing development, and Secret Mountain Fort Awesome, about the monsters that live underground. Plus there are new episodes of Adventure Time, Fringe, Supernatural, Person of Interest, and tons more. Click through to check out a ton of sneak peeks — including your first look at an epic lightsaber battle in Star Wars: The Clone Wars.
Today:
Syfy is showing Alphas episodes from 11:30 AM to 10 PM, to get you ready for the big season finale.
Cartoon Network has an abnormally huge burst of animated shows. First at 7 PM, there's a new Johnny Quest, "Johnny of the Deep":
Bling Bling uses a ring to hypnotize Susan to fall in love with him, then whisks her off to his yacht. Johnny and Dukey transform into sharks to search for the ring and destroy it, getting help from a retired underwater action hero.
That's followed by a new Amazing World of Gumball at 7:30 PM. And then more importantly, there's a new Adventure Time at 8 PM, "What Was Missing":
Finn and Jake battle with a powerful door lord.
That's followed by Regular Show at 8:15. Then at 8:30 PM, Cartoon Network has a brand new show, Secret Mountain Fort Awesome, about
a gang of awesome monsters that live deep underground. Shunned by humankind because of their gross appearance and radical behavior, they are forced to live together in a place known only as Secret Mountain Fort Awesome. This mega-rad group does some crazy stuff like steal the sun, fight a heavy metal tooth fairy and take baths with CGI sharks!
G/O Media may get a commission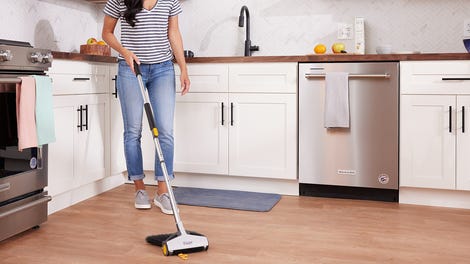 BOGO 50% Off
Flippr - BOGO 50% Off
And finally, there's a new Mad at 8:45 PM, featuring Cowboys and Aliens and Thundercats parodies. Watch a clip at left.
But also at 8 PM, Fox has the two-hour premiere of Spielberg's huge time-travel/dinosaur show, Terra Nova, "Genesis, Part 1 and 2." Yes, it's two hours devoted to your favorite 1970s and 1980s supergroup. Phil Collins plays himself. Here are the details:
TERRA NOVA follows an ordinary family on an incredible journey back in time to prehistoric Earth as part of a daring experiment to save the human race. The Shannon family joins the Tenth Pilgrimage of settlers to Terra Nova, the first colony established in this beautiful yet foreboding land. Jim Shannon, a devoted father with a checkered past, guides his family through this new world of limitless beauty, mystery and terror. Jim's wife, Elisabeth, is a trauma surgeon and the newest addition to Terra Nova's medical team. Josh is their 17-year-old son who is torn to leave life as he knows it behind; upon arriving at the settlement, he finds himself instantly drawn to the beautiful and rule-breaking Skye. Maddy, Josh's endearingly awkward 15-year-old sister, hopes Terra Nova will give her a chance to reinvent herself. Although Elisabeth's medical training secured the family a spot on the pilgrimage, a secret involving their five-year-old daughter, Zoe, soon endangers their place in this utopia. Upon the Shannons' arrival, they are introduced to Cmdr. Nathaniel Taylor, the charismatic and heroic first pioneer and leader of the settlement. Taylor warns the travelers that while Terra Nova is a place of new opportunities and fresh beginnings, all is not as idyllic as it initially appears. Along with blue skies, towering waterfalls and lush vegetation, the surrounding terrain is teeming with danger - and not just of the man-eating dinosaur variety. There is also a splinter colony of renegades led by the battle-hardened Mira, who is vehemently opposed to Taylor and his leadership.
And then at 10 PM, there's the season finale of Alphas, "Original Sin":
Rosen and his team must choose sides when Red Flag launches a full-out assault on the Department of Defense.
Check out a sneak peek.
Also at 10 PM: another episode of Castle on ABC, quite possibly including some number of science fiction in-jokes.
Plus there's another episode of MTV's cops-vs.-the-undead show Death Valley at 10:30 PM.
Tuesday:
At 10 PM, CBS has another episode of Unforgettable, a police procedural about a woman who can freeze-frame and zoom and enhance her memories. How on Earth are they going to make this gimmick work in an episode where she's not dealing with a crime she personally witnessed part of? Here's your first clue, in the episode's synopsis:
CARRIE MUST FACE HER PAST WHEN A LITTLE BOY IS THE ONLY WITNESS TO A MURDER. When a young boy witnesses a murder, Carrie must put aside the memories of her sister's death to help him lead the police to the killer.
Ah, little kids. They make everything better.
Wednesday:
Mythbusters is back for its tenth season! The season premiere is called "Bikes and Bazookas," and I'm just guessing that means something will be getting blown up.
At 9 PM, there's also another new Ancient Aliens on the History Channel, in a new timeslot. This time: "Aliens and Evil Places."
At 10 PM in most markets, PBS has a new Nova, "Surviving the Tsunami."
Gripping personal stories from Japan offer lessons on how to act in the face of a life-threatening disaster.
At 10 PM, Science has another episode of Dark Matters: Twisted But True, hosted as always by Fringe's John Noble. Segments include "Missing Cosmonauts" and "Sound of Death."
Thursday:
There's another new episode of The Vampire Diaries on The CW at 8 PM, "The End of the Affair."
THE ROARING TWENTIES - Klaus (Joseph Morgan) and Stefan (Paul Wesley) arrive in Chicago, where Stefan is reunited with a vampire (guest star Claire Holt, "Pretty Little Liars") who hasn't really moved on from her interest in him decades earlier. In a flashback to Chicago in the 1920s, Stefan comes face-to-face with a shocking chapter from his wild past. After Damon (Ian Somerhalder) gets a tip on Stefan and Klaus' whereabouts from an unexpected source, he and Elena (Nina Dobrev) follow their trail. Back in Mystic Falls, Tyler is concerned about Caroline and turns to Sheriff Forbes (guest star Marguerite MacIntyre) for help.
Also at 8: another episode of Community on NBC — can they possibly top last week's Doctor Who and 2001 spoofs?
A third option at 8 PM: another new The Big Bang Theory on CBS, "The Pulled Groin Extrapolation."
And then the fourth option at 8 PM is episode two of Charlie's Angels on ABC, guest-starring Isaiah Mustafa, the Old Spice guy.
At 8:30, there's a new Problem Solverz on the Cartoon Network.
Then at 9 PM, CBS has another episode of Person of Interest, the show about the supercomputer that can predict crimes that haven't happened yet. How are they going to make this premise last more than a few episodes? Here's your first hint, with the synopsis for "Ghosts."
When they are given the Social Security number of a teenager who was killed two years ago, Reese and Finch begin to question the infallibility of The Machine. Meanwhile, Finch flashes back to The Machine's origin and how it was developed.
Going deeper into the mythos of the machine definitely seems to be the way to go.
Also at 9 PM: The CW has another episode of The Secret Circle, "Loner."
ADAM IS JEALOUS WHEN CASSIE BRINGS A DATE TO THE SCHOOL DANCE - A cute jock named Luke (guest star Zachary Abel) asks Cassie (Britt Robertson) to the school dance, and after watching Adam (Thomas Dekker) spend time with Diana (Shelley Hennig) at the boathouse, she accepts his offer. Meanwhile, Melissa (Jessica Parker Kennedy) sees the dance as an opportunity to get closer to Nick (Louis Hunter). Faye (Phoebe Jane Tonkin), on the other hand, has no plans to go and remains focused on finding a way to control her powers. Dawn (Natasha Henstridge) discovers someone from their past, an intense man named Zachary (guest star Dave Baez), is in town asking questions about the Cassie and the Circle, so she asks Charles (Gale Harold) to keep an eye on him.
For those of us who miss The Gates, note that this episode is written by The Gates creator Richard Hatem.
And at 10:30 PM, there's another Archer on FX, "Heart of Archness, Part 3."
Archer and his fellow prisoners attempt to escape the Pirate Fortress, as Malory hardballs the negotiation for their ransom.
Here's a brand new sneak peek! And that's all the Archer we're getting for a while.
Friday:
Cartoon Network has another great Friday night animated bloc. First up at 6 PM: Batman: Brave and the Bold, "Sword of the Atom!" Featuring a weird Aquaman sitcom, and the Ryan Choi version of the Atom. Then at 6:30 PM, there's an all-new Young Justice, "Home Front."
When Mount Justice itself is attacked, can Artemis and Robin (the two teens without super-powers) save the Team (or even themselves) from the unknown invaders?
Then at 7 PM, there's a new Generator Rex, "A Family Holiday." And at 7:30 PM, there's a new Ben 10: Ultimate Alien, "Greetings from Techadon."
At 8 PM, CBS has another episode of A Gifted Man, in which yet again the guy's dead wife helps him be a better person. How are they going to make this last more than a few episodes? Your first clue comes from the synopsis for "In Case of All Hell Breaking Loose":
MICHAEL FACES A DILEMMA WHEN HE TREATS A PREGNANT PERSONAL FRIEND WITH A BRAIN TUMOR AND A LITTLE BOY AT THE CLINIC WITH SICKLE CELL. Michael works double duty trying to save a pregnant personal friend he recently diagnosed with a brain tumor and a little boy with sickle cell disease.
Also at 8 PM, there's a new episode of Star Wars: The Clone Wars, "Shadow Warrior":
The peace that settled on Naboo following the defeat of the Trade Federation blockade is shattered as Separatist forces again threaten Padmé Amidala's homeworld. This time, though, the invaders are led by none other than military mastermind, General Grievous. Anakin Skywalker, meanwhile, fights a long-awaited, epic battle against the renegade Count Dooku. The situation worsens as an injury forces Gungan leader Boss Lyonie out of action, and an uncanny look-alike takes over. Can he sway his people from rising up against their traditional enemy, the Naboo, and convince them to battle the real threat of the Separatists?
And check out a brand new clip, featuring a kick-ass lightsaber battle!
Meanwhile at 8, The CW has more of its spy-fi series Nikita, "Falling Ash."
DEVON SAWA RETURNS AS OWEN - While investigating an old corrupt Division program, P9, that seems to have resurfaced, Nikita (Maggie Q) and Michael (Shane West) run into Owen (guest star Devon Sawa). He tells them he is searching for Dr. Joseph Mars (guest star John Ralston), who is not only the mastermind behind P9, but also invented the Regimen and could help Owen wean himself off the dangerous drug. Michael is hesitant to trust Owen again but Nikita decides the three should join forces. Percy (Xander Berkeley) demands to see Alex (Lyndsy Fonseca).
But if none of those options appeal to you, Disney Channel has a brand new Wizards of Waverly Place, "My Two Harpers."
Since Alex broke up with Mason, she has been a constant third wheel to Harper and Zeke, until they gently hint their preference to spend more time together without her. Not wanting to spend time alone, Alex uses magic to create a Harper clone to hang out with. Meanwhile, Max comes up with an idea to open a Waverly Sub Station in the wizard world.
That's followed by a brand new A.N.T. Farm at 8:30.
But more importantly, at 9 PM, Fox has another episode of Fringe, "One Night in October."
As the victims of a highly intelligent serial killer "Over There" stack up, the Fringe Division "Over Here" is asked to assist. As the two sides tangle and innocent people remain at risk, the suspect's doppelganger "Over Here," a professor who teaches Forensic Psychology, is brought into the fold and forces the team to consider the notion of sending civilians to the other side.
Here's a sneak peek.
Also at 9 PM, there's another new Supernatural on The CW, "Hello Cruel World."
SAM HAS FLASHBACKS FROM HELL - Castiel (Misha Collins) continues to struggle with the burdens that come with his new-fangled power. The broken wall in Sam's (Jared Padalecki) head causes him to have hallucinations, and he has difficulty discerning what's real and what's not. Bobby (Jim Beaver) worries that Dean is beginning to stumble under the weight of fighting Castiel and keeping an eye on Sam.
Yes, our faith is being rewarded, with a Ben Edlund episode.
Or you could watch a brand new Phineas and Ferb on Disney at 9:30:
"Bullseye!" - When Dad heads out to attend a speaking engagement on antiques, he unwittingly finds himself participating in the Lovemuffin Pageant of Evil against Dr. Doofenshmirtz and Rodney. As a special host oversees the proceedings, Perry is tasked with monitoring the situation, but Dad gets hit with Rodney's "Evil-inizer," and is crowned the supreme leader of Lovemuffin. Meanwhile, Candace is determined to bust the boys but doesn't realize that they are actually helping with Mom's modern art installation. Across town, the boys are playing a giant game of darts.

"Perry the Actorpus" - The executive of Totally Tools oversees a contest to find the company's "spokesanimal" and Perry is crowned the winner. However, the victory puts Perry's secret identity in jeopardy, forcing Major Monogram to appoint Agent S as a temporary replacement. But when Dr. Doofenshmirtz sees his new nemesis is Sergei the Snail, he mistakenly underestimates his new opponent. Meanwhile, Candace has been welcomed into Mandy's "Stop the Busting" retreat, which aims to teach Candace to control the urge to bust her brothers through positive reinforcement.
Then at 10 PM, there's the season finale of Haven on Syfy, "Sins of the Fathers."
Haven's dead rise from their graves to reveal the town's secrets... and those of Audrey, Nathan, and Duke.
And then at 11 PM, G4 has new episodes of Iron Man Anime and Wolverine Anime.
Saturday:
BBC America is showing Doctor Who season six episodes all day long, just to get you ramped up for the season finale.
The Hub is showing a new episode of R.L. Stine's The Witching Hour at 8, followed by a new Transformers Prime at 8:30, "One Shall Rise, Part 1":
The Autobots find out that Dark Energon is the thing responsible for the natural disaster epidemic of Earth.
And then at 9 PM, BBC America has the season finale of Doctor Who, which is called "The Wedding of River Song." I wonder whom she's marrying?
In this all-new episode, the Doctor makes his final journey to Lake Silencio, knowing only one thing can keep the universe safe – his own death. But has he reckoned on the love of a good woman?
And here's the prequel to the episode...
That's followed at 10 PM by the premiere of BBC America's latest import, Bedlam, about a haunted housing development:
Welcome to Bedlam Heights, the stylish new apartment building with sexy tenants and gorgeous decor. But little do its new residents suspect that behind the luxury fittings lie unimaginable horrors. This is a place tainted by abuse, suffering and death - and the ghosts of its dark and violent past are out for revenge. As the direct descendent of those who ran the asylum for generations, Kate (Charlotte Salt, The Tudors) - who both lives and works there as a sales agent - is a prime target. Everybody has a dark side in this new series also starring Theo James (Downton Abbey), Ashley Madekwe (Secret Diary of a Call Girl), Hugo Speer (Skins) and Will Young (Skins). If Melrose Place were haunted, it would be Bedlam Heights.
And then at 11 PM, Disney XD has a new (to us Americans) episode of Naruto Shippuden, "The Labyrinth of Distorted Reflection."
Sunday:
Fox has another helping of its Sunday-night animation bloc, with a new Simpsons at 8 PM, a new Cleveland Show at 8:30, a new Family Guy at 9 and a new American Dad at 9:30.
At 8 PM, Discovery Channel has a new Curiosity, "I, Caveman."
And then at 10 PM, there's a one-hour special on Comedy Central, "South Park Documentary":
Viewers will get an exclusive inside look into the making of a "South Park" episode. A documentary crew was given an all-access pass to Stone and Parker's world at South Park Studios in Los Angeles.
Also at 10 PM, there's a new Breaking Bad on AMC, "End Times."
At 11:45 PM, Cartoon Network's Adult Swim has another new Squidbillies. That's followed at midnight by the premiere of another show, China, IL.
Sources: Futon Critic, MSN TV, TV Guide, and various TV studio press releases.