While childhood secrets are revealed on this week's Masters of Sex, another behind-the-scenes science drama debuts on Sunday: Manhattan, which takes us inside the secret city that helped create the atomic bomb. Plus, Phineas & Ferb takes on Star Wars—and it's bound to be goofy. See all the details below!
Tonight
Teen Wolf (10 PM, MTV)
This week's episode is titled "I.E.D." which could refer to an improvised explosive device, the infliction of emotional distress, or both.
Scott, Stiles and Kira have their first Lacrosse game. Lydia seeks help with her powers.
Under the Dome (10 PM, CBS)
Oh yes, let's release a virus inside the Dome. That will make things better.
As conditions in Chester's Mill worsen, Big Jim and Rebecca consider resorting to the extreme measure of population control, which drives a wedge between Barbie and Julia. Meanwhile, clues to Melanie's past and her connection to the Dome are revealed.
Tuesday
The Wil Wheaton Project (10 PM, Syfy)
Kevin Smith and Sonequa Martin-Green, who plays Sasha on The Walking Dead, join Wil Wheaton this week.
G/O Media may get a commission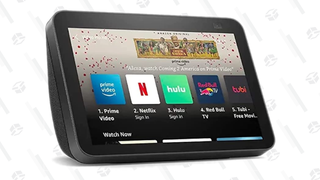 Wednesday
Extant (9 PM, CBS)
Maybe you should tell your husband you're mysteriously pregnant with a space baby before you tell your boss?
Molly has to decide if she is going to reveal her pregnancy to John after he confronts her about her distant behavior. Meanwhile, John and Molly face parents who are suspicious of Ethan when he goes to school for the first time.
Through the Wormhole with Morgan Freeman (10 PM, Science)
Even imagining Morgan Freeman reading the episode description is transportive.
We float along the river of time. But does that river have a source? Where did time come from? Some believe time and space are one thing, and the Big Bang started the cosmic clock. Others believe the universe existed for almost half a million "years" before light could move and time began. Still others say time is older than our universe. But what if time itself is an illusion? Incredible new experiments may hold the answer. One groundbreaking experiment gives us the power to punch holes in time…and another may create a machine that operates outside time's boundaries!
Thursday
Teen Titans Go! (6 PM, Cartoon Network)
Robin brings Starfire on a fake stakeout in an attempt to get a kiss, while Cyborg and Beast Boy hold their own stakeout to discover Raven's dark secret.
Adventure Time (7 PM, Cartoon Network)
Ice King and a band of misfit wizards go on a mystical road trip.
Defiance (8 PM, Syfy)
Even among aliens, traditional power structures aren't so keen on female empowerment.
An Arkfall crash salvage mission led by Nolan leads to danger in the form of an alien race he has never encountered before; at the same time, Stahma makes a shocking power play after she's admonished by church elders for her growing sense of female empowerment; and Irisa begins confessing her deep, dark secrets to Tommy.
Dominion (9 PM, Syfy)
It's exorcism time! Does the power of Satan compel angels?
Alex takes on the not-so-easy task of trying to exorcise captive eight-balls of their angel possessors, and enlists Michael and Claire for help; David closes in on William's underground acolytes; at the same time, Riesen overturns David's plan to usurp power with a new alliance.
Mythbusters (9 PM, Discovery)
This week, the team is testing the fantastical ideas from commercials, including this one:
Grant, Kari and Tory test whether you could really play a match of tennis while both players are standing on top of an airplane's wing.
Friday
Legend of Korra (8 PM, Nickelodeon)
In the first of this week's two episodes, Korra finally encounters Zaheer's gang when they try to kidnap the Avatar. Then comes an episode titled "The Stakeout."
Saturday
Phineas & Ferb: Star Wars (9 PM, Disney)
The adventure-loving stepbrothers and their pals reenact Star Wars, Life of Brian-style:
Phineas and Ferb are living just one moisture farm over from Luke Skywalker on the planet of Tatooine when R2-D2 and the Death Star plans inadvertently fall into their speeder. Meanwhile, intergalactic chaos erupts on the Death Star when Perry the Rebelpus is trapped in carbonite while trying to stop Darthenshmirtz from using his new "Sith-inator."
Sunday
Space Dandy (12:30 AM, Adult Swim)
Dandy goes undercover at a high school where popularity is determined by your ability to sing and dance.
The Last Ship (9 PM, TNT)
Catching the sniffles just isn't the same during a global pandemic.
After returning from the horrors of Nicaragua, panic begins to spread throughout the ship when Lt. Danny Green comes down with a mysterious illness that could be the virus. Losing faith in Rachel and her failing vaccine trials, Chandler now has to deal with a restive crew. If he fails to keep the crew together, the whole mission is in jeopardy.
True Blood (9 PM, HBO)
Things are not looking good for Bill. Then again, they're not really looking good for anyone.
Sookie makes a shocking discovery; Eric and Pam forge an unlikely alliance.
The Witches of East End (9 PM, Lifetime)
Wendy and Tammy go through a disastrous series of meetings. Meanwhile, Frederick's old friends from Asgard make an unwelcome visit to Fair Haven; and Dash and Killian receive their inheritance, which yields some interesting results.
Falling Skies (10 PM, TNT)
After months apart, Tom finally reunites with his family and the 2nd Mass. But the joyous reunion is cut short as Lexi undergoes a health crisis tied to her hybrid DNA. The crisis pits family members against one another as they fight over how to deal with Lexi's illness. Anne goes to great lengths to save her daughter.
The Leftovers (10 PM, HBO)
What could be so bad that it could inspire a Guilty Remnant to give up their silent vigil?
Laurie's resolve is put to the test in the wake of a brutal hate crime. After his latest initiatives to maintain the peace in Mapleton fall short, Kevin turns down an outside offer to rid the town of its problems. Matt brings his pulpit to the street. Meg takes on a new role.
The Lottery (10 PM, Lifetime)
Lifetime's tale of the only embryos on Earth amidst a global infertility crisis continues:
Alison faces the aftermath of her actions; Vanessa, Darius and the president's advisors debate the next steps of the lottery. Meanwhile, Kyle and Elvis seek refuge with an old friend, until Elvis suffers a diabetic attack that puts his life in danger and threatens to expose them.
Manhattan (10 PM, WGN)
This week, we see the debut of Manhattan, the new drama about the scientists behind the Manhattan Project. With director Thomas Schlamme onboard, we're sure to see a lot of walking and talking shots.
Created and written by Sam Shaw ("Masters of Sex") and directed by Emmy Award-winning director Thomas Schlamme ("The West Wing"), "Manhattan" enters the world of deception, danger and sacrifices that characterized one of the best-kept secrets of all time: the mission to build the world's first atomic bomb.
Masters of Sex (10 PM, Showtime)
Virginia unearths Masters' troubled childhood during a secret rendezvous.
The Strain (10 PM, FX)
The rats are the verminous canaries in the horror coal mine:
Eph and Nora fight to save Captain Redfern's life before coming face-to-face with the horrifying effects of the virus. A spike in rat attacks signals Fet that something inexplicable is happening deep below the city. Released from jail, Setrakian begins his own merciless plan to stop the spread of the disease.