This week's TV includes the extra-long season finales of Game of Thrones and Touch. Sir Patrick Stewart tells us all about the bizarre superpowers of some animals, and Henry Rollins talks weird animal religions. Adventure Time has its most freaktastic episode yet. But also, there is a brand new epic about alien girls, who come to Earth... to surf!
Check out tons of clips from Touch, and the first 10 minutes of Teen Wolf season two.
Today:
Adventure Time (7:30 PM, Cartoon Network)
You ever wonder just how far this show can go before it leaves the domain of "happy kid show" behind? Here's this week's episode synopsis:
"Princess Monster Wife" When Ooo's princesses start losing body parts left and right, Finn and Jake investigate.
And check out a brand new, somewhat disturbing clip! That's followed by a new Regular Show, the premiere of Annoying Orange, and a new Mad.
Animal Underworld (8 PM, National Geographic Wild):
It's a brand new show where Henry Rollins takes a look at how different cultures around the world interact with animals, including animal worship and strange customs. And National Geographic Wild is so proud of this new series, they're airing three episodes back-to-back on a holiday Monday.
G/O Media may get a commission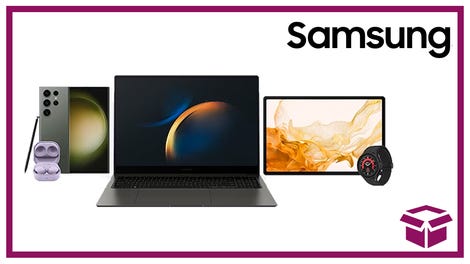 24 hour deals
Discover Samsung - Daily Deal
---
Tuesday:
Alien Surf Girls (Teen Nick, 7:30 PM):
The premiere of a brand new show, which is exactly what it sounds like. We were all set to write off this week's television as kind of a dead zone apart from Game of Thrones — but then we saw this, which airs all week. Apparently it was called Lightning Point in Australia. Here's the blurb for the series and the first episode:
When Zoey and Kiki, two irrepressible girls from another galaxy become castaways in the quiet, Australian seaside town of Lightning Point, they recruit local girl Amber to keep them undercover. But the whole town is abuzz with the sighting of aliens and the girls soon realize that they may not be the first intergalactic visitors...

Episode One: "Wipeout" When Zoey and Kiki, two irrepressible girls from another galaxy, land in Lightning Point their dreams of surfing the waves of Earth's oceans have finally come true. But when Luca finds the key to their ship, the Plasma Card, they're forced to enlist the help of local teen Amber to get it back - a twist with explosive results!
Also on TV tonight: There's a new Monsuno on Nicktoons at 8:30 PM. At 9 PM, Travel has a new Mysteries at the Museum.
---
Wednesday:
Alien Surf Girls (Teen Nick, 7:30 PM):
Your new obsession and ours returns. Here's the synopsis for episode two:
"Microwave" Kiki and Zoey are stranded on Earth. Just as they're starting to settle in at Amber's house, Zoey catches the eye of surf king Brandon - and when Brandon invites her to a barbeque, Zoey realizes that not everyone is happy to see new faces in town.
Also on TV tonight: There's a new Monsuno on Nicktoons at 8:30 PM.
---
Thursday:
Alien Surf Girls (Teen Nick, 7:30 PM):
Here's the third episode of the week's best new show about surfing:
"Wires Crossed" When Kiki and Zoey use the primitive school satellite dish to send an alien signal, Amber with the help of pet Police Dog Piper, will have to think quickly to stop the school being overrun by canines.
Touch (Fox, 8 PM):
It's the season finale of this show about a mute super-kid, which is getting a second season where Terra Nova and Alcatraz failed to. Here's what to expect from "Gyre Pt 1 & 2":
As the Aster Corporation increases their interest in Jake, Martin joins forces with Abigail (guest star Catherine Dent) as the stakes of Jake's custody escalate. When Avram (guest star Bohdi Elfman) reiterates to Martin that Jake and Amelia, a presumed dead girl with similar characteristics as Jake, are connected, Martin sets out on a passionate mission to uncover the truth. Meanwhile, circumstances intensify when Lucy (guest star Maria Bello) enters the picture and seemingly unrelated events are tied together.
Check out a sneak peek above, plus some more clips below:

Also on TV tonight: There's a new Dragon Ball GT on NickToons at 8 PM, followed by a new Monsuno at 8:30 PM.
---
Friday:
The Link (7 PM, National Geographic):
This time, it's "From Aqueducts to Oil Rigs," looking at the link between different technologies throughout history.
Phineas and Ferb (9 PM, Disney):
A brand new episode of this insanely demented show — although it's already aired overseas and you can watch a big chunk of it at left. Here's what it's about:
When the boys learn that animal celebrity, Crikey the Crocodile, has gone missing, they set out to scour the sewers in hopes of finding him and returning him to his home at the Danville Nature Preserve.
It's preceded by two episodes of A.N.T. Farm, the show about kids with special abilities.
Also on TV tonight: A brand new Ancient Aliens on H2 at 10 PM.
---
Saturday:
Young Justice (10:30 AM, Cartoon Network):
No new episode of Green Lantern: The Animated Series this week. But the new Young Justice episode is written by Peter David, who wrote the original comic book. Also, there's a new Thundercats at 9:30 AM.
Also on TV today: A new Transformers Prime on The Hub at 8:30 PM.
---
Sunday:
Animal Superpowers (National Geographic Wild, 8 PM):
Another brand new show on National Geographic Wild, which is airing three episodes in a row. And it features Captain Picard! Here's what it's about:
How can an octopus turn itself invisible in the blink of an eye? How can a sailfish outrun a speedboat? How can a snake strike prey with deadly accuracy in total darkness? Patrick Stewart introduces these elite creatures with extreme abilities to move, sense, hunt, heal and survive, while a team of scientists undertake risky missions to unlock the anatomy behind their secret superpowers.
Game of Thrones (9 PM, HBO):
The 70-minute season finale is called "Valar Morghulis." And here's what's in store!
Tyrion awakens to a changed situation. King Joffrey doles out rewards to his subjects. As Theon stirs his men to action, Luwin offers some final advice. Brienne silences Jaime; Arya receives a gift from Jaqen; Dany goes to a strange place; Jon proves himself to Qhorin.
Teen Wolf (11 PM, MTV):
From George R.R. Martin to lacrosse-playing werewolves. This show returns at a special night and time. Watch the first 10 minutes of the season premiere right here!
Also on TV tonight: There's a new Mythbusters on Discovery at 9 PM, and a new Metalocalpyse on Adult Swim, just after midnight.
Sources: Futon Critic, MSN TV, TV Guide, and various TV studio press releases.