People around the country who were baffled and alarmed to get recorded phone calls telling them to stop making "negative and derogatory posts" about President Trump were the targets of a recently launched prank call app—a gag that misfired when the company's automated disclaimer message failed to work.

The calls, which claimed to be from the "Citizens for Trump Foundation," ended by saying, "We'll be keeping an eye on you. Have a nice day." Each call appeared to come from a different number, affiliated with various internet-calling companies.
A representative of the app company, Ownage Pranks, when reached by email, wrote, "Any number that is ever called using the application will get a pre-recorded message when calling that number back 'You've been pranked by ownagepranks.com.' It also provides them an option to immediately block themselves from ever being called by the service again."
When Gizmodo tried to call the numbers associated with the Trump messages, however, the result was not a disclaimer but a busy signal or an out-of-service message. Asked about that, Ownage Pranks wrote that the disclaimer was only available if dialed from the phone number that had originally received the prank call.
To test that, we set up a prank call of our own through the app, then tried to call back the number directly. Again, the number was out of service.
G/O Media may get a commission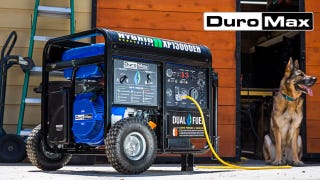 Black Friday Sale
DuroMax Generator Sale
We alerted Ownage Pranks to the problem and it has since fixed it. "We may have had a temporary outage due to a recent attack on our servers," a company spokesperson wrote in an email.
Ownage Pranks says it was surprised to discover that people had taken the call seriously.
"The prank premise is intended to be so silly and ridiculous that nobody would ever think anybody was *actually* monitoring their searches," the spokesperson wrote. "The majority of the voices and premises [of our pranks] are intended to be over the top cartoony or exaggerated."
The script for the call was certainly outrageous, but not noticeably further over-the-top than a genuine presidential message or White House press conference might be. With no explicit acknowledgment during or after the call that it was a joke, some recipients assumed it was real and felt threatened by it.
The Trump call is one of an assortment offered by Ownage, whose "prank-as-service" app was covered by Mashable when it launched this past March.

"Created by the masterminds behind the popular YouTube series of the same name, the app helps you send pre-recorded prank calls to people you know and lets you listen in on the call as it unfolds," wrote Mashable. The app is free to download, then requires users to buy credits for pranks. The company's YouTube channel, which posts new prank calls every week for over 4 million subscribers, has been around since 2007.
Besides "Citizens for Trump as President," the menu of prank-call recordings includes "Stay Away From My Girl," "You Hit My Car," and "Sex Offender." Many of them use stereotypical characters with ridiculous accents or increasingly absurd language, but they are designed to pause while the other person is speaking making it harder for a caller to realize they are talking to a machine.
Those who place a call are able to listen in as it goes down and can immediately get a recording of it, which they can post to Ownage's online hall of fame if they choose. The app offers an option to include a disclaimer at the end of a call, but it is inactive by default.
After realizing that the Trump prank had gone awry, Ownage Prank altered the automated message to say it comes from "The Trump for Office Foundation" instead of Citizens for Trump, an organization that actually exists. And the end of the message now says, "Look, I'm just kidding. This is America. You can say whatever the hell you want."
"We've changed the nature of the call now because these things are supposed to be goofy, not serious," the spokesperson wrote.
So the mystery of the Trump robocalls is solved, but there is still a problem with the Ownage Prank service: Calls placed via the service can easily break the law.
While prank calls are generally legal in the United States—as long as they are not too extreme—the conditions under which you can legally record a conversation between two people are dictated by state law. Some states require two-party consent, where both parties agree to the recording, and some laws just require one person to consent (meaning you can secretly record the other person). By default, the Ownage Pranks app records the call and does not notify the recipient; if a caller or the recipient is in a two-party consent state, that could be a crime. (Here's a handy guide on which states are safe for recording prank calls and which aren't.)
Ownage Pranks acknowledges this in its terms of service/privacy policy, and the fine, gray print on the call screen asks users to affirm that a recorded call is not being made to one of a list of states. But the switch for "Save this Call," above the fine print, is in the on position when it appears, and the warning doesn't specifically state that the recording would be illegal if made in those states.
Ownage Pranks seems aware that its service could easily be used to harass and it says it has procedures in place to prevent abuse.
"We also have security measures in place so that any single number can't be called an endless number of times, and there are strict limitations in place all around to prevent abuse," the company spokesperson wrote. "I think it's important for people to know that if they don't want any calls from the app, they can fill out this form http://own.ag/banNumber to add themselves to a block list."
You've been warned. Have a nice day.