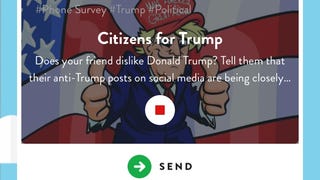 People around the country who were baffled and alarmed to get recorded phone calls telling them to stop making "negative and derogatory posts" about President Trump were the targets of a recently launched prank call app—a gag that misfired when the company's automated disclaimer message failed to work.

Somewhere along the way your mobile phone went from being a way for your friends and family to reach you, to becoming a portal through which marketers and spammers can bombard you with calls you're not interested in. It's sort of like the landline, only much, much more irritating. Here's what you can do to reclaim…
It's that time of year guys, when every politician under the sun has a robot call your house at prime eating time to encourage you to vote, or ask for money, or poll your feelings on Soccer Mom v Rotting Squash. At least this has been the case for many people in our fine nation of fifty states. But Arkansas likes to…
When PayPal updated its user agreement earlier this month, people were pissed off. The agreement left people with two options: Agree to receive robocalls from PayPal, or stop using the service. Now the company is back-pedalling on the whole "deal with our obnoxious, aggressive automatic calling or GTFO" policy.
This is going to feel good: now you can call all supporters of SOPA and PIPA, the dreadful US internet censorship laws, using a simple web site. Just record your very own message, pay some dollars and fire away.
Since 1991, marketing robocalls in the US have been as tightly regulated as medicine, meth, and murder. But if HR 3035 makes its way through Congress, it's going to be open season for the automatons to call your cellphone.